Recommended Viewing (overview)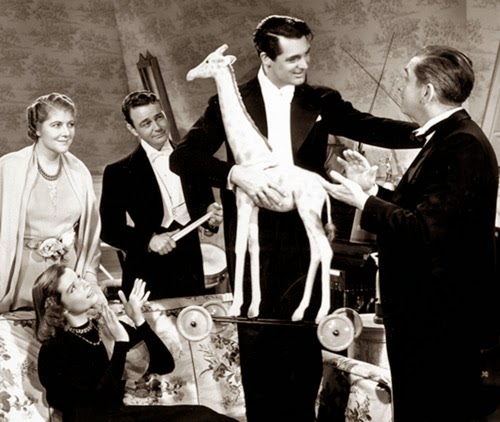 Scene from "Holliday" (1938) - © Columbia Pictures (CPII)
Films and programs on this page are arranged seasonally only to suggest that viewing might be correlated with family reading, at-home vacations, and other activities.
We've tried to list only titles free of objectionable material. Even so, we recommend that any production with which you're unfamiliar be reviewed before you gather the family round to watch it. In a few instances, where we have listed a production that might be problematic, we've tried to note areas of possible concern.
There are also numerous titles that contain no objectionable material, but which we haven't listed simply because of personal taste, or because we're unaware of the production. We apologize for such omissions.
Our objective is not to provide a comprehensive list of films and programs suitable for family entertainment. We simply want to offer something, from our own search for entertainment, that may be of use to others.
SPRING
The holiday around which we build most of our March viewing is St. Patrick's Day. Quite a number of films center on the Irish as well as on Leprechauns, Celtic history, and folklore. Yet some of our favorites may be a little less known, so we mention them here.
Old time viewers of The Wonderful World of Disney will probably remember
The Fighting Prince of Donegal
(1966), a likeable romp starring Peter McEnery, Susan Hampshire, and a pre-
Upstairs, Downstairs
(1971) Gordon Jackson. McEnery stars as Red Hugh, a long awaited champion who, according to legend, will unite the clans and free them from British tyranny. Of course, the British are unenthused about the prospect of any interruption of their tyranny, and believing one man's freedom to be another man's treason—they promptly lock Hugh up in Dublin castle. Nevertheless, Hugh is a man with a mission. Besides, drop-dead-gorgeous Kathleen (Susan Hampshire) is waiting at home in Donegal Castle for his return, so escape is inevitable. This is a fun family film, though you should be forewarned that all stereotypical images of Irish brawling and drinking are in full force. It is available as a rental, though Disney is not currently selling it.
More subtle, and many times more gentle, is the humorous BBC series,
The Irish R.M.
(1983-1985) The set includes three, six-part series, all available for purchase or rental. The third series is not as delightful as the first two. The first two series are endearing, lovely period recreations recounting the misadventures of a retired British Major, Sinclair Yates, who has been appointed to be the resident magistrate in a rural Irish county. Peter Bowles is very comfortable as Major Yates—and British television devotees will recognize him from series such as
To the Manor Born
(1979-1981). His wife, Phillipa, is played by Doran Godwin. (She is "away in England" in the third series—one of its major failings!) She plays her part with winning wide-eyed charm. There is a first-rate Irish cast who clearly enjoy their part of confounding, beguiling, and generally manipulating Major Yates in a variety of situations. Until a viewer is thoroughly entrenched in Victorian Ireland, the series may seem rather aggravating; however, as love and good grace become more important than superiority and exactitude, this series grows in its warmth and charm. It will, however, very likely bore younger children.
When most films were still being produced in back lots, John Ford hit the road to film
The Quiet Man
(1952) entirely on location in Ireland, taking John Wayne and Maureen O'Hara with him. The sets and settings are incredible for the time in which it was produced, and a genuine charm and affection permeates the film. The supporting cast, led by Ward Bond (in what may be his most delightful role) is top notch. This is our favorite John Wayne film, though it is definitely not without its faults. A film in which a husband drags his wife bodily across the Irish countryside would legitimately not be considered family fare nowadays. And a blind eye may need to be turned on brawling and drinking as well. If you can file such aspects away under "blarney," then
The Quiet Man
(1952) may be the best film for celebrating "the wearin' o' the green."
Probably everyone has a favorite Easter film, and the networks reliably present
The Ten Commandments
(1956) in a four-hour time slot, only half of which is commercials. Yet we prefer Charlton Heston as the fictional Israelite in the incomparable film,
Ben Hur
(1959). It simply conveys the spirit and intent of Eastertide better and more movingly than any other major film of which we know.
When April rolls around, we have one "must watch" film each year; but we also see the "month-of-fools" as an ideal time to celebrate men and women who dared to be a little different. Our "must watch" is
Enchanted April
(1991). This is a terrific film for turning tail on winter and embracing spring and summer. It's a 93-minute vacation in paradise. Palpably beautiful, and sporting a flawless cast, it tells a delightful story of renewal and realization with tenderness and wit. Miranda Richardson, Josie Lawrence, Polly Walker, and Joan Plowright star as the women who literally find themselves in Italy.
The Spirit of St. Louis
(1957) may be Jimmy Stewart's most demanding role--he appears in virtually every scene, frequently alone, or with only a housefly as supporting actor. Even though the film lacks a "cast of thousands" it is one of those majestic Hollywood productions that is as large as the hero it celebrates—in this instance, Charles Lindbergh. Told mostly as flashbacks during the night before and the days during Lindbergh's historic flight, the film chronicles his years as a military and stunt pilot. It is an inspiring narrative of his sweat and struggles to get his dreams airborne. The movie has an impressive suspense factor despite its foregone conclusion.
Another film that fits this category is
Apollo 13
(1995). We watch our language- and introductory-sequence-omitted version in April since that is the month of the original Apollo 13 flight. The film is good enough that I still worry that the astronauts will be burned-up in space and I cry when they land, even though I anguished through the actual event three decades ago.
Edison, the Man
(1940) (sequel to
Young Tom Edison
(1940), for Mickey Rooney fans) is a just-plain-nice retelling of Edison's trials, love, and success as an inventor and innovator in turn-of-the-century New York. Spencer Tracy makes a thoroughly convincing, likeable, and indomitable Thomas Alva Edison.
The Sound and the Silence
(1992) was originally a made-for-cable mini-series that is now available for rental, as well as in a heavily edited version for sale. It is a touching biography of Alexander Graham Bell that truly inspires a great respect for Bell as a compassionate and brilliant man, as well as an affection for his equally remarkable wife. It does contain two offensive, and unnecessary expletives; otherwise, it is a beautiful and inspiring depiction of using one's gifts to create a better world. Parents may also appreciate knowing that early scenes briefly take viewers along for the study of hearing and speech using dissected sheep heads. This sounds worse than it is, but parents may want to screen these scenes if young children are to view the film. For the same reason, parents may also want to know that depiction of death from consumption among Bell's immediate family members also takes viewers back to some of the realities with which people of that generation struggled.
The Keys of the Kingdom
(1944) is a lesser known film-gem starring Gregory Peck. His performance in this motion picture won him an academy award. He portrays a Catholic priest, hoping for a brilliant ecclesiastical career, yet finding himself a missionary in a remote area of China. Based on A.J. Cronin's novel, the story spans a lifetime of service, compassion, courage, and ingenuity—the story of a man truly dedicated to God.
On flip sides of Gary Cooper's career are two movies that celebrate heroism and commitment to duty,
Beau Geste
(1939—the vintage year for filmmaking) and
High Noon
(1952).
Beau Geste
(1939) is a must-see-once, two-hankie film about three aristocratic brothers who give their all for the foreign legion, Mother, and England.
High Noon
(1952) is a suspenseful, taut Western that pits issues of honor and integrity against love and self-preservation. It's a crackler with a nifty ending, and has the further distinction of being Grace Kelly's leading-lady film debut.
On the lighter side, Disney's
A Bug's Life
(1998) and Nick Park's
Wallace and Gromit
(1989-1995) series give fresh perspectives on courage, "fools," and innovation.
Finally, in early May, it's time to pay tribute to Mothers. We have two favorites in this category.
I Remember Mama
(1948) is a wonderful, better-than-the-book bit of cinematography starring Irene Dunn and Barbara Bel Geddes in the true story of a Norwegian-American family struggling along in turn-of-the-century San Francisco. It is funny, tender, and well paced—a worth-owning family film.
Mrs. Miniver
(1942) is the legendary WWII film about a shining woman who holds her family together through air raids, Dunkirk, and tragedy. The most famous of all the Greer Garson/Walter Pidgeon collaborations, it was directed by the great William Wyler and won the academy award for best picture. (It also spawned a don't-see, soapy sequel,
The Miniver Story
(1950).)
SUMMER
With school doors closing for the long, rich days of summer, children are usually exam-weary and ready for some innocent escape.
The Eugene O'Neill play, "Ah, Wilderness," is a nice end-of-school lark in any of its film adaptations. The Mickey Rooney version is generally available. We prefer, however, another stage-to-film favorite: Frank Capra's
You Can't Take It With You
(1938), with it's incredible cast — a veritable Capra who's who that includes Lionel Barrymore, Jimmy Stewart, Jean Arthur, Spring Byington, Ward Bond, and others. This Kaufmann and Hart Pulitzer Prize winner is set at graduation time, and with the promise of carefree exuberance ahead, it's an ideal film for early June.
Other nice escapes include the precursors of Bogdonavich's
What's Up, Doc?
(1972) such as Cary Grant and Katherine Hepburn's,
Bringing Up Baby
(1938), or Preston Sturges romps like
Palm Beach Story
(1942) and
Sullivan's Travels
(1941). Be aware that these Sturges films frequently contain mild sexual innuendo.
Another wholly delightful film that takes up summer where graduation ends is the slick Clifton Webb vehicle,
Elopement
(1951). This is vintage Webb, and his acerbic humor plays to good advantage in this story of a staggeringly perfect daughter (Anne Francis in her movie debut) who elopes with her young psychology professor.
By mid-June and Flag Day, we're ready to tackle some of the long list of wonderful flag-waving films that set the mood for Independence Day. We recommend some of the war films that celebrate women. Perhaps the best of these is
Since You Went Away
(1944), another star-studded film including Claudette Colbert, Joseph Cotton, Jennifer Jones, Shirley Temple, Monty Wooley, and others. This is perhaps the ultimate keep-the-home-fires-burning film. It is witty, touching, and sincerely patriotic.
In the total romp category, we like Ginger Rogers and Ray Milland in the WWII Wilder film,
The Major and the Minor
(1942). Rogers poses as an adolescent, and takes on a military academy full of girl-starved cadets while she falls for the academy's commander, Milland.
Also wonderfully funny is Judy Holliday in one of her best-known roles as the ultimate dumb-blonde-gets-wise in
Born Yesterday
(1950). Under the tutelage of William Holden, she discovers her own personal and moral independence as she learns about America. This one is probably better for older children, however, as there is a scene in which she is struck by her bullying, perennial fiancé, Broderick Crawford. There is also mild sexual innuendo.
Without Love
(1945) is one of the best of the Tracy-Hepburn films, with great writing and a great cast including a pre-Desi Lucille Ball, witty and urbane in her working-woman role. In this back-at-the-home-front WWII movie, Tracy and Hepburn mutually agree to a platonic marriage-of-convenience in order to work closely together on a breakthrough flight device, but find themselves falling unwillingly in love.
There are many more films that march well into the Fourth.
Mr. Smith Goes to Washington
(1939) is another Capra great that teams Jimmy Stewart, as a naïve young senator, and Jean Arthur, as his cynical Washington-weary secretary. Claude Rains is smooth and implacable as the once idealistic, now corrupted senator whom Stewart naively idolizes. The movie is well known, but nevertheless a must-mention.
Another well-worn must-mention is
Yankee Doodle Dandy
(1942), with James Cagney filling up the screen, and making one-and-all forget he played any other roles in his career. Cagney's leading lady, Joan Leslie, seems to have selected her roles carefully, for it's hard to think of any film she played in that doesn't sport a four-star rating.
Sergeant York
(1941), in which she plays Cary Cooper's country sweetheart, is another good Independence Week possibility, though we'd rather save it for Veteran's Day in November. Cooper is delightfully innocent in this semi-biographical piece about a sharp-shooting backwoods boy become hero in WWI France.
A wonderful Americana period piece,
Life on the Mississippi
(1980), made for television in the 80s, is also terrific for the Fourth. Rich in language, humor, and cinematography -- and sporting a lovely score as well -- it is very loosely based on Twain's book of the same name. Young Sam Clemens is determined to become a river pilot, and becomes a steersman "learning the trade" from Horace Bixby, a crusty veteran pilot more reminiscent of Twain than Bixby's youthful apprentice. This is first class entertainment -- clever, sensitive, and very engaging. Two caveats, however: There is some mild profanity, and the resulting injuries of a steamboat explosion are slightly graphic.
On the evening of the Fourth, while waiting for any accommodating fireworks displays, or a moonlight croquet game, we watch
A More Perfect Union
(1989). Another made-for-television offering, it appeared on some PBS stations, refused by the networks because it took too few commercial liberties with the actual account of the constitutional convention. It is available on video, but may be a little challenging to find. This is a very gentle, congenial re-telling of the process of forming our nation's constitution that I like better with every viewing. You will not recognize too many cast members easily, but happily there are absolutely no content warnings here.
We leap from celebrating our independence to celebrating the French Revolution. Bastille Day (July 14) is great to visit with any of the film adaptations of
A Tale of Two Cities
; however, we generally are snatched away from the guillotine by
The Scarlet Pimpernel
(1982) himself. The Leslie Howard/Merle Oberon production is still good fun, but is eclipsed by the costuming, musical score, and generally gorgeous gorgeousness of the Norman Rosemount version starring charismatic Anthony Andrews and breathtaking Jane Seymour. There is some violence, mild profanity, as well as an unnecessary "boudoir" presence. It requires a little fast-forwarding, but would likely have received a "G" rating had it appeared in theatres. (Admittedly it might have been "PG," since
Little Women
(1994) was rated PG -- a mystery we've never solved.)
Even though the World Series has become a Fall classic, we still associate baseball with hot dogs, ice cream, and mosquito bites from standing around uselessly in left field. There are several films that celebrate baseball when it really was the national sport. Of the baseball biographies the best, in our opinion, is still the heart-tugging
The Pride of the Yankees
(1942) with Gary Cooper very believable as Lou Gehrig.
In a lighter vein, we love the original, black-and-white version of
Angels in the Outfield
(1951). Paul Douglas makes an appropriately sour Guffy McGovern, the temperamental, foul-mouthed manager of the last-place Pittsburgh Pirates. When an orphan implores the archangel Gabriel to help the Pirates get out of their slump, the angels go to work reforming McGovern. Janet Leigh as a prim, but pesky reporter, aids in the reclamation process. The manner in which the foul language is depicted is both clever and effective. It's a hit.
There is also a natural symbiosis to summer and the very non-cerebral westerns that smack of endless Saturday afternoons in cool theatres. The John Ford/John Wayne cavalry trilogy is arguably the best set of panoramic, action-packed westerns ever made.
Rio Grande
(1950),
She Wore a Yellow Ribbon
(1949), and
Fort Apache
(1948) all beg for popcorn and real butter.
Fort Apache
(1948) should, as a matter of principle, be seen once as part of the trilogy; but no more is required. (Who can permanently warm to a film where Henry Fonda is a myopic jerk, and John Wayne is killed?) There is violence, though certainly neither bloody nor bone-crunching; however, young children may be genuinely upset by the fact that youngsters are taken captive in
Rio Grande
(1950).
The Cowboy and the Lady
(1938) is a light-hearted and charming film starring Gary Cooper and Merle Oberon. It might be described as
It Happened One Night
(1934) goes to the rodeo.
As summer ends and Labor Day looms large, our favorite tribute to the working classes is
The Devil and Miss Jones
(1941). This is another Jean Arthur film. Look past the rather cheesy opening which is the only real connection between the title and the film. In this production she is paired with a raw, young Roger Cummings. Her real co-star, however, is the irascible Charles Coburn, whose presence seems always to be the bell weather of a fine film. Spring Byington is also on hand as Coburn's tender-hearted love interest. Coburn plays a jaded multi-millionaire who goes undercover in a department store he owns to ferret out and lay waste to the fledgling labor movement headed by Cummings. His viewpoint begins to change as he sees things from a laborer's perspective, particularly as he is exposed to the arrogance of an obnoxious section manager played by Edmund Gwynn in one of his only "bad-guy" roles.
AUTUMN
With school back in session and cold snaps in the offing, it's a great time to trot out some of the films that celebrate being in the classroom -— inculcating the happy idea that school, not vacation, is the norm.
Certainly the most familiar and readily available after-school snack is
Goodbye, Mr. Chips
, the winsome tale-told-in-flashback of the successes and sorrows of a British public schoolmaster at the turn-of-the century. There are two adaptations of the James Hilton novel that are worth a Friday night's gathering. The 1939 version starring Robert Donat and Greer Garson is likably touching; but the 1984 BBC production starring Roy Marsden does the book greater justice due to the production's three-hour format. The sets are not remarkable, and the initial moments feel more like live theatre, than a film; however, it is increasingly absorbing and sympathetic. Marsden especially becomes as comfortable as an old leather armchair as he ages across the fifty years covered in the film. The cast is watcher-friendly, and the concept of educating both mind and heart is refreshing.
Two more films use the aged-educator-in-flashback-mode to pleasing results. A bit difficult to locate, but worth the effort is something that appears to be a bookend to
Goodbye, Mr. Chips
. It is the 1955 Jennifer Jones film,
Good Morning, Miss Dove
(1955). But before you think this is simply a sappy-pseudo sequel, spend a pleasant evening in the thrall of this story of a dedicated spinster schoolmarm, her lost love, and her stern-but-just interest in her pupils. Jones carries the span from maiden to old maid believably; and if the story is as predictable as meat and potatoes, it is equally satisfying.
The Long Gray Line
(1955) is the West Point response to Mr. Chips, with Tyrone Powers and Maureen O'Hara doing the honors as Mr. And Mrs. Marty Maher. The film, among other things, follows the history of early football as it follows Maher's long career as an athletics director. This may also be the time to "win one for the gipper" by revisiting
Knute Rockne, All American
(1940), along with Pat O'Brien, Donald Crisp, and a youthful Ronald Reagan.
College football is also the topic of a lesser-known John Wayne vehicle,
Trouble Along the Way
(1953). Wayne is a coach hired by Charles Coburn, playing a Catholic Father, who is anxious to push his small private college football program into the win column. In an early examination of questionable football ethics, part of Wayne's "trouble" comes in the form of illegal recruitment and payment practices; and part comes from the rearing of his streetwise daughter whose paternal custody is being disputed by her broomstick-riding mother. Donna Reed is the social worker considering Wayne's fitness to parent his preteen daughter, and both ethics and justice win out. All three films are available on video.
Fluffy, but still nice for September, is Loretta Young, widowed and returning to college, in
Mother Is A Freshman
(1949). Another in the difficult-to-find category, it is sometimes around on cable at this time of year.
Finally, the well-beloved 1981 Academy Award winner,
Chariots of Fire
(1981), is always worth another viewing. One of our particular favorites is the made-for-television mini-series,
The First Olympics: Athens 1896
(1984). This is the delightful re-telling of the small American band of surprising-even-to-themselves athletes who took the first modern Olympics by storm.
October is an ideal time to revisit the mystery genre, but there are too many good ones to name them all. Here are a few of our very favorites. Early in the month, one must-see for us is the Miss Marple gem,
A Murder Is Announced
(1985), one of the many excellent BBC adaptations of Agatha Christie's work starring Joan Hickson as Miss Marple. Hickson plays the role as if born to it, and any of the earlier videos are splendid, though the later ones are marred by profanity and offensive violence. (Even with the earlier ones we turn our heads and fast-forward quite a bit.)
Most whodunits rate a one time I-thought-it-was-him-all-along-but-I-had-to-see-to-the-end-just-to-be-sure watch. Even so, we can virtually recite
A Murder Is Announced
(1985) because we return every year for the marvelous acting, writing, and periodization in this sweet bit of suspense.
The Body in the Library
(1984),
The Murder at the Vicarage
(1986),
4:50 from Paddington
(1987),
The Moving Finger
(1985),
A Carribean Mystery
(1989), and
Sleeping Murder
(1987) each have very nice elements.
Nemesis
(1987) and
At Bertram's Hotel
(1987) are a bit more disturbing in their resolutions, however.
None of the Miss Marples is for younger children. Unless you have previewed them and know your child's tolerance for whodunit suspense, we would not recommend them for children under 13.
Also, for older families and Agatha Christie fans, there are the incomparable Poirot videos that originally aired on PBS's Mystery! David Suchet is the definitive Hercule Poirot, and is ably abetted by Hugh Fraser and Pauline Moran as his proteges, Captain Hastings and Miss Lemmon, respectively.
If only as period pieces they are valuable, generally celebrating the exquisite detailing of Art Deco style; but they are also jewels of fine acting and suspense.
The ABC Murders
(1992),
Hickory Dickory Dock
(1995), and
The Mysterious Affair at Styles
(1990), are each good introductions and each can fill an evening's viewing. Note, however, that you will want to preview these to ensure that they consist with what you feel is appropriate for you and your family.
Poirot's advantage over Miss Marple; however, is that there are some episodes dealing with theft rather than murder. These tend to be less frightening for viewers aged 8-12. Some of these are
The Theft at the Grand Metropolitan
(1993),
The Million Dollar Bond Robbery
(1991),
The Veiled Lady
(1990), and, our personal favorite,
The Theft of the Royal Ruby
(1991).
The late Jeremy Brett's portrayal of Sherlock Holmes created another impossible-to-top characterization. Although most of the cases Holmes undertakes concern murder, there are also some less violent choices here as well. Look for
A Scandal in Bohemia
(1984),
The Naval Treaty
(1984),
The Red-Headed League
(1985), and another Christmas treat,
The Blue Carbuncle
(1984).
For the over-thirteen children in your life,
The Speckled Band
(1984) - Doyle's first Holmes story;
The Final Problem
(1985), followed quickly by
The Empty House
(1986);
The Second Stain
(1986), and
The Hound of the Baskervilles
(1988) are just a few of the best.
The Holmes series is, as a general rule, less violent and sinister; however, you may wish to be on the look-out for the mild suggestion, here and there, of Holmes' addiction.
If you can locate any of the Campion series that aired several seasons back on Mystery, they are also more than worthy of an evening's watch. This is particularly true of
The Case of the Late Pig
(1989),
Mystery Mile
(1990), and
Sweet Danger
(1990).
Peter Davison—better known to most audiences as Tristan Farnon in the popular series
All Creatures Great and Small
(1978-1990), does a fabulous job recreating Marjory Allingham's debonaire detective. The production values and acting are all top drawer.
William Powell also created roles with memorable sleuths. In
The Ex-Mrs. Bradford
(1936) he teams up, or re-teams up, with his ex-wife, played by a flamboyant Jean Arthur, to solve the mysterious death of a jockey. Everyone knows Powell best, however, for his long-term relationship with Myrna Loy as they portrayed the detecting duo of Nick and Nora Charles in the highly popular
The Thin Man
(1934-1947) films. These are relatively innocent; however, 10 may be a safe age, provided you can overlook Nick's constant state of semi-inebriation. Sans alcohol the films are fluffy fun.
For the whole family, there are several very fine choices. Disney has done much to further the cause of amiable fright and suspense, and we particularly like many of their productions from the late 50s and early 60s when they were reaching across the Atlantic for stories and talent Hollywood had overlooked.
If you can find it,
The Scarecrow of Romney Marsh
(1964) is an ideal October film. Patrick McGoohan is intriguing as the British cleric who aids the over-taxed country folk of his small village by heading a Robin Hood-esque band of smugglers while he anonymously poses as the surly Scarecrow.
Easier to find is a fair version of Erich Kastner's,
Emil and the Detectives
(1966); but better still is the readily available 1963 film,
The Horse Without A Head
(1963). This rather overlooked gem is not only a captivating children's adventure, but a good first step into the mysterious world of foreign films. Although acted in English by British children, this tale of French street urchins stumbling onto a ring of bank thieves has the look and gritty appeal of many of the fine foreign film of the era.
Disney's 1949 animated version of
The Legend of Sleepy Hollow
(1949), narrated and sung by Bing Crosby, is still the ultimate young child's trick-and-treat. Its level of hand-drawn animation and pure fun still create enough sparkling spookiness to remind the whole family of the old-time fun of Halloween.
Finally, our winner for the best-ever Halloween film is Frank Capra's version of
Arsenic and Old Lace
(1944). While too frightening for children under six or so, it is quintessential Halloween. Capra teamed with Cary Grant to make this black comedy hilarious, while maintaining it's sinister streak.
Priscilla Lane who plays Grant's innocent bride is probably the least known of the cast, but even lesser parts are played to perfection by some of Hollywood's best — Raymond Massey, Peter Lorre, Edward Everett Horton, and James Gleason. We love to end our Halloween evening with a house lit only by Jack-O-Lanterns, some popcorn and apples, and this scream of a classic.
With more than a little poetic propinquity, Halloween is followed almost immediately by Election Day. The treat of your candidate's victory, or the trick of his defeat can be respectively heightened or assuaged by the inclusion of these films in your post-election-results viewing.
The Farmer's Daughter
(1947) is the political Cinderella story of an engaging young country woman (Loretta Young) and the circumstances that lead her to run for congress. Complicating matters is the fact that the congressman (Joseph Cotton) who is not only her employer, but also her love interest, is the key elected official in the opposition party. This is a lovable romantic comedy that is sweetly played and well written. Ethel Barrymore and Charles Bickford are wonderful as Cotton's political lion of a mother and the family's faithful retainer, respectively.
Veteran's Day, often forgotten or ignored, is an ideal time for some four-star films that can help children comprehend more of the world their grandparents knew.
Mrs. Miniver
(1942), for example, the most beloved of the Greer Garson-Walter Pigeon films, is a tender portrait of life in Britain as it transitions from the bucolic to the battleground -- changing roles and lives forever. Garson is at her steeled feminine best as a mother fighting her own war to hold a family together in the face of air raids, enemy soldiers, and Dunkirk. Assuredly sentimental, it is, however, beautifully inspiring. (The interiors still look great over a half a century later!)
There are a number of good John Wayne as well as Jimmy Stewart films that celebrate the soldiers of WWII, but we particularly like the Clark Gable classic,
Run Silent, Run Deep
(1958), that combines psychological drama with an edge of mystery that feels like the movie version of Milton Bradley's battleship game.
Grandpa, a veteran of World War II and POW, believes wholeheartedly in the virtues of
The Best Years of Our Lives
(1946). We agree. Daring in its day, it takes on the trials and triumphs of three very different veterans returning at the end of WWII as they attempt to pick up their lives exactly where they left them, only to discover that life had moved on in their absence. Dana Andrews plays a decorated fighter pilot brought suddenly back-to-earth -- back to work at a soda fountain, and back to the realities of a war-time bride (Virginia Mayo) who married a uniform instead of the man who wore it. Frederic March returns to the bosom of a loving family, fortunate indeed to have married a wonderfully patient Myrna Loy; however, he finds his "little ones" no longer little and his banking job dull and strangely inhumane, particuarly to veterans. Vulnerable, sweet Harold Russell, a real-life disabled veteran, who had become accustomed to the loss of both of his arms while amongst other disabled soldiers, struggles to feel whole back in his quiet, middle class neighborhood. He finds himself feeling estranged from his childhood sweetheart, Cathy Cromwell. The resolutions of each story are absorbing and hopeful, and there is real insight into a critical time of our history.
HOLIDAYS
Between Veteran's Day and the advent of the richly laden Christmas viewing season, we like to tuck in what is perhaps our favorite production ever, the 1982 stage-production-on-video of
The Life and Adventures of Nicholas Nickleby
, acted by the incredible Royal Shakespeare Company. We don't usually enjoy stage productions -- preferring the subtlety and richness of film -- so we can't fully explain our adoration for what is so blatantly and completely theatre (especially in view of the productions duration). This, however, is near perfection. Breathtakingly clever and unbelievably well-acted, this uplifting Dickens' adaptation is touching , humorous, and thoroughly captivating. The first two of it's nine hours may be slow going for some, and small children may well languish after the first five minutes, but hang on -- all effort is amply rewarded . Roger Rees is completely satisfying as Nicholas, which is good as he is the only actor in the play who only portrays one character. Most actors play several parts, and part of the fun of watching is identifying the various times they appear. Due to the range of ablilities of any RSC preformer, this is harder than it might seem. From a Victorian version of Romeo and Juliet to its non-moralizing message of charity, this is a sumptuous precursor to the goodwill that should reign throughout the holiday season.
If your children are too young to sustain a nine hour program, they may still be ready for the delight of the three-hour version of Frances Hodgson Burnett's
A Little Princess
(1986) that originally aired on Wonderworks. Unlike the 1995 adaptation, which took as many liberties as the 1939 Shirly Temple vehicle, this is very true to the novel and very beautifully done. This, too, is a very appropriate lead-in to the Christmas season.
Perhaps not an obvious choice for Thanksgiving time, the foreign film,
Babette's Feast
(1987), will not only teach lessons in gratitude, it will make preparing the traditional multi-course Thanksgiving dinner seem like child's play. A visual feast itself, this is a film to be watched and re-watched. We thoroughly enjoy it in spite of the fact we seldom watch captioned films.
While certain films drift in and out of our Christmas repertoire, there are some that, for us, mark the holiday as clearly as pine boughs and holly berries. Some are short and can be thrust into an already busy evening, others are long enough to justify their own date on the calendar.
In the former category , we especially enjoy some of the Christmas episodes of British dramas and comedies. We can't miss
The Theft of the Royal Ruby
(1991) from the Poirot series or
The Blue Carbuncle
(1984) from the Jeremy Brett version of Sherlock Holmes.
We also enjoy
Goodwill to All Men
(1974) from
Upstairs, Downstairs
and the pre-war Christmas episode of
All Creatures Great and Small: Merry Gentlemen
(1978). The Wonderworks presentation of
Miracle at Moreaux
(1986) is a suspenseful, but tender short, set in occupied France where Christian children gain insight into true Christianity as they overcome fear and prejudice to help Jewish children hunted by Nazis.
Our very favorite in this category, however, is the magical, tongue-tantalizing
A Child's Christmas in Wales
(1987) starring Denholm Eliot. Visually rich and totally pleasurable to the ear, this is a cherished part of our Christmas Eve celebrations. Somewhere, Dylan Thomas must be pleased.
For longer viewing, we're quite besotted with another Frances Hodgson Burnett adaptation -- the Ricky Schroeder/ Alec Guiness version of
Little Lord Fauntleroy
(1980). Though some of the production values are now outdated, it is still as thoroughly engaging and lovable as the book upon which it is based.
We have a sister so enamored of Charles Dickens'
A Christmas Carol
that she buys every adaptation she finds. Though we are less liberal in that respect, we still can't imagine Christmas without spending an evening with Scrooge and his night visitors. Al was raised with the 1951 Alistair Sim version. I always watched the 1938 Reginald Owen production. We might have been forever doomed to walk among the alternating spirits of both, had not Norman Rosemount taken pity on us in 1984 and produced his resplendent version starring Geoge C. Scott as a cold and calculating Scrooge. As this is the hands down winner in any dickens-of-a-contest, we're now both quite content. We do, however, like to throw in the 1970 musical version, Scrooge, not only to watch Alec Guinness sit in mid-air, but simply to enjoy the production's exuberance. No adaptation approaches it for capturing the celebration of the repentant miser.
Other holiday favorites include:
Bachelor Mother
(1939),
The Bishop's Wife
(1947),
Holiday
(1938),
The Late George Apley
(1947),
Little Women
(1994),
Meet John Doe
(1941),
Miracle on 34th St.
(1947),
It's A Wonderful Life
(1947),
Pocketful Of Miracles
(1961).
WINTER
We enjoy the peace of long winter evenings—reading, board games, candlelight and firelight—and when we take time to watch as a family we like a sense of escape from winter. Besides, there aren't a great many films and mini-series that celebrate the sense of winter-after-Christmas. Most of what is considered entertainment is designed for escape, yet what we're after isn't merely distraction, but enhancement. We want to step into worlds where there are sumptuous settings, intricate plots, real heroes, and unmistakable villains.
We have a great diversity of January favorites--from the very serious to the almost frivolous. We don't get them all watched each January, of course, but they give us a generous bandwidth from which to choose. January is a great month to sample some of the fine adaptations, made in recent years, from the novels of Charles Dickens. Our favorites are the 1980 film of the Royal Shakespeare Company's eight-hour play version of
The Life and Adventures of Nicholas Nickleby
(1982), and the complex 1998 BBC version of
Our Mutual Friend
(1998) starring Paul McGann and Keeley Hawes.
The Life and Adventures of Nicholas Nickleby
(1982) was originally presented as a daylong play that performed to sell-out audiences in England and America despite the then very hefty ticket price of one hundred dollars. This recording of one of the performances at the Old Vic Theatre in London is as magical and delightful as if it had been filmed on location with a cast of hundreds. Almost all of the scenery, however, is improvisational and the 40 members of the cast make-over into scores of highly diversified parts.
David Rees, who stars as Nicholas, is, in fact, the only cast member with only one role. Part of the fun in watching and re-watching the production, is in figuring out who plays various parts. Some people find the first two hours a little dark as matters go from bad-to-worse for the bereaved Nickleby family; nevertheless, things brighten wonderfully as the story unfolds.
Stunningly filmed and flawlessly performed,
Our Mutual Friend
(1998) is a wholly engrossing tale of the effects and defects of inherited wealth and station—painting a clear distinction between mere riches and true value. Sadly, several caveats attend this production: We have an edited copy so we've forgotten to worry, but parents will want to preview this for some violence and one scene containing male nudity (distant and from the rear). Also, the story's climax may strike some as a bit too melodramatic.
The newest version of
David Copperfield
(1999) is also well worth its weight in viewing time. It boasts an all-star cast including brilliant performers such as Ian McKellen, Bob Hoskins, and Maggie Smith. (Harry Potterophiles will also recognize its star, Daniel Radcliffe, as young David.) This is beautifully filmed and indulgently acted--and it avoids some of the stereotypical portrayals characteristic of past film outings. For example, Bob Hoskins' performance as Mr. Micawber is not merely one more bad imitation of W.C. Fields.
Also high on our Dickens list is
Bleak House
(1985), starring Denholm Elliot in a story of the vagaries of the British chancery system. This production is far more compelling than it may sound.
Also from the other side of the Atlantic, but in a much lighter January mood, we recommend the
Jeeves and Wooster
(1990-1993) series starring Stephen Fry and Hugh Laurie in the title roles. If British humor is lost on you, these adaptations of P. G. Wodehouse's tales of the witless Wooster and his incomparable manservant, Jeeves, will leave you as clueless to what anyone finds side-splitting as a roomful of women watching the three stooges. If, however, Brit-wit tickles your funny bone, here is a huge and charming supply. As richly filmed as one of the above-mentioned dramas, and as perfectly acted, this series pleases on a grand scale and on many levels. We avoid the episodes that find Jeeves and Wooster in America, however, as the language is offensive and the plots more annoying than humorous.
The Flame Trees of Thika
(1981), which re-introduced Hayley Mills to film, is also a nice getaway from the winter blues. Set in Africa, it is a biographical re-telling of Elspeth Huxley's time in Africa as a girl, prior to WWI. The mini-series does a nice job of taking the depiction of Africa and its people from savage and strange to admirable and enticing. This is also a show that needs a pre-watch by parents, however. There is some unseen, but discussed violence, and a suggestion of adultery by some of the secondary characters.
February is the month of romance and patriotism, and we like to celebrate both. It's a good month to check-out some of the old swash bucklers that Hollywood reveled in during the 30s and 40s. Simply looking for Erroll Flynn's name on the video cover is a fairly simple way of locating some of the best! Our favorite in this group is the Erroll Flynn and Olivia de Haviland version of
Robin Hood
(1938). Though there have been many adaptations surrounding this Anglo-Saxon folk hero, this is still the happiest and best. We also like Tyrone Power as
Zorro
(1940), another satisfying romp where the folk legend restores justice and gets the girl (in this case, Linda Darnell.)
The production of Emily Gaskell's
Wives and Daughters
(1999) provides some of the nicest romance ever seen on screen, and is six delicious hours long. Perfectly beautiful and totally innocent, it tells a delightful tale of unswerving goodness, empty-headed prettiness, and damaging village gossips. Keeley Hawes stars here, too, along with Justine Waddell who together fulfill the "daughters" part of the bill.
We also like to re-visit some of the recent Jane Austen adaptations during February. Our favorite recommendations in this category are Ang Lee's version of
Sense and Sensibility
(1995) and Roger Mitchell's
Persuausion
(1995). Both are exceptional as films and acceptable as adaptations even to charter members of the Austen Adoration Society, which meets almost daily in our home. Both productions are beautiful—though
Sense and Sensibility
errs on the side of everything-scrubbed-and-flawless idealism, while
Persuasion
errs on the side of dirt-under-the-fingernails realism.
Douglas McGrath's
Emma
(1996), starring Gwyneth Paltrow, is gorgeously gorgeous but commits the unpardonable sin of having Emma Woodhouse tell a lie. She simply would not have done so. Having noted that, we watch it anyway. The Diarmunid Lawrence version of
Emma
(1996) that came out about the same time starring Kate Beckinsale fails a bit on the silly side of things by depicting scenes from Emma's imagination that are not wholly Austen-esque, but we watch it, too. The A&E
Pride and Prejudice
(1995), though charming in many ways, is disappointing on two fronts: The over-simplification of Austen's original dialogue renders much of the novel's cleverness mundane, and the over-playing of the silliness of Mrs. Bennnet, Kitty, and Lydia renders them far beyond any hope of sympathy or interest. It also contains one briefly suggestive scene (obviously added for contemporary audiences) that deserves a parental pre-watch.
Of course there is love of other kinds to be enjoyed during February, and tots may be far more moved by stories of courageous pets than tales of unrequited suitors.
National Velvet
(1944) is a top-notch example of this category, with Elizabeth Taylor holding her lovely own as the title character, and joined by a wonderful cast of Hollywood treasures such as Donald Crisp, Mickey Rooney, and Angela Lansbury. The only warning here is that acute desire to own a horse may result from even one brief viewing.
Elizabeth Taylor also appears in
Lassie, Come Home
(1943), but Roddy McDowell gets top billing even among the many notable performers in the film. The real star, however, is clearly Lassie, herself. It's not hard to figure out why there were additional Lassie films, as well as a TV series—though this film is still the best of the bunch.
There are not many exceptional fictional accounts of George Washington's life to view on President's Day--the documentary,
Liberty
(2004), probably does him the most justice of any piece--but Abraham Lincoln has fared better.
Abe Lincoln in Illinois
(1940) starring Raymond Massey is a fine film depicting the early years of Lincoln's political strife. Our personal favorite, however, is
Young Mr. Lincoln
(1939) with Henry Fonda portraying Lincoln beginning his career as an inexperienced lawyer. One of John Ford's finest films, it has everything from humor, romance, and courtroom drama to a tidy little murder mystery tucked into the midst. This is a definite "don't-miss" for the whole family.
Tags: 2012, Forgotten Films, Overview, Recommended viewing