Forgotten Films: Arsenic and Old Lace (1944) and The Ex Mrs. Bradford (1936)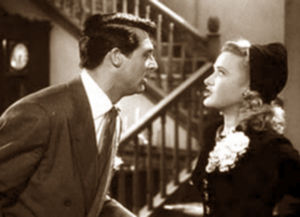 I'm sure I'm not the only one who would never think of classifying
Arsenic and Old Lace
as a "forgotten film," but after an hour of listening to a movie reviewer and his radio-talk retinue of phone-in suggestions for viewing on All Hallows Eve, and never hearing Frank Capra's classic recommended by anyone--the grisly, ghastly, macabre, and just plain silly apparently being preferred--I don't want to miss the opportunity of recommending what I consider to be the Halloween equivalent to Capra's ultimate Christmas film:
It's a Wonderful Life
. Of course, there's no angelic instruction or soul-searching (Christmas warrants it, Halloween does not), but there's still the full Capra-esque exploitation of what Halloween ought to be--a rollicking romp with a bit of a shiver.
According to Capra's autobiography, he was headed into the army in the early part of 1941, and needed to make a quick film in order to help his family pay the bills during his absence. Adapting a hot Broadway play seemed to be the solution. However, rights to the play he hoped for
--Arsenic and Old Lace--
had already been bought up by producer Jack Warner, so Capra put together a capable crew, a scanty budget (with a fat candy-bag portion of it devoted securing the talents of Cary Grant), two cameras, and an "imposing cast" of veteran "scene stealers" whom Capra would eventually let "run wild." With all this going for him, he talked Warner into letting him direct the film.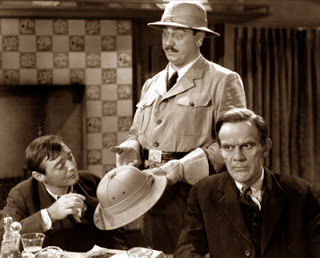 A short bit of filming commenced, but almost immediately the bombing of Pearl Harbor changed everything, Capra could only beg a 6-week extension of the deadline for reporting for military duty; six weeks in which to film, finish, edit, and preview his movie. And then the film couldn't be released until 1944, when the play finished its Broadway run. By then, most of Capra's first earnings went to pay income taxes.
Despite all of these obstacles, Capra created an enduring Halloween treat. Cary Grant was worth every bit of his star salary and more, although John Alexander, Peter Lorre, Raymond Massey, James Gleason, and Edward Everett Horton knock repeatedly and firmly at the upstaging door. Josephine Hull and Jean Adair as the Brewster sisters, and Priscilla Lane, (one of the talented quartet of Lane sisters) as the newest newlywed Brewster, are all delightful as well. The film is a great Halloween lark for all but young children who may be rather frightened by it, and a bit befuddled by its dark humor.
Capra referred to James Gleason as his "favorite character actor," and he wasn't alone. Gleason was in constant demand to add a comedic, fatherly sense of reassurance (as well as to write dialogue) in dozens of films.
Gleason and another wonderful forever-in-a-supporting-role-actor, Grant Mitchell, are also in the cast of another of our favorite end-of-October romps:
The Ex-Mrs. Bradford
. Gleason's wife, Lucille, makes up part of the cast as well.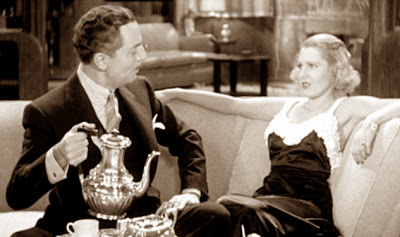 While most audiences know William Powell best for his portrayals of the bright, witty, never-entirely-sober Nick Charles of
The Thin Man
series, Powell played a range of detectives in a slew of films. In most of them he depicted yet another character based on best-selling crime novels--S.S. Van Dine's,
bon vivant
Philo Vance.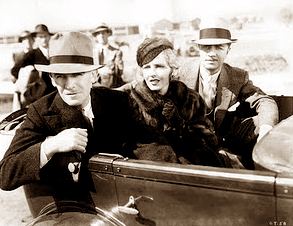 In
The Ex-Mrs. Bradford
, he's a whole new breed that would become the stuff of television mysteries: The detecting doctor. The "Ex-Mrs." in his life, Jean Arthur, is a prototype of yet another string of film and TV hits: The detecting crime writer.
Arthur reappears--unannounced, uninvited, and somewhat unwelcome--in Powell's becalmed life to insist that he produce the unpaid alimony he owe her, or to requite her proposal of a second try at their marriage. She promptly moves into his spare room to help ensure that one or the other of her demands is met, even though she is blatantly more interested in marrying him again. And just as promptly she draws Powell into the investigation of the suspicious, mid-race death of a jockey riding the favored horse at the local racetrack.
Thus the very full stage is set for a galloping gambol of a whodunit. There are enough suspects to fill a waiting room;, some fine, healthy repartee; and even a mild dose of suspense. Powell is his usual dapper-detective self, and Arthur is able to walk the challenging line between sophisticated savvy and stereotypical screwball--helping Powell solve the crime, albeit more by bravado than brains.
There's nothing to take too seriously in either films. Like
Arsenic and Old Lace
,
The Ex-Mrs. Bradford
may be a bit frightening to tots, but it's generally quite tame. All in all, the pair make for a fine double-feature-recommendation: "Watch two movies and call me in the morning."
Tags: 2011, Forgotten Films, Holidays, Recommended viewing