Forgotten Films: Batchelor Mother (1939) and Pocketful of Miracles (1961)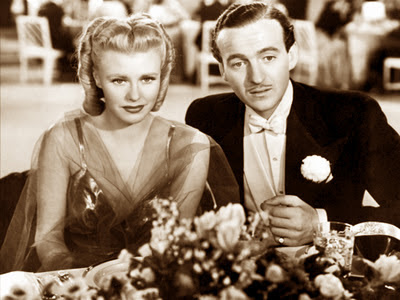 Everyone has at least one must-watch holiday film that heightens anticipation, enlivens the season, and simply speaks Christmas to the heart--and most of us probably have several. This pair of "Forgotten Films" is less about paving the way to Christmas morning, then about traveling the sometimes flat days after Christmas, when watching spirits visit Scrooge or angels visit George Bailey suddenly seem part of an exciting past that sadly won't return for another three-hundred-and-sixty-something days.
We love the week between Christmas and New Years, known in some traditions (and ours) as "Little Christmas," when unhurried overtakes hectic and the fridge is full of can't-afford-the-price-or-the-calories-the-rest-of-the-year foods. It's usually during those quieter days that we settle in to enjoy two films that wind down the season seamlessly--providing an essence of Christmas, but free from reindeer, red suits or wrapping paper. And each movie is a perfect match for prosciutto or Parmagiano-Reggiano.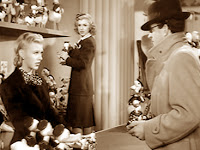 Bachelor Mother
begins on Christmas Eve and ends with New Years' Day, but across those handful of days, and in a mere 82 minutes, director Garson Kanin and writer Norman Krasna pack in an impromptu baby adoption, a romance, adventures in childcare, department store politics, a soul-satisfying damaged-merchandise return, a gallant landlady, a stuffy butler, a cocky stock clerk, New Years' Eve on Times Square, a Sunday in the park, and still manage to have multiple opportunities to show off Ginger Rogers' panache on the dance floor.
Bachelor Mother
is delightful, innocent fun that makes perfect use of the comedic skills of David Niven, Ginger Rogers, and Charles Coburn, as well as those of its admirable supporting cast. It's our favorite film for counting down the hours of the old year.
After seeing
Pocketful of Miracles
, Ginger Rogers' response to Frank Capra was: "Frank, it's so wonderful! What are you trying to do--bring back movies?"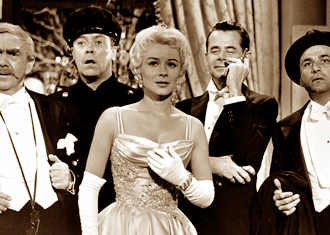 The film, lacking a big Hollywood-style build-up and given a very short run, failed to meet budget and temporarily languished among the more critically-acclaimed Soulful, Sad, and Meaningful films of the early sixties, but has found a permanent home on the small screen ever since. A remake of Capra's earlier Damon Runyon adaptation
Lady for a Day
, it's a Cinderella tale of real rags to make-believe riches, street peddlers, small time gangsters, big time mobsters, anxious cops, and Spanish royalty combining to do the miraculous in 1930s New York.

Capra's final film, it's big, splashy, colorful, and nicely sentimental with the added bonus of Edith Head's costuming from a grander, lovelier day. Some Christmas decorations and bits of incidental seasonal music are the only overt ties to Christmas, but it's got a huge, happy Christmas heart that carries out the season comedically and completely. Though Glenn Ford and Hope Lang were anything but Capra's first choices for bootlegger, Dave the Dude, and his girlfriend, Queenie Martin, it's hard to imagine anyone else in their roles. Bette Davis makes her transition from a gin-soaked hag of an apple peddler into a gracious society maven with resounding authenticity, and there are a wide range of outstanding performances by supporting players, though all may be upstaged by Peter Falk in a very early and acrid role as Glenn Ford's gangster lieutenant, wonderfully misnamed "Joy Boy."
Despite the literal headaches its production caused Capra, it's the perfect prescription for post-Christmas viewing.
Tags: 2011, Christmas, Forgotten Films, Recommended viewing