Forgotten Films: The Solid Gold Cadillac (1956) and The Devil And Miss Jones (1941)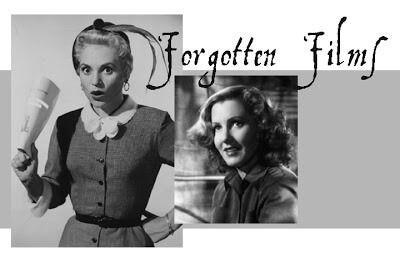 If searching for a slightly indolent way to celebrate Labor Day, two rather forgotten favorite films come instantly to mind--
The Devil and Miss Jones
, a 1941 romp about attempts to unionize an NYC department store, and
The Solid Gold Cadillac
, a 1956 Columbia Pictures remake of a Broadway play, rendered eerily topical by Wall Street shenanigans of the 21st century. Both would be remarkable just for featuring two of the finest comediennes of the twentieth century,Jean Arthur and Judy Holliday, respectively; but also spotlight other insufficiently heralded performers.
The Devil and Miss Jones
provides a delightful opportunity to watch Charles Coburn at some of his irascible and lovable best, as both "the devil" in Jean Arthur's life, as well as a love interest for perennially likable Spring Byington. Robert Cummings holds up his end as Arthur's boyfriend, but the role seems to be a better fit for a young Jimmy Stewart or a Joel McCrea. S.K. Sakall is simply good fun whatever part he's playing--and he's frequently playing about the same part--and Edmund Gwenn is as convincingly vindictive in this film as he is compellingly charming as Kris Kringle in
Miracle on 34th Street
. A plateful of tunafish popovers would make the perfect accompanying snack.
The Solid Gold Cadillac
is no masterpiece of cinematography--it looks more like a television movie than a feature film--but the lead performances are undeniably silver screen. In addition to Judy Holliday's captivating depiction of an out-of-work actress turned wide-eyed career woman, Paul Douglas makes a refreshingly rough-edged-yet-innocent leading man. Neva Patterson and Arthur O'Connell are winning as Holliday's only allies in the murky waters of big, bad business; and the villains of the piece, Fred Clark, John Williams, Ray Collins (aka
Perry Mason's
Detective Tragg) and Hiram Sherman are intentionally campy and overplayed.
Both of these films are sweet and naive illustrations about the glees and glums of the workaday world of management versus labor, haves and have-nots, and the power of the individual; not to mention almost any excuse to fall in love and float--or drive--away to a happily ever after.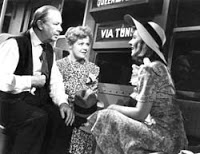 Parental precautions
are negligible, however, the dastardly character played by John Williams in
The Solid Gold Cadillac
, John T. Blessington, has a not-so-proverbially dumb brunette girlfriend, despite the fact that he's married.
Tags: 2010, Forgotten Films, Recommended viewing