Forgotten Films: Graduating to summer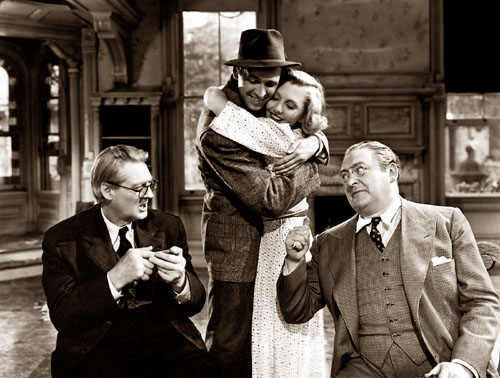 As the school year ends, we suggest three lovable films that suit the summery move from homework to housework and sweaters to shorts. Though any of them are worth a watch any day, there's something about each of them that feels a little like the liberty of packing away the algebra and geography texts and packing up for a lazily-sweet three-months of vacation. They all possess something of a university setting--"just around the corner from Columbia" in the first instance, and two fictitious colleges to run away from or back to in the second and third. The films' other common denominator is that each was directed by one of Hollywood's very best—and two of them add the further inestimable advantage of instruction in the art of dancing a once incredibly popular, "The Big Apple."
Our favorite, and the best known of the three, You Can't Take It with You, was so deeply into the "best" category that it earned Frank Capra his third Oscar for Best Director—a total shock to Capra as the critics hadn't been overly kind—and the film danced away with the Best Picture honors as well. Columbia pictures paid what was then the astounding sum of $200,000 for rights to Kaufman and Hart's Pulitzer-prize winning play—and Capra left about $90K worth of it out of the adapted script in order to depict "Love Thy Neighbor in living drama" and to glorify "the bloke that bushes the broom" in his own audience-pleasing, common man style.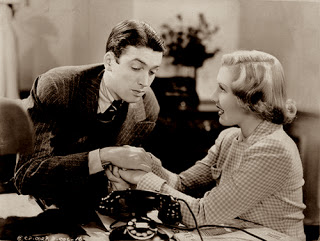 Unlike some of his films, Capra was smitten with his entire cast, so much so that he further altered his pricey script to celebrate them. Since Lionel Barrymore, whom Capra described as "the humblest, most cooperative actor" he'd ever known, was his one-and-only choice for the role of Grandpa Vanderhof, he wrote in a fictitious fall into Grandpa's part in order to justify Barrymore's need to perform his part on crutches due to to crippling arthritis—and Grandpa also sticks to stamp-collecting rather than snake-charming. In an unanticipated bit of casting, because he needed a no-pretending, real-life xylophone player for the part of Ed Carmichael, Capra auditioned wide-eyed, wide-grinned Dub Taylor. When Capra asked if Dub if he had ever "played in a picture," Dub responded, "No, suh, but I played in The Rose Bowl on the Alabama football team." And that, too, was worked into the script, and even the film set as well, in the form of U of Alabama pennants adorning the walls. Infant phenomena, Ann Miller, who played "the awkward Pavlova" character of Essie Carmichael was only 15-years-old when the film was made—though if Capra—or anyone else for that matter—knew they were adapting to the needs of a minor on the set is unclear. The "Our-Gangish" crew of street urchins, teaching Jimmy Stewart and Jean Arthur to dance The Big Apple—or at least a little of it—however, are undeniably quick and precocious minors, and are yet another of Capra's inventions.
The play deservedly still runs in theaters nearly eighty years after it was written if anyone wishes to see the un-Capra-sized version; but
You Can't Take It with You
undeniably
works at every possible level that Capra might have wished. It legitimately earns every laugh, sigh and tear.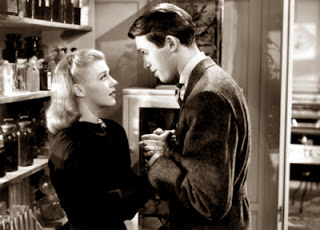 Jimmy Stewart headlines our second choice as well in
Vivacious Lady
which debuted only a few months earlier in 1938 than
You Can't Take It with You.
I
n both films Stewart was still a relative newcomer, and was in
Vivacious Lady
only at star-billed Ginger Rogers' request. Rogers thought Stewart could play the character of a conservative botany professor who falls in love-at-first-sight with a night club singer, and pull off a performance innocent, vulnerable and dashing. She was right. Rogers as the aforementioned (and highly appealing) chanteuse is as smitten with with the prof as he with her and wedding bells ring before twenty-four bells have past since their first introduction.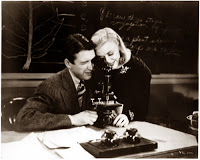 The complications arise, of course, because whirlwind courtships frequently reap whirlwind consequences. The professor seems to have forgotten many details in the fervor of his infatuation including a father (Charles Coburn) who rules not only the roost but an entire university which holds Stewart's job and future hopes, a mother (Beulah Bondi) with an easily flared-up heart condition, and even a fiance (Frances Mercer) awash with social importance and aggressive possessiveness. Add to the combination a perpetually-postponed honeymoon and the rest is some fine comedic comebacks and screwball comedy antics—including Rogers teaching her repressed mother-in-law to dance The Big Apple. While the script may not be Pulitzer caliber, there are several highly memorable one-liners worth a watch alone.
Director George Stevens is best remembered for heavy-duty drama like
Shane
and
Giant
, but our favorite of Stevens' films are those where his comedic talents shine through like
Gunga Din
,
Woman of the Year
and
I Remember Mama
. And his flare for the light and delightful in both dialogue and physical humor is in good form here.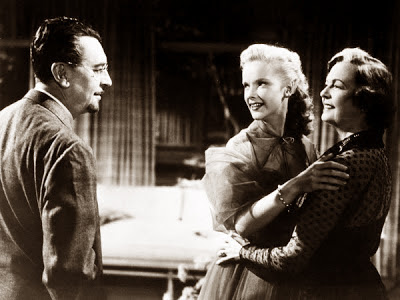 The comedy,
Elopement
(1951), as the name implies, also features overnight romance and its consequences—though in a post-scewball fashion. Anne Francis plays Jacqueline aka "Jake" Osborne, the way-too-accomplished daughter of way-too-successful-and-self-important Howard Osborne, played by the ever acerbic Clifton Webb. In the midst of the activities surrounding her college graduation Jake finds herself dancing with her handsome psychology professor, Matt Reagan, played by William Lundigan. Feted and adored by all, she has been unwittingly even more adored by Reagan—whom she has distantly loved throughout her senior year. She's about to leave for a three-year apprenticeship in industrial design under a Swedish design-icon, but upon discovering Lundigan's feelings, she impulsively suggests they elope to Maryland. Reginald Gardiner, in one of his most likeable and cerebral roles as Jake's godfather visiting from South Africa, becomes her only confidante. Shortly after she bolts off in the middle of the night, her parents--with mother played most agreeably by mother Margalo Gillmore--discover her absence and go in search of her, eventually joined by Matt's parents, played by Charles Bickford and Evelyn Varden. The sets of parents are poles apart—the Osbornes, sophisticated, the Reagans strictly down-home—opposites in in all but their opposition to the marriage. Betwixt the pursuing parents, distrust morphs into grudging admiration and finally friendship—almost as quickly as second thoughts begin to overtake the eloping couple.
This is a Henry Koster film who also directed classics like The Bishop's Wife and No Highway In the Sky, and though this isn't up to their caliber—it's still makes for light and easy early summer viewing.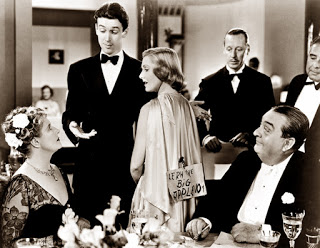 Few cautions to parents exist--in Elopement there's a Miro-esque nude sculpture in the Osborne living room that a big screen might just catch larger than life, if that's a problem. And in both You Can't Take it with You and Vivacious Lady, African-Americans are depicted in somewhat stereotypical, though loveable, fashion. The only other sensitive spot comes in the dance steps selected for The Big Apple performance in Vivacious Lady. The Big Apple, originally created and performed by African-American night club performers and later popularized throughout the country, has just under a zillion different steps that can be put together in a vast number of ways. "Praise Allah" is one of the dance steps used in Vivacious Lady that may seem rather insensitive in today's world.
Tags: 2013, Forgotten Films, Recommended viewing