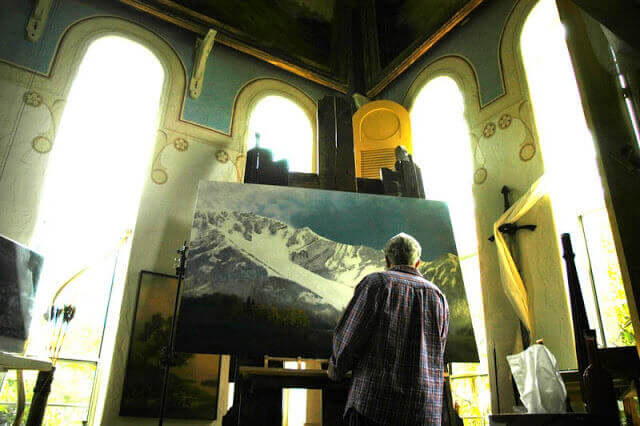 Al R. Young
"Why do I paint? I want to communicate an emotional insight.
I want to echo the way I feel when I look at a vista or when I'm inspired by the heroism in the story
of someone's life. The subjects I always thought would be the most difficult to render,
have actually turned out to be the easiest for me."
Al R. Young has been a professional artist and writer for 40 years.
Artwork
At four years of age, a neighborhood friend gave him a drawing set as a birthday gift. Supposing the gift too advanced for her young son, Al's mother put it atop his closet for safekeeping. After he twice climbed to the top shelf to retrieve it, she relented. He has been drawing and painting ever since.
In college, Al chose to study writing instead of art, in order to develop his own artistic interests and style. He graduated from Brigham Young University with a BA in journalism (1976), and was later awarded an MA in mass communications (1979). He subsequently studied colonial American history and documentary editing at the University of Virginia (1979).
As in the classical tradition, his professional artwork initially focused almost exclusively on monochromatic pencil drawings of landscape and architectural subjects. Although these themed studies were fully composed and executed artworks, they focused primarily on tonal scale and composition—pushing the medium and the artist about as far as possible. This initial period of his career lasted more than 20 years. The next phase of his work focused on lithography, still resulting in fully developed themed artworks wrought by hand in a tonal scale, but in a more fluid medium. His focus on lithography took about seven years. Since 2004, Al's work as a professional artist in two-dimensional media has focused almost exclusively on oils, primarily featuring landscape, figure, and architectural subjects executed in the classical tradition. His technique derives from traditional methods known as
classical alla prima
, wherein the image is built up from a hand-painted tonal rendering (often monochromatic) used to establish shapes and basic textures
before
the full complexities of color and texture are resolved. Once the underlayment has been painstakingly applied, glazes of varying translucence and hue are applied by hand to achieve desired visual textures and luminescence.
"
Given the expansiveness of the emotive content of the subjects I'm drawn to, my paintings tend to be large. It isn't that they
can't
be rendered small, it's a question of the elbow room I need in the midst of creating them. Scale helps me feel the way I need to feel while I'm painting, so that I can more readily let that feeling flow into the work.
" Each painting project on which Al now works requires one or two hundred hours to complete, usually across several calendar years.
Many of Al's artworks are available from the Studios' in the following fine art collection:
Heroes of the Book of Mormon Collection
(since 2006),
The High Valley Collection
(since 2004),
The Limited Edition Collection
(since 1997),
The Cumorah Collection
(since 2006),
The Messiah Collection
(since 2003),
The Women of the Bible Collection
(since 2003).
Writing
Following college, Al worked in various occupations for 18 years before he and his wife, Nancy, established Al Young Studios. During those years, he worked in the following capacities: Freelance writer and editor; part-time faculty member at Brigham Young University and Utah Technical College; partner in a consulting firm with contracts in the Middle East and western United States; senior researcher and advanced product designer, senior engineer, head of corporate communications and documentation. Throughout these years, Al's writing-for-hire as well as writing and publishing projects of his own focused on breadth, depth, and complexities of large-scale endeavors, a wide variety of media, highly complex and sensitive content, as well as fictional, technical, and promotional genre. His formal training and experience also grew to include object-oriented design and implementation of complex object hierarchies in mission-critical, client-server software applications.
Diverse subject domains throughout the years also provided opportunities for Al's development and refinement of personal research methodologies and libraries that continue to influence the Studios' creative and consulting projects. His experience in all phases of publishing also forms the basis for the Studios' publishing, documentary, and archival projects.
Al's writing, editing, and other contributions appear in all of the Studios' publishing and archiving endeavors:
Fine art (open edition) prints (since 1981),
The Storybook Home Journal
(published bi-monthly since 2000),
The Papers of Seymore Wainscott
(historical fiction, serialization and anthologies since 2005),
My Father's Captivity
(book and
online archive
of primary historical source materials published in 2009),
Fine art blank-books
(since 2012),
Al Young Studios Newsroom
(since 2010),
The BenHaven Archives
(since 2009).
Follow Al on Facebook
Follow Al on Twitter
Contact Al