Women of the New Testament by Camille Fronk Olson features illustrations from Al Young Studios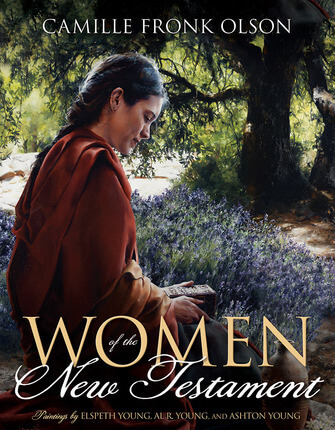 2014
Women of the New Testament
by Camille Fronk Olson is the companion volume to
Women of the Old Testament
, published by Deseret Book in 2009.
The New Testament volume features fifty six illustrations from the Artists of Al Young Studios, listed here under the Studios' fine art collections and portfolios to which they belong.
Full-color details (cropped images) from the following 29 paintings appeared in the book (in the order in which they appear here).
Blessed Is She That Believed
Under Whose Wings Thou Art Come To Trust
Go Forth To Meet The Bridegroom
Nothing Shall Be Impossible
The Miracle Of Forgiveness
And He Shall Direct Thy Paths
She Worketh Willingly With Her Hands
Here Bring Your Wounded Hearts
These line drawings appeared in
Women of the New Testament
.
Early Christian Hairstyle
These maps appeared in
Women of the New Testament
.
Ancient Palestine, Map No. 1
Other illustrations
Other illustrations in the volume consisted of seven photographs by Tanner Young as well as
Behold the Handmaid of the Lord
, a pastel by Elspeth Young (2012), appearing on p. 12 of the book. These eight works (along with two pen and ink drawings appearing in the book, but not presented as part of the portfolio for
Material Cultures of the Bible
) remain part of the artists' private portfolios.
Tags: I Shall Be Whole, I Say Unto Thee, Arise, The Windows Of Heaven, The Miracle Of Forgiveness, What Is Truth, Under Whose Wings Thou Art Come To Trust, Unto The City Of David, A Damsel Came To Hearken, By The Wayside, Living Water, Waiting For The Promise, Martha, Martha, The Substance Of Hope, Forsaking All, Blessed Is She That Believed, As It Began To Dawn, According To Thy Word, The Trial Of Faith, And He Shall Direct Thy Paths, She Worketh Willingly With Her Hands, Established In The Faith, And Martha Served, She Is Come Aforehand, Upon Awakening, Go Forth To Meet The Bridegroom, Many Sorrows, Here Bring Your Wounded Hearts, Nothing Shall Be Impossible, Blessed Are The Meek, 3rd-party Publications, 2014, News