And now, I, Moroni, would speak somewhat concerning these things; I would show unto the world that faith is things which are hoped for and not seen; wherefore, dispute not because ye see not, for ye receive no witness until after the trial of your faith.
Ether 12:6
verily I say unto you, If ye have faith as a grain of mustard seed, ye shall say unto this mountain, Remove hence...

and nothing shall be impossible unto you.
Matthew 17:20
The story behind The Trial Of Faith
This painting depicts Naomi's widowed daughters-in-law, Ruth and Orpah, as they prepare to depart Moab after the death of their respective husbands. Though both girls initially decide to follow Naomi to the land of Judah, Orpah heeds Naomi's persistent entreaties that the two return to the land of their nativity. Orpah's decision to turn back cuts her off from the precious opportunities afforded Ruth, who endures the trial of her faith, refusing to leave Naomi in her time of need. Ruth is "steadfastly minded to go with [Naomi]" (Ruth 1:18) and completes the journey to Beth-lehem, willingly accepting the suffering and privations of Naomi's life of poverty. Because of Ruth's faithfulness and virtue "full reward [is] given [her] of the Lord God of Israel, under whose wings [she had] come to trust" (Ruth 2:12) and she was privileged to be among the ancestors of the Savior of the world.

Note: Some may wonder at the youth of the girls depicted in the painting, but the scriptural narrative refers to Ruth as a "damsel" (Ruth 2:6) and a "young woman" (Ruth 4:12). Both words are derived from the Hebrew word "naarah," denoting a girl between infancy and adolescence (Strong 79).
Symbolism in The Trial Of Faith
RUTH (pictured right)
The viewer sees the artist's interpretation of the differences between the two girls' decisions: Ruth's steadfastness to the God of Israel allows her to completely divorce herself from her previous, familiar circumstances and way of life and, instead, "come unto a people which [she] knewest not" (Ruth 2:11). She leaves her previous religious beliefs and culture behind and trusts in the Lord whom she has come to trust. That willingness to accept the trial of her faith and step into the uncertainty of her future life with Naomi is represented in this image through the visual darkness which surrounds the figure. Indeed, Ruth seems more distant from the viewer than Orpah, as thought she is already separating herself from Orpah's decision to turn homeward.
Ruth's willingness to "lose" her life for the Lord's sake (see Luke 9:24) allows the Lord to endow her with eternal blessings. This principle is represented in the image by the enveloping golden robe she wears, simple compared to Orpah's finery, but more rich in the material itself and not outwardly showy, symbolic of the "robe of righteousness" surrounding those "clothed with purity" described by the Book of Mormon prophet, Jacob (see 2 Nephi 9:14). Her jewelry reminds the viewer of the Lord's words to Malachi, that those that fear Him "shall be [the Lord's] in that day when [He makes] up [His] jewels" (Malachi 3:17). Ruth's future abundant blessings from the hand of the Lord are represented by the large bunch of grains lying before her. Included among the grains are barley, the grain Ruth is willing to glean from Boaz' fields, and millet, a grain also grown anciently (Woods 42).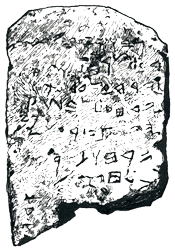 ORPAH (pictured left)
Orpah, on the other hand, is not firm in her decision to follow after Naomi and is content to go "back to her people, and unto her gods" (Ruth 1:15). Like Lot's wife, Orpah "looked back" (see Genesis 19:26) to her familiar past and shut herself out from the rich blessings made possible for all those who "trust in the Lord will all [their] heart; and lean not unto [their] own understanding" (Proverbs 3:5). Therefore, the artist depicts her surrounded with the culture of her past, decked in her dowry (the gold coins encircling her forehead) and ornately embellished clothing, clinging to Ruth's hand instead of distancing herself, like Ruth, from her past using faith to give her courage to face the future. Unlike Ruth's abundant sheath of grains, Orpah is separated from this abundance by an empty vessel which symbolizes the principle taught by the Savior Himself, that "whomsoever will save his life shall lose it" (Luke 9;24) and that "whomsoever receiveth, to him shall be given, and he shall have more abundance; but whomsoever continueth not to receive, from him shall be taken away even that he hath" (Matthew 13:12 JST added).
Copyright and terms of use
© By
Elspeth Young
, All Rights Reserved. You may not print, copy, or reproduce this artwork or make derivative works from it without the prior written consent of the copyright holder. For permissions, please review our
FAQ page
.
From the Newsroom