Women of the Old Testament by Camille Fronk Olson features original artworks from Al Young Studios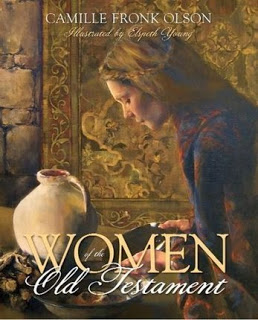 2009
Women of the Old Testament
by Camille Fronk Olson is the companion volume to
Women of the New Testament
, published by Deseret Book in 2014.
The Old Testament volume features fifty six illustrations from the Artists of Al Young Studios, listed here under the Studios' fine art collections and portfolios to which they belong.
Full-color details (cropped images) from the following 17 paintings appeared in the book (in the order in which they appear here).
The Joy Of Our Redemption
Is Anything Too Hard For The Lord
I Arose A Mother In Israel
The Daughters Of Zelophehad
What Is To Be Done For Thee
These drawings appeared in
Women of the Old Testament
.
Symbol for the Tribe of Reuben
Symbol for the Tribe of Simeon
Symbol for the Tribe of Levi
Symbol for the Tribe of Judah
Symbol for the Tribe of Dan
Symbol for the Tribe of Naphtali
Symbol for the Tribe of Gad
Symbol for the Tribe of Asher
Symbol for the Tribe of Issachar
Symbol for the Tribe of Zebulun
Symbol for the Tribe of Joseph
Symbol for the Tribe of Benjamin
Milk Stored in Animal Skin
Column from David's Palace
Shunamite Home Floor Plan
Captain of the Egyptian Host
Tags: The Mother Of All Living, The Joy Of Our Redemption, The Protector, Blessed, By The River's Brink, What Is To Be Done For Thee, Charity Never Faileth, A Lamp Unto My Feet, Is Anything Too Hard For The Lord, God Liveth And Seeth Me, Treasure The Word, The Daughters Of Zelophehad, The Struggle Within, For Such A Time As This, With Her Father's Sheep, The Seed Of Faith, For This Child I Prayed, I Arose A Mother In Israel, Choose You This Day, 3rd-party Publications, 2009, News