Many sorrows shall be to the wicked: but he that trusteth in the Lord, mercy shall compass him about.
Psalms 32:10
And when [Bathsheba] heard that Uriah her husband was dead, she mourned for her husband. And when the mourning was past, David sent and fetched her to his house, and she became his wife, and bare him a son. But the thing that David had done displeased the Lord...

And the Lord sent Nathan unto David. And he came unto him, and said unto him...

Wherefore hast thou despised the commandment of the Lord, to do evil in his sight? thou hast killed Uriah the Hittite with the sword, and hast taken his wife to be thy wife, and hast slain him with the sword of the children of Ammon. Now therefore the sword shall never depart from thine house; because thou hast despised me, and hast taken the wife of Uriah the Hittite to be thy wife.
2 Samuel 11:26-27, 12:1, 9-10
The story behind Many Sorrows
Over the centuries, many have debated Bathsheba's role in the tragic Biblical account of David's downfall—was she a consenting party to sin, or only an innocent victim? Rather than endeavoring to answer this particular question, the artist chose, instead, to focus the subject and symbolism within the painting on the timeless truth that "wickedness never was happiness" (see Alma 41:10) and that "many sorrows shall be to the wicked: but he that trusteth in the Lord, mercy shall compass him about" (Psalms 32:10). Regardless of Bathsheba's part in the story, both she and David experienced anguish, grief, and deep mourning as a consequence of David's unrighteousness. Likewise, "many sorrows" encompass those bound by "the awful chains" of any behavior inconsistent with the Lord's commandments (see 2 Nephi 1:13).
This painting depicts Bathsheba journeying to the house of King David after the death of her husband, Uriah, a moment described in 2 Samuel 11:26. In her countenance is written the "onerous burden" she carries, resulting from sin.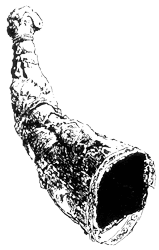 Isaiah teaches that, "though your sins be as scarlet, they shall be as white as snow; though they be red like crimson, they shall be as wool" (Isaiah 1:18). Indeed, those that choose to repent—literally, "to turn back" or "restore, refresh, or repair" are refreshed by the Savior's loving Atonement; those once encompassed by spiritual death are "compass[ed]" by Heavenly mercy. Therefore, this painting also seeks to remind the viewer that sin always leads to misery, while the wellspring of forgiveness and rest is available to all who repent and "come unto [Christ]" (see Matthew 11:28).
Symbolism in Many Sorrows
The dove held captive in a bird cage at the top right of the painting symbolizes the truth that sin leads to "captivity and death, according to the captivity and power of the devil; for he seeketh that all men might be miserable like unto himself" (2 Nephi 2:27). Just as the bird is caged and helpless, so sin also binds us, making us spiritually captive. Anciently, bird cages were used much like they are today. "Sennacherib's Prism," a cuneiform from the 7th century BC describes the Israelite king "like a bird in a cage" (see Chadwick chapter 23).

The deeply saturated red of Bathsheba's cloak, however, reminds the viewer of the consoling truth that men "are free to choose liberty and eternal life, through the great Mediator of all men" (2 Nephi 2:27)—that when we repent choose to be clothed in the Savior's Atonement, "the same is forgiven, and I, the Lord, remember [their sins] no more" (D&C 58:42). The stairs leading upward toward the light also symbolize the journey upward which repentance allows.

The hyssop and cedar in Bathsheba's basket also represents the cleansing power of the Savior's Atonement. In Numbers chapter 19, the Lord instructed Moses and Aaron to use "cedar wood, and hyssop, and scarlet" in an ordinance to purify from sin and impurity (see verses 1-16). King David, himself, mentions this cleansing rite in the 51st Psalm: "Purge me with hyssop, and I shall be clean" (Psalms 51:7). Hyssop, in this case, is likely Origanum syriacum or Majorana syriaca, and the cedar is the Juniperus phoenicea (see Hepper 140).
Bibliography
Corson, Richard.
Fashion in Hair: The First Five Thousand Years
. London: Peter Owen Limited, 1965.
David, Elizabeth.
English Bread and Yeast Cookery
. Kent, United Kingdom: Viking Press, 1977.
Hepper, FN.
Baker Encyclopedia of Bible Plants: flowers and trees, fruits and vegetables, ecology
. Leicester, England: Inter Varsity Press, 1992.
Matthews, Victor H.
Manners and Customs in the Bible
. Peabody, Massachusetts: Hendrickson Publishers, 1991.
Tannahill, Reay.
Food in History
. New York: Crown Trade Paperbacks, 1988.
Yamaguchi, Satoko.
Mary and Martha: Women in the World of Jesus
. New York: Orbis Books, 2002.
Copyright and terms of use
© By
Elspeth Young
, All Rights Reserved. You may not print, copy, or reproduce this artwork or make derivative works from it without the prior written consent of the copyright holder. For permissions, please review our
FAQ page
.
From the Newsroom