Staying after school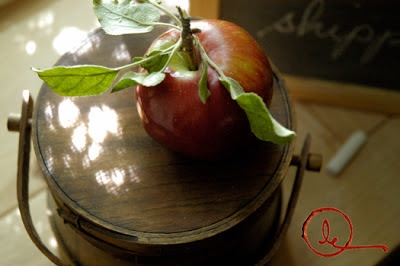 Photographs by Elspeth Young
Our
Twain issue
steamboated itself out to subscribers last week, a little slow due to a stem-to-stern overhaul of
The Journal's
working space (the second, and hopefully, final one this year!)
So this week we're already deeply entrenched in Dickens' Little Dorrit in order to make up for lost time; and since all sorts of make-up work is heavy on our minds, we wanted to take a moment to share a few things here on this very neglected Newsroom section.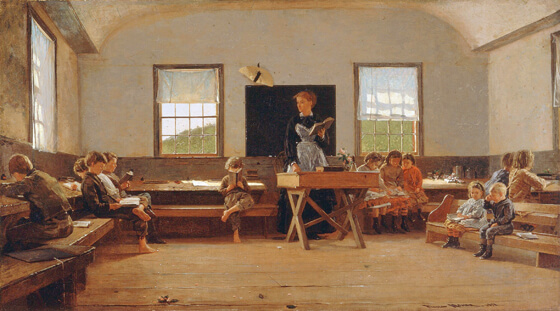 The Country School by Winslow Homer
First, we had no opportunity to use two beloved Winslow Homer paintings in Mississippi Summer, but since they're perfect for back-to-school days and particularly for staying in from recess or staying after school to do do make-up work, we've shared them here.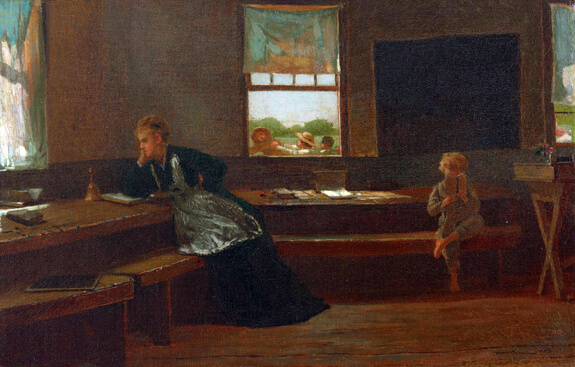 The Noon Recess by Winslow Homer
Second, some make-up work that goes all the way back to
last
September. We've wanted to share this source where you can a have a step-back-a-century listen to a few of the period songs that have been featured in past issues--including an extra taste of Samuel Clemens Mississippi River via Stephen Foster. It's a cyberspace visit with the "EMG Colonel" that's given us a good deal of delight for a long time. We should have shared it while preparing our
Betsy's Wedding
issue--because it has a splendiferous version of
"Good Morning, Mr. Zip, Zip, Zip"
(and other of the songs sung by The Crowd at Tib's wedding) and even more so, because of the rattling-good reading (by Alfred Noyes himself) of
The Highwayman
(which Joe and Betsy read while on their honeymoon,
sans
Alfred Noyes himself, of course.). There's even some of
A.A. Milne reading
all about Pooh, Piglet and Woozles (we mention it even though there's no evidence that anyone from the Violent Study Club ever brought Winnie the Pooh as a favored text, but it is at our house.)
Here's a list, therefore, of other pieces that have been recommended in recent issues of which there are period renditions at
The Colonel's YouTube Channel
: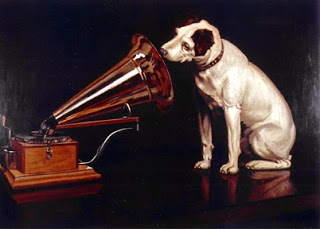 Painting by Francis Barraud
Doctor Thorne & Framley Parsonage
Lastly, still more make-up work by way of a recipe for a blender form of bouchons which we came up with awhile back that reminded us of the blackened stacks of steamboats, and so are perfect as part of a Mississippi River send-off. We featured a
bouchon recipe
a few months ago that's still a keeper--but this bouchon batter stirs up extra fast and means a batch of intense chocolate bliss can be ready from cocoa measuring to cooling rack in half an hour or less--though I believe bouchons improve an hour or more out of the oven, providing they last that long.
If you have an induction-based blender that can heat ingredients while blending, you can warm the eggs up for a few seconds, otherwise it's crucial to have eggs at room temperature.
Blender Bouchons by Nancy Young
Ingredients:
4 large eggs, room temperature
3/4 cup sugar
A fat pinch of salt
1/2 cup cocoa (I use indulgent Callebaut cocoa, which is available in bulk at really great prices from a local supplier, Orson Gygi. They also sell it
online
, and I've seen other online sellers as well if you don't have a good baking supply shop in your area.)
Any of the following flavorings: 1 teaspoon almond extract,or 1 teaspoon vanilla extract plus a fat pinch ground cloves, or grated rind of one orange, or enough imitation rum flavoring that anyone walking into the room knows what you've been up to (I also get that from Gygi's.)
1/2 cup ground almonds (If I don't have any already ground, I grind them in the blender before adding any other ingredients. The order of ingredients up to this point doesn't really matter.)
1/2 cup butter, melted and slightly cooled
1/2 cup, plus 1 tablespoon flour
Heat an oven to 375 degrees and butter or baking-spray 12 bouchon, popover or muffin tins and set aside. Put the eggs, sugar, salt, cocoa, flavorings and ground almonds in the blender and process until smooth. Add the melted butter and process just until incorporated. (This is one of those potentially-pesky-don't-overmix-don't-over-bake recipes, but one batch should give you the hang of it, and will be highly edible no matter what.) Barely mix in the flour by running the blender for only a second or two until just incorporated--or for a method even less inscrutable--simply toss the flour into the mixer and stir it in by hand with a skinny spatula until the white of the flour has just blended. Spoon as equally as possible into the prepared tins--this is probably the most time consuming bit, especially since male family members may be trying to prevent you from you baking it, because they think it's perfect prior to heat--and bake (despite all protests) until cakes are set, but still moist in the center--about 12 to 15 minutes. Makes one dozen. Dust with a little powdered sugar, if desired. Very nice with fresh fruit in season.
Tags: Vol. 12 No. 6, Vol. 13 No. 5, 2013, Music, Recipes by Nancy Young