Al Young Studios cannot make or sell any prints of this work at this time. Read more...
And blessed are all the pure in heart, for they shall see God.
3 Nephi 12:8
The story behind The Pure In Heart
This painting of a young Filipino women is inspired by the pioneering faith of Nenita Gapiz, one of the earliest members of the Church of Jesus Christ of Latter-day Saints in the Philippine Islands. She was the first woman in that nation to be married within the Mormon faith. Her testimony inspired the conversion of her mother, sister and her future husband. A faithful member of the Church throughout her life, she once stated that she knew the gospel to be the source of all the happiness we enjoy as a family...
Symbolism in The Pure In Heart
The figure is seated in the peace and beauty of an island sunset. Clasped in her hands are Jasmine sampuguita (also known as the Oriental orchid). She is depicted with these blooms not only because they are the national flower of the Philippines, but because they symbolize purity. The blossoms are frequently made into leis like the one she is holding, and are given at times of welcome or marriage. Her dress is the artist's interpretation of the Baro'T Saya, the national dress of the Philippines, but also appears universal enough to be appropriate to any culture. The peaceful expression in her pure gaze is intended to reflect the beauty of Divine nature in her identity, as well as her faith in the truths of the restored gospel of Jesus Christ.
Copyright and terms of use
© By Intellectual Reserve, Inc. You may not print, copy, or reproduce this artwork or make derivative works from it without the prior written consent of the copyright holder.
Al Young Studios cannot make or sell any prints of this artwork at this time. Read more...
From the Newsroom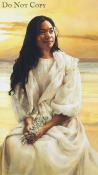 Elspeth C. Young completes new oil painting - "The Pure In Heart"
By Al R. Young The Pure In Heart is the newest oil painting to be added to the line of original artworks from Al Young Studios.

Click here to see a larger image of the new painting, read the artist's commentary, and look at the selection of prints--if any are available.... Read more »
Tags: The Pure In Heart, 2016, Elspeth C. Young, Legacy, News, Oil paintings and prints, Pioneer Art Collection