August 2021: We are still open online! All orders are now shipped on schedule by us or trusted third-parties.
While easing of restrictions has sped up order fulfillment, visits to the Studios are not yet available,
and in-store pickup has been permanently discountinued, but we now offer free expedited shipping an all prints.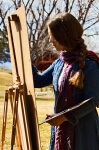 Elspeth Young


Elspeth Young's oil paintings express her lifelong fascination with capturing not only the human form, but the wonder of nature. Since graduating from Brigham Young University in 2003, she has worked fulltime as an artist, and while a diverse range of commissions has given her experience in various media, she now concentrates her painting primarily on religious art, in which her natural talent, exhaustive research, and craftsmanship are exemplary. She also contributes to every facet of The Storybook Home Journal™, which regularly features her photography and music, as well as her skill as a graphic artist. Each Inspired™ album produced by Al Young Studios also features her work as a composer, arranger, and performer.

Read more...
---
Women of the Bible Art Collection
Back to Top
---
Western Pioneers Art Collection
Back to Top
---
Messiah Art Collection
Back to Top
---
Book of Mormon Art Collection
Back to Top
---
High Valley Collection
Back to Top