Curatorial Details
The panel is quarter-inch hardboard.

Several gesso layers were applied directly to the panel. The gesso was manufactured by Utrecht Manufacturing Corp., Cranbury, New Jersey 08512.

Oil paints used in the creation of this painting include Rembrandt colors manufactured by Royal Talens, P.O. Box 4, Apeldoorn, Holland; paints by M. Graham & Co., West Linn, Oregon 97068 USA; and Old-Holland Classic Oil Colours, Driebergen, Holland.

Walnut Alkyd Medium was used in the painting. The medium was manufactured by M. Graham & Co. The final glaze is Cold Wax Medium manufactured by Gamblin Artists Colors Co., P.O. Box 625, Portland, Oregon 97207 USA.
Copyright and terms of use
© By
Al Young
, All Rights Reserved. You may not print, copy, or reproduce this artwork or make derivative works from it without the prior written consent of the copyright holder. For permissions, please review our
FAQ page
.
From the Newsroom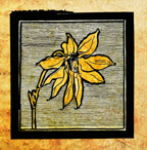 Fine Art Framing: Al Young Studios' custom framing services for original artworks and giclees (overview)
By Al R. Young
We have framed our own artworks for more than 25 years, and during that time we have provided a variety of framing services to patrons upon request.  For various reasons--including constant change in the availability of moulding styles--we cannot offer off-the-shelf framing options or response times typically associated with such a service.  Of necessity, all of our framing projects are custom projects that are priced, completed, and billed accordingly.  For example, inasmuch as the Studios does not maintain a selection of off-the-shelf moulding options, moulding styles actually available at the time of a request for information about framing options must be researched... Read more »
Tags: Elspeth's Hollyhocks, North Shore, Nasturtium, Wald Kirche, Old Dominion, Scabiosa, A Boy's Prayer, Foxglove, Moonlit, Waiting, Untitled, Narcissus on beige paper, Narcissus on gray paper, July, The Almira, Columbine, Maine, Final Draft,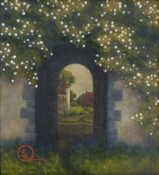 Al R. Young completes new oil painting - "Sweet Brier"
By Al R. Young Sweet Brier is the newest oil painting to be added to the line of original artworks from Al Young Studios.

Click here to see a larger image of the new painting, read the artist's commentary, and look at the selection of prints--if any are available.... Read more »
Tags: Sweet Brier, 2005, Al R. Young, High Valley Art Collection, Legacy, News, Oil paintings and prints