Rebecca of Sunnybrook Farm by Kate Dougle Wiggin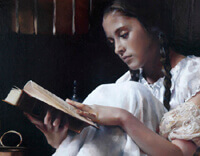 Reading List
Reviewed by Nancy Young
Just as Kate Douglas Wiggin's life was full of compassion and creativity, so is the life of Rebecca of Sunnybrook Farm. This charming and delightful novel introduces the reader to seven-year-old Rebecca Rowena Randall and follows her journey through childhood and adolescene.
At the outset, Rebecca goes to help her Aunt Miranda at the Brick House, even though Rebecca's older sister was actually the sister Miranda wanted. Despite the circumstances, even cold-hearted and efficient Aunt Miranda begins to see that Rebecca, though more prone to daydreaming and reading than cooking and cleaning, is just as wonderful. Rebecca's courage and endurance are perhaps her most winning characteristics, although her ability to bring compassion and happiness wherever she goes is equally winning. Whether it's flowers for the sick-room or stories for the children, Rebecca's optimism and cheerful attitude bring happiness to everyone.
This delightful book is a must-read. Perfect for a summer morning under the apple-tree, or a rainy afternoon in the window seat, Rebecca's adventures and growing-up experiences are inspiring and delightful.
Rebeccas of Sunnybrook Farm
by Kate Douglas Wiggin is featured in
Vol 3 No 5
,
Vol 8 No 1
,
Vol 12 No 5
of
The Storybook Home Journal
.
Tags: Vol. 3 No. 5, Vol. 8 No. 1, Vol. 12 No. 5, 2010, Book reviews