New Issue of the Storybook Home Shipped - A Limberlost Summer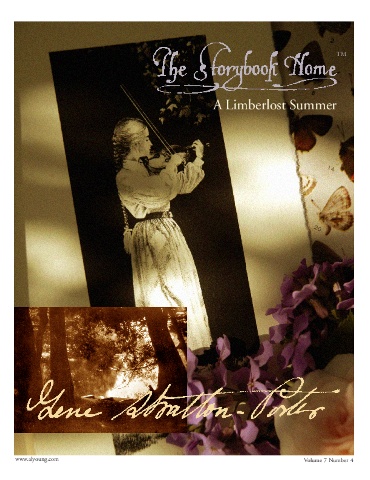 Vol. 7 No. 4 - A Limberlost Summer
The
A Limberlost Summer
issue of
The Storybook Home Journal
is now available from Al Young Studios. This issue features these regular sections:
Decorating - Nature Is Always Right (1 page)
Hearth - I Scarcely Can Wait To Try It (1 page)
Kitchen - On Purpose For You (5 pages)
Music - The Tunes I Danced As A Girl (1 page)
Garden - A Long And Happy Search (1 page)
Workshops - Especially For Them (2 pages)
Bookshelf - Gene Stratton-Porter (2 pages)
Attic - Living Richly Without Being Rich (1 page)
Garret - An Invitation From Master Gardener Spurge (3 pages)
A Limberlost Summer
is the 46
th
issue of the
Journal
, published bi-monthly since November 2000. All 45 previous issues remain in print and are available individually or in customer-defined groups directly from Al Young Studios.
These are the all products from Al Young Studios related to the works of Gene Stratton-Porter. They are for sale at www.alyoung.com, exclusive retail outlet for the artworks and publications of the Artists and Writers of Al Young Studios
Tags: Vol. 7 No. 4, 2007, News, The Storybook Home Journal issues