New Issue of the Storybook Home Shipped - A Girl of the Limberlost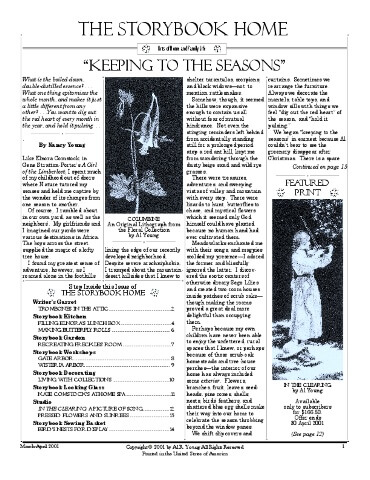 Vol. 1 No. 3 - A Girl of the Limberlost
The
A Girl of the Limberlost
issue of
The Storybook Home Journal
is now available from Al Young Studios. This issue features these regular sections:
Decorating - Living with Collections (1 page)
Sewing - Bird's Nests for Display (3 pages)
Kitchen - Making Butterfly Rolls (1 page)
Garden - Recreating Freckles' Room (2 pages)
Workshops - Wisteria Arbor (1 page)
Lead - Keeping to the Seasons (1 page)
Glass - Kate Comstock's At-Home Spa (2 pages)
Studio - Pressed Flowers and Sunrises (1 page)
Garret - Trombones in the Attic (4 pages)
A Girl of the Limberlost
is the 9
th
issue of the
Journal
, published bi-monthly since November 2000. All 8 previous issues remain in print and are available individually or in customer-defined groups directly from Al Young Studios.
These are the all products from Al Young Studios related to the works of Gene Stratton-Porter. They are for sale at www.alyoung.com, exclusive retail outlet for the artworks and publications of the Artists and Writers of Al Young Studios
Tags: Vol. 1 No. 3, 2001, News, The Storybook Home Journal issues