The Veranda by Rowena Edlin-White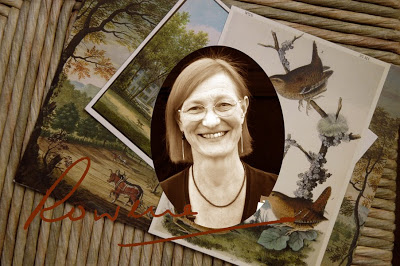 Readers of
The Storybook Home Journal
will be familiar with
The Veranda
, a place for readers to share inspiring thoughts, images, and interests within the pages of the
Journal
. We'd like to expand our "Veranda" to include the Newsroom as well, and are beginning with a little more about British subscriber, Rowena Edlin-White.
You may have already noticed our new sidebars, right and left, including a section for links to a few blogs of
Storybook Home
readers and subscribers of which we were already aware. Please feel free to send us a link to your blog or website if yours does not already appear!
Rowena Edlin-White
I was born in Nottingham – famous for lace and Robin Hood - in 1948. My parents had both been professional actors and I always expected to follow in their footsteps. Acting was in my blood and it became my first profession.
Writing and publishing came later, in the 1980s, when I returned to Nottingham after being "on the road" for 15 years in all kinds of theater work and television, and ready for a change. Brought up in the "make do and mend" era just after the War, I had learnt to spin and dye with plant materials whilst working in North Wales and my first publications were written for other spinners. With my friend Dee Duke, I published a quarterly journal,
The Spinster's Almanack
, and a series of booklets called
Woolgatherings
for hand-spinners and dyers. We finished the
Almanack
three years ago after 25 years, but the
Woolgatherings
are still available. You can read all about – and purchase - them on the
Scottish Tartans Authority website
.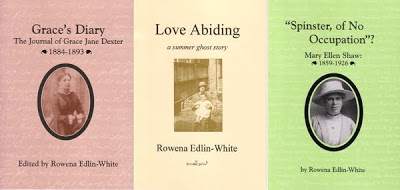 Since those early days I have written in a variety of genres both for mainstream publishers and under my own imprint, Smallprint. Books include:
Fiction:
Clo and the Albatross
(age 9-12, Lion Publishing), Love Abiding: a summer ghost story (Smallprint) and short stories in magazines in the UK and USA
Memoirs:
The Revenge of the Christmas Fairy: a memoir of the 'fifties
(for children of all ages, Smallprint)
Anthologies:
Dancing on Mountains: an anthology of women's spiritual writings
(with Kathy Keay, HarperCollins),
Design Your Own Wedding Ceremony
(HarperCollins) and
In the Frame: thirteen short stories for young adults
(Five Leaves Publishing)
Biography:
Grace's Diary: the journal of Grace Jane Dexter 1884-1893
(Smallprint) and Spinster of No
Occupation? Mary Ellen Shaw 1859-1926
(Smallprint)
These are the first two of a series, 'Women of Spirit'. It all began when an elderly cousin gave me the manuscript diary of his great-aunt Grace who was born in 1865. As a young woman she was befriended by Florence Nightingale, who encouraged her to pursue her ambition to become a certificated teacher – which involved working for 13 years as a pupil teacher in public schools. The story of social reformer Mary Ellen Shaw followed, and the story of yet another spirited Victorian woman is in the pipe-line!
I have always been interested in women's history, including the many hundreds of Victorian women hymn writers on both sides of the Atlantic – you can read about some of them on
http://nottinghamchurches.org/misc/hymnwriters.html
.
Other non-fiction:
A Hundred Years Ago: the beginnings of Girl Guiding in Nottinghamshire
(Smallprint)
Journals:
I wrote my PhD on Kate Douglas Wiggin, author of
Rebecca of Sunnybrook Farm
, and discovered her adult,
Penelope
books, based on her early travels in Great Britain. Now I publish
The Quill
, a modest journal dedicated to her life, writings and travels and continue to follow in her footsteps whenever I have time. My research still takes me regularly to the USA, where I have made many friends. Contact me (ro@edlin-white.net) if you are interested.
And currently? I am preparing a book on the literary history of Nottingham for Five Leaves Publishing – a kind of town trail of authors, some long-gone, some very much alive, who have been inspired to write, like myself, by Nottingham and its environs.
Sadly, some of my earlier books are now out of print, though second-hand copies may be found. All the others, including Woolgatherings, are available from
Nottingham Books
.
Tags: 2010, The Veranda