New selection of fine art prints of Waiting For The Promise by Elspeth Young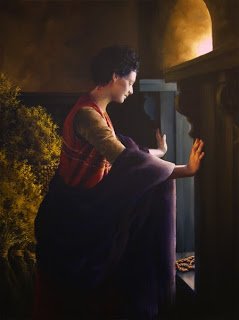 Waiting For The Promise (Rahab)
by Elspeth Young
Elspeth completed
Waiting For The Promise (Rahab)
in 2005, but we have only recently been able to obtain a higher-resolution digital image of the original oil painting, making it possible for us to offer a more complete selection of print sizes featuring the painting. Accordingly, we are pleased to announce that 33 fine-art print styles and sizes of this new image are now available at
www.alyoung.com
, ranging in price from $4.05 (4 in. x 5.25 in. poster print) to $326 (24 in. x 32 in. reproduction giclee canvas).
The 33 open-edition prints of this new painting bring to 2,268 the number of prints and giclee canvases available at
www.alyoung.com
-- exclusive retail outlet for all of the artworks produced by the Artists of Al Young Studios.
Tags: 3.64.0260.010, 2014, News, Oil paintings and prints, Women of the Bible Art Collection