When [Naomi] saw that [Ruth] was steadfastly minded to go with her, then she left speaking unto her.
Ruth 1:18
The story behind Steadfastly Minded
Mary Soar was born in the village of Beauverlee, Nottinghamshire, England in 1825 When she was eighteen years of age she married William Taylor and they had two sons before William died. Mary provided for her young family by accepting machine-knitted stockings (flat woven) into which she sewed the seams.
In 1848, she was baptized a member of The Church of Jesus Christ of Latter-day Saints. In 1856, she and her sons departed Nottinghamshire for Utah Territory. She summarized this experience in a letter to John Cyprian Taylor in 1881:
We left our home on the 26th of May and crossed the sea in the Ship Horizon. We had a prosperous voyage of nearly forty days and landed at Boston from which place we traveled by rail to Iowa City...We left Iowa City in the month of August to cross the plains with a handcart in the company known as Martin Company. We had a perilous journey across the plains...We arrived in Salt Lake City on the last day of November of the same year after suffering many hardships and privations for the truths sake but I know my reward is sure. We arrived in Payson on the 2nd of December and were well treated by the people. I could not stand on my feet for three months after I arrived. In the month of February 1858 I married John H. Moore.
The many hardships and privations to which Mary tersely refers included a case of frostbite in which she lost not only flesh from her feet, but later endured having the exposed bones and joints removed with scissors—the only tool available for the purpose. She did not recover until a year or so after arriving in Utah and settling in Payson, where she and her boys were taken into the home and hearts of the Moore family. As her health permitted, she contributed to the household by carding and spinning wool, and by weaving fabric for clothing and household linens. In 1858, she married John Harvey Moore. She also became a leader in the Relief Society.
She died in 1885 at 60 years of age.
Copyright and terms of use
© By
Elspeth Young
, All Rights Reserved. You may not print, copy, or reproduce this artwork or make derivative works from it without the prior written consent of the copyright holder. For permissions, please review our
FAQ page
.
From the Newsroom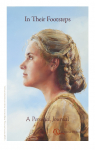 Blank Art Diaries: In Their Footsteps features pioneer commentaries and original artworks from Al Young Studios
By Al R. Young This blank-book journal sells for $32 (plus shipping) direct from Al Young Studios.  Printed in full color on heavy paper, the book is bound with black plastic spiral to rest flat when open.

In Their Footsteps: A Personal Journal  features 29 original artworks consisting of 18 original oil paintings from the Artists of Al Young Studios, 2 images from the Studios' Limited Editions Collection, four artworks from Ashton' private portfolio, and five pencil drawings from Al's private portfolio... Read more »
Tags: Meadow, Charity, In The High Valley, Mountain Home, Sara Crewe, The Dawning Of A Brighter Day, 3.30.0028.000, Far Away In The West, 3.30.0243.000, There The Saints Will Be Blessed, 3.30.0277.000, Green And Pleasant Land, I Will Uphold Thee,...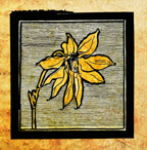 Fine Art Framing: Al Young Studios' custom framing services for original artworks and giclees (overview)
By Al R. Young
We have framed our own artworks for more than 25 years, and during that time we have provided a variety of framing services to patrons upon request.  For various reasons--including constant change in the availability of moulding styles--we cannot offer off-the-shelf framing options or response times typically associated with such a service.  Of necessity, all of our framing projects are custom projects that are priced, completed, and billed accordingly.  For example, inasmuch as the Studios does not maintain a selection of off-the-shelf moulding options, moulding styles actually available at the time of a request for information about framing options must be researched... Read more »
Tags: Elspeth's Hollyhocks, North Shore, Nasturtium, Wald Kirche, Old Dominion, Scabiosa, A Boy's Prayer, Foxglove, Moonlit, Waiting, Untitled, Narcissus on beige paper, Narcissus on gray paper, July, The Almira, Columbine, Maine, Final Draft,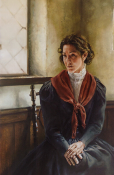 Elspeth C. Young completes new oil painting - "Steadfastly Minded"
By Al R. Young Steadfastly Minded is the newest oil painting to be added to the line of original artworks from Al Young Studios.

Click here to see a larger image of the new painting, read the artist's commentary, and look at the selection of prints--if any are available.... Read more »
Tags: Steadfastly Minded, 2014, Elspeth C. Young, Legacy, News, Oil paintings and prints, Pioneer Art Collection