The Secret Garden by Frances Hodgson Burnett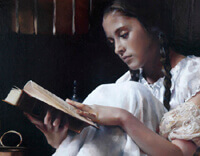 Reading List
Reviewed by Nancy Young
Published in 1910 and generally considered Frances Hodgson Burnett's best work, The Secret Garden is well known and loved throughout the world. This story of a girl's awakening to strength, goodness, and love through tending a garden--kept secret to everyone else--deserve high ranking on anyone's must-read list.
Burnett makes Nature vibrant and magical, and even makes weeding an act akin to Divinity. While the story is often thought of as a girl's book, its richness of detail and its accuracy and richness of characterization make it a book for everyone.
The Secret Garden
by Frances Hodgson Burnett is featured in
Vol 3 No 3
of
The Storybook Home Journal
.
Tags: Vol. 3 No. 3, 2010, Book reviews