What Katy Did Next by Susan Coolidge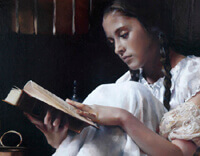 Reading List
Reviewed by Nancy Young
The final Katy saga--What Katy Did Next by Susan Coolidge--did not appear until 13 years after the publication of What Katy Did at School, even though only three years elapse in the story.
Katy is off to Europe as a companion to warm, though delicate, Mrs. Ashe and her little daughter, Amy. What Coolidge did for boarding schools in What Katy Did at School, she does for Victorian European tours in What Katy Did Next. Her accounts of shipboard travel and sojourns in England and Italy include enough happy details to satisfy any armchair traveler--with the added benefit that this is time travel as well.
Mrs. Ashe meets up in Naples with her brother, Ned Worthington, a Navy lieutenant. He is smitten with Katie's self-absorbed cousin, Lilly Page. Amy contracts a fever, however, which not only turns the tide of Katy's travels, but Ned's affections as well.
Even though this is clearly a romance, perhaps the greatest story of affection is Coolidge's ardor for Europe and travel. Its Victorian tone may seem at times rather condescending toward Europeans, especially Italians, but it is still a lovely escape and a fitting conclusion to Katy's young womanhood.
What Katy Did Next
by Susan Coolidge is featured in
Vol 5 No 2
and
Vol 10 No 1
of
The Storybook Home Journal
.
Tags: Vol. 5 No. 2, Vol. 10 No. 1, 2010, Book reviews