East of the Sun and West of the Moon by Mercer Mayer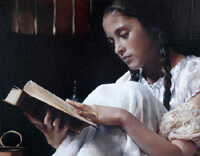 Reading List
Reviewed by Nancy Young
This commentary refers to Mercer Meyer's retelling of the old Norwegian tale, East of the Sun and West of the Moon. Specific reference to Meyer's work is made here because of the beauty of his illustrations and the lyrical elegance of the text. The story has been around a long time, but Meyer's retelling renews it just as anything is made new and more enduring by beauty.
As with all folk tales, this story involves symbolism if only because such tales serve to convey wisdom from one generation to another. You may want to take a look at the story in this light and, as with everything else involved in being a parent, consider whether the tale's embedded wisdom consists with your aims.
The quest in the tale is that of a young girl in search of true love, overlooked at the outset of the story because true love showed up in the guise of a frog. Things get worse before they get lastingly better.
Tags: 2010, Book reviews