A Girl of the Limberlost by Gene Stratton Porter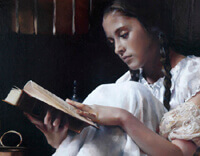 Reading List
Reviewed by Nancy Young
Strictly speaking, A Girl of the Limberlost by Gene Stratton Porter, is not a sequel to Freckles; however, any faithful Gene Stratton Porter fan will tell you to read Freckles before you embark on A Girl of the Limberlost. Shared characters and places make them more enjoyable when read in sequence. There is the delicious sense of revisiting old friends when the Bird Woman, Freckles, and the Angel reappear. We must admit, however, that we prefer A Girl of the Limberlost to Freckles, and, in fact, to any of the author's other works. It is, perhaps, the most even-handed of her stories.
Even though A Girl of the Limberlost is frequently dismissed as merely sentimental, this is a book vibrant with nature, goodness, and self-reliance. Elnora Comstock is a brave, selfless heroine as likable today as in the Edwardian times in which the book was written. Her story comprises almost two books in one: The story of her thirst for education amidst her Mother's erratic and sometimes cruel behavior and its resolution, and then her love story. If you wish to be kept in suspense, skip reading both the chapter titles as well as the theatrical "character" titles, because they give away a good deal of the plot.
A beckoning book, the work draws you on through Elnora Comstock's triumphs and tears. With Elnora, you feel the searing of derisive eyes on your back as she enters school woefully ignorant of her country appearance and misapprehensions; you reel from the sting of a slap she receives; you hunger along with her for love and friendship. You delight in the strength and resourcefulness with which she meets her many setbacks, and the exquisite beauty of her world. Descriptions of everything from the Limberlost to Elnora's lunchbox make for a magical world full of Divine as well as human kindness where every good thing seems possible. Particularly noteworthy is the author's wonderful sense of humor, which glows throughout the book.
The book is not flawless. There are sometimes inexplicable lulls in action, and the climax is rather too-drawn out and elusive; however, we would spend an afternoon any day with Elnora in the Limberlost and come away richer for it.
A Girl of the Limberlost
by Gene Stratton Porter is featured in
Vol 1 No 3
and
Vol 7 No 4
of
The Storybook Home Journal
.
Tags: Vol. 1 No. 3, Vol. 7 No. 4, 2010, Book reviews