Movie Shoes (or The Painted Garden) by Noel Streatfeild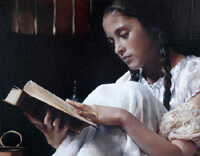 Reading List
Reviewed by Nancy Young
In Movie Shoes (earlier entitled The Painted Garden) by Noel Streatfeild, the Winter family is invited by their fussy Aunt Cora to spend the winter with her in California. Mr. Winter's world has been shattered since a car accident, which, though not his fault, resulted in the death of a child. The family, including Peaseblossom, their faithful housekeeper, head to America as the last hope for his health.
The children's hopes are dashed by the trip, however, because pretty 12-year-old Rachel had just secured a dancing engagement in a play. And 8-year-old musical prodigy, Tim, had been offered lessons from a famed concert pianist. Even plain and truculent Jane, the 10-year-old textbook personification of a middle child, is loathe to leave England because her dog must stay behind.
The family sets sail. Excitement and success seem to gather around the gifted children in the family, when surprisingly it is Jane who is sought out for the part of Mary in a film version of The Secret Garden. The other children must now cope with playing "second fiddle" to Jane -- a new sensation, particularly for Rachel. Jane must cope with the demands, rigor, and tedium of film work, difficulties exacerbated by her inexperience and moodiness.
Perhaps the greatest fun of the book is that Rachel's desire concerning dancing give the reader a chance to re-visit Pauline and Posy Fossil, Garnie, and Nana (Petrova is off working in an airplane factory). Even though the book is not a sequel to Ballet Shoes, it gives a fat and satisfying look at the three girls, now nicely grown up.
This is a pleasant, almost unbelievable, story peopled by believable characters. Not as thoroughly magical as Ballet Shoes, Movie Shoes is still a very worthwhile childhood glimpse behind the spotlights of the world of filmmaking.
Movie Shoes
(or
The Painted Garden
) by Noel Streatfeild is featured in
Vol 13 No 2
of
The Storybook Home Journal
.
Tags: 2010, Book reviews