The Last Chronicle of Barset by Anthony Trollope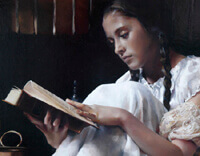 Reading List
Reviewed by Nancy Young
The Last Chronicle of Barset by Anthony Trollope is the last in a 6-volume series set in Barchester. It brings together the throng of clerics whose stories have been woven in and out of the Barchester series. By all means, read each volume in the set if possible; however, this gripping installment stands well enough on its own for readers who do not have time for several thousand pages of Trollope's England.
As with other stories by Anthony Trollope, the suspense in the plot emerges harmlessly enough out of some seemingly trivial occurrence. Mr. Crawley, a lesser cleric in the dioses, though gifted, has been shaped and perhaps misshapen by penury. A cheque that passed through his hands has gone missing, and the incident takes him and his family to the brink of despair. This story is about character, if nothing else, and provides much to talk about as characters are analyzed and motivations examined.
This story, as the last in its series, ties up all the threads of a narrative that runs through the Barchester Chronicles. Favorite characters -- good and less good -- appear in this volume and receive their reward. This is one of the titles on our remonnded reading list big enough to occupy a family for weeks. And as with many of Trollope's stories, younger family members may have to bear with it for the first two hundred pages or so, but once hooked, even younger family members can be swept away in the suspense and incisive wit of this master story teller.
The Last Chronicle of Barset
by Anthony Trollope is featured in
Vol 3 No 4
of
The Storybook Home Journal
.
Tags: Vol. 3 No. 4, 2010, Book reviews