When Patty Went to College by Jean Webster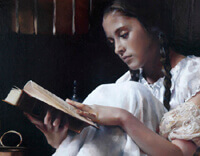 Reading List
Reviewed by Nancy Young
When Patty Went to College by Jean Webster is a lovable, laugh-aloud book full of energy and wit. Largely anecdotal, it is the sequal to Just Patty, and tells the story of Patty Wyatt's senior year at a women's college. Patty is quick, irrepressible, and ultimately good-hearted; and the romps that she and her friends have make for delightful reading.
Each chapter is its own tale, and can be read as such, or you can read it sequentially and follow the plot through the episodic events of the school year. The repartee is fast-paced, and so contemporary in its feeling that it is amazing the book should have lulled into an out-of-print status. Admittedly, not many college girls today use words like "sanguine" and "inured" in casual conversation, but more's the pity.
Patty's impishness is so sparkling and infectious that I found myself wondering what antics Jean Webster must have been up to in her school days. There is no great romance here, just a sequence of delicious escapades and Patty herself to fall in love with.
When Patty Went to College
by Jean Webster is featured in
Vol 8 No 6
of
The Storybook Home Journal
.
Tags: Vol. 8 No. 6, 2010, Book reviews