Forgotten Films: The Man Who Never Was (1956) and I Was Monty's Double (1958)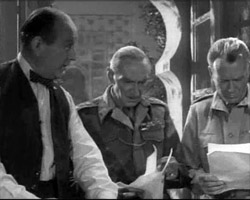 It's no secret that the British entered WWII critically under-manned and ill-equipped against German forces that had been building up a massive militia backed by advanced armaments. What Great Britain lacked in brawn, however, they tried to make up for in brains; and some clever wartime deceptions were among the results. Two such plots were adapted for the big screen in the 1950's—and either (or both) make for some satisfying summertime viewing.
The first bit of British Intelligence derring-do recounted on film was based on Ewen Montagu's best-seller,
The Man Who Never Was
, adapted into a 1956 film of the same name. The film chronicles a few weeks in the Spring of 1943 when the British were searching out ways to divert German attention away from the already planned and blatantly obvious invasion of Italy from North Africa, in hopes of making them believe the attack might come instead in Greece and Sardinia.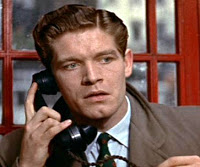 Lt. Commander Ewen Montagu, portrayed proficiently by Clifton Webb, and his small, clandestine crew played by military assistant, Robert Flemyng, and invaluable secretary, Josephine Griffin—constitute a winning threesome trying to carry out the almost impossible task with little time and few resources. No shot is fired, no buildings burn around them; yet there is plenty of suspense—much of it supplied by co-stars Gloria Grahame, as a heartbroken gal-I-left-behind-me, and Stephen Boyd as a chillingly kind-then-cruel Irish radical spying for the Germans. In a clear case of the proverbial no-small-parts-only-small-actors, every other character is played by some distinguished British performer, including the likes of Michael Hordern, Cyril Cusack and Joan Hickson—all in roles measured in moments, if that long. (Even Peter Sellers makes a voice-over appearance—obscured behind a long cigar—as Winston Churchill, and the real Ewen Montagu also has a role as a war-room Air Marshall critiquing "Operation Mincemeat.") Combined with an Alan Rawsthorne score and with the art direction of John Hawkesworth, the result is a rich and very entertaining film that will bear many re-watchings without complaint. (There is a slightly hokey graphic near the end indicating troop movements, but it's quickly over and easily forgiven!)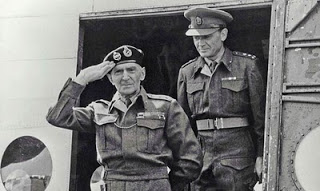 I Was Monty's Double
, though the more recent of the two films, looks older than its 1958 release—due largely to a much reduced budget than that which
The Man Who Never Was
enjoyed. What it lacks in sumptuousness, however, it substitutes in a refreshing naïveté and campy charm. The cast is smaller, but still strong—and Michael Hordern again has a small, but very enjoyable role, this time as the Governor of Gibraltar. (Additionally, for instance, no one even mimics the voice of Churchill—his cigar, instead, makes a cameo appearance.)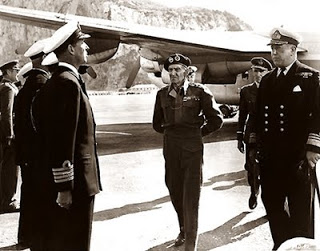 The premise is remarkably similar—just substitute June 1945 and a French Invasion for April & May of 1943 and an Italian invasion—and the need for a quickly devised clever con was much the same. The achievement of Ewen Montagu's "Operation Mincemeat" which had been "swallowed whole," however, made a similar ruse untenable. In fact, two subsequent incidents where the Germans had obtained factual information in seized documents concerning troop movements for the push into the Netherlands and D-Day went ignored, all because of the success of Montagu's plan. To convince the Germans that the Allies intended to mount the invasion somewhere other than the beaches of France, therefore, took something even more dramatic—so the British Intelligence hired an actor and put on a play.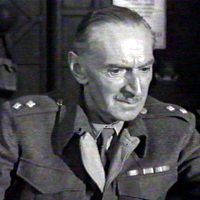 Again, another group of three—two officers, John Mills and Cecil Parker, and a secretary, endearingly played by Hester Baring—set out to make over a small-time actor turned Pay Corps Lieutenant, who bears a striking resemblance to General Bernard Montgomery, into the man the Germans would be expecting to head the British forces come D-Day. After observing "Monty" at close quarters for a short time, M.E. Clifton James, the real life actor who performed the real life bit of alchemy, and who also stars in the film, is sent on a whirlwind tour to review the troops in North Africa—in hopes, however unlikely, that the Germans will begin looking outside of France for an Allied attack. There's a good bit of wit and fun—occasionally overplayed—as well as some more serious elements—shots are realistically fired, mines do explode, air planes do plummet into the ocean—and that constitutes what parents should be on the watch for, along, perhaps, with the buxom secretary who wholesome and homely Hester Baring replaces.
I Was Monty's Double
is an energetic, good-natured film well worth an hour-and-a-half of some escape-minded weekend. (The film is sometimes alternatively listed as "Hell, Heaven or Hoboken.")
Tags: 2011, Forgotten Films, Recommended viewing