After Just David: Pasta Soup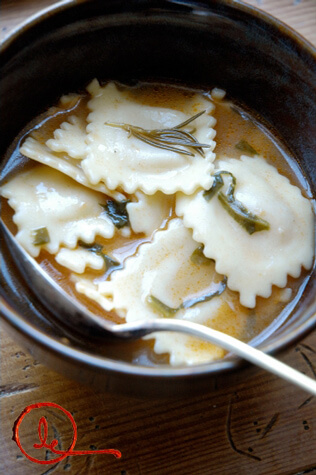 Photograph by Elspeth Young
We were going to toss this recipe in with
"Pot-Boilers Pâté"
as a great use for the broth that remains after boiling the meatloaf; but ran out of space so we decided to share it here. But even if you don't have any cooking liquid leftover from making the
recipe
featured on page 21 of the
Just David issue of The Storybook Home Journal
, you can still create this rich and simple pasta soup by substituting any nice savory beef or chicken stock. It's especially nice if you've got a really fabulous homemade one.
Pasta Soup by Nancy Young
1 tablespoon butter
1 tablespoon olive oil
2 tablespoons flour
1 tablespoon tomato paste
6 to 7 cups beef and herb stock left over from cooking meatloaf or equivalent amounts of good beef or chicken stock
About 1 to 1¼ lb fresh or dried ravioli, tortellini, farfalle or orzo
A small bunch of spinach
Salt and pepper to taste
In a medium-sized stock pot or Dutch oven, melt the butter over medium-high heat, add the olive oil, stir in the flour and cook for a minute, stirring constantly. Pour in the beef stock and tomato paste and allow it to come to a boil, stirring frequently to prevent scorching. Boil for a minute or two, then reduce the heat and when the stock is simmering, add the pasta. Cook until pasta is almost done to taste, then add the spinach and continue cooking until pasta is done. Serve warm, top with olive oil and freshly grated Parmesan cheese, if desired. Makes about 8 servings.
Tags: 2011, Recipes by Nancy Young