Thanksgiving gluten-free alternative to stuffing...
Facing the first Thanksgiving with our newest sweetheart-of-a-niece-in-law just diagnosed with gluten intolerance, this was our concoction designed to give some of the satisfactions of stuffing, without the wheat-laden woes. Of course it doesn't go inside the bird, but it's as moist and satisfying as it if had. And while it's unlikely that anyone's going to mistake it for grandma's stuffing in a blind taste test, it's a very nice, very filling side dish all on its own. We thought we'd share it in case any of you face similar challenges either for yourselves or your holiday guests.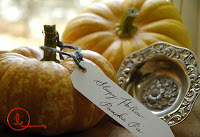 Sleepy Hollow Pumpkin Pie
can also be converted to a gluten-free status by changing the crust recipe to 2 cups quick oats, 1 ¾ cups ground almonds and 1/4 cup rice flour, 12 tablespoon butter and 1 cup sugar—it's more expensive and more fattening, of course, but it's also more delicious!
Instead of Stuffing—Sage and Celery Polenta
4 cups milk, heated
4 cups hot water
11/4 cups polenta meal
1 teaspoon salt
6 fresh sage leaves or 3 dried sage leaves
6 tablespoons butter
2 tablespoons dried
½ teaspoon Aromat seasoning (optional) or salt to taste
2 grated shallots or ½ teaspoon onion powder
5 to 6 dried sage leaves rubbed, or about ¾ teaspoon ground sage
1 to 2 tablespoons finely chopped fresh rosemary
1 to 2 tablespoons dried celery flakes
2 teaspoon fresh thyme leaves or 1 teaspoon dried thyme leaves
Melted butter or olive oil
Preheat oven to 400 degrees. Place polenta meal into an oven-proof 11-quart stockpot, and stir in milk and water, mixing well—then add the sage leaves and put the pot into the oven. Check after about 20 minutes always using hot pads or oven mitts to do so, and stir again being careful that no polenta is sticking or clumping around the bottom sides of the pot. Return polenta to the oven and check every 5 minutes until done—25 to 30 minutes is typical. When polenta is cooked and thickened, stir in the butter and Aromat or salt to taste, then add all the remaining ingredients, testing and adjusting flavorings as desired. Pour into a large casserole and allow to cool and set—it will take about an hour. When polenta is cooled it can be cut into pretty shapes, drizzled with a little butter or oil and put under the broiler to lightly brown.
Tags: 2011, Holidays, Recipes by Nancy Young