Spectacular speculaas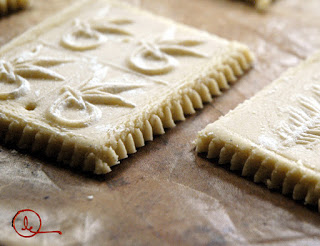 "If you would live a beautiful life have a beautiful farm," though not a precise quote from the Shakers, is certainly a concept they would have empathized with. It is just as certainly a description of the world Carol Cordiale shares with her husband in their country acreage in historic upstate New York--as Carol describes it, situated "on a rise nestled between two hills with a brook flowing from East to West." Together they have long cultivated an herb and cottage flower garden, raised sheep and goats, and even opened a little wool shop where, for a few years, Carol could sell the yarns she spun from the wool she gathered from her Nubian and Angora goats, and her llama, "Tommy-Hawk."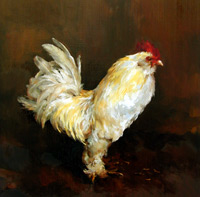 Painting Copyright by Elspeth Young
Shortly after receiving her copy of
Heidi's Christmas
(featuring Nancy's recipe for
Anisbrötli
made in some of our traditional Swiss cookie molds pictured above), Carol--an ardent cook, herself--sent us these wonderful images, below, of gingerbreads created from her family's spectacular speculaas-board collection.
Though we didn't get to share them at Christmastime, we thought we'd show off Carol's beautiful handiwork as Easter approaches, since a captivating chicken like the one below would make as charming a centerpiece for an Easter buffet as it would have at a Christmas Day dinner or a New Year's Day brunch.
To read more about Carol, see p. 21 in our 2004 Spring issue inspired by Sarah Orne Jewett's
The Country of the Pointed Firs
.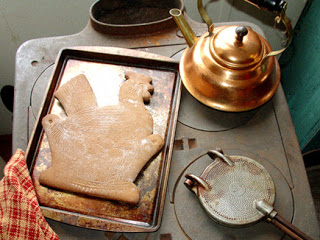 Copyright by Carol Cordiale
Copyright by Carol Cordiale
Tags: Vol. 4 No. 3, Vol. 12 No. 1, 2012, Floral arrangements, The Veranda