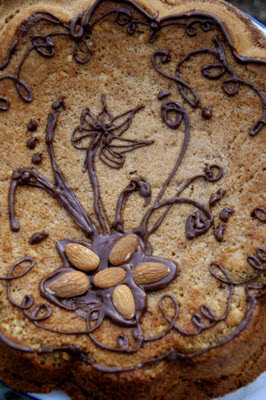 They were alluringly large and alluringly priced. I didn't resist. Six pounds of sour, and never improving clemmies later, have me revisiting the
Greyfriars' Bobby
issue for my marmalade recipe, and also making up this intensely flavorful concoction that wavers pleasingly between cake and confection, and lingers nicely on the tongue. When early spring snow flies, it provides a quick trip to Provence, Florence, or Torrance. It's especially transporting teamed with the orange-mascarpone spread coming in the springtime
Mansfield Park
issue.
Parchment line a 12-inch or equivalent cake pan
Preheat oven to 375 degrees
4 large eggs, room temperature
1/3 teaspoon salt
1¼ cups unrefined cane sugar
1 cup whole wheat flour
1 teaspoon baking powder, optional
1 cup ground almonds
¼ chopped almonds
Grated rind of 3 to 4 clementines or grated rind of 2 large oranges
Juice of 1 to 2 clementines or 1 orange
½ cup toasted walnut oil or olive oil or ¼ cup of each
1/3 cup of dark chocolate coarsely chopped or dark chocolate chips
2 teaspoons walnut or olive oil
Place the eggs in the bowl of a heavy-duty mixer, and with the whisk attachment beat the eggs for one minute, add the salt and beat for another 3 to 4 minutes. Gradually beat in the sugar. At this point the eggs will gain a sense of their own importance and begin to thicken and lighten impressively—do nothing to discourage it (the realities of life will take care of it soon enough.) Stir the baking powder into the flour, if using, and set aside. (I've never been really sure why setting something aside needs its own directive, but...) When the eggs are very thick and light—about another 4 to 5 minutes, switch to the paddle attachment and gently add the flour, stirring for about 2 seconds until just incorporated. All the remaining ingredients will be folded in by hand, but since you've already dirtied the paddle—just use that for folding—and gently add the almonds, citrus juice and peel, and oil.
Pour the batter into the pan and bake for about 35 minutes. Cool on a wire rack. Meanwhile, melt the chocolate in the microwave or double boiler, stirring in the oil at the end. When cake is cooled drizzle with the chocolate (or better yet, have Elspeth do it), and allow it to set before cutting. Serves 12. Maybe.