Leave winter without leaving the house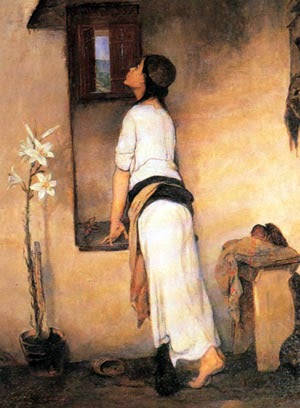 Painting by Nikiforos Lystras
If you dream of some peak at the sun or ache for a long weekend of warmth, you know you live in northern climes and it's winter. But if a ticket to Crete, Corsica, or Cannes wasn't one of your stocking stuffers on Christmas morning, spend a leisurely breakfast with a large bowl of sunshiny oranges, clementines, or mangoes, some rosewater-scented honey, and one of the slightly indulgent delicacies described here. Then dream away.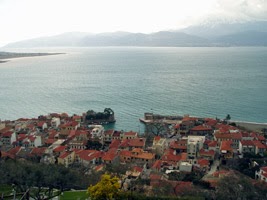 Koulouri (aka Simit, etc., etc.) is a Mediterranean tretat that's been around long enough to have a different name in half a dozen languages and scores of secret recipes. Crusty, circular, and topped with sesame seeds is the basic common denominator, but there are many fine variations and recipes available. This is our contribution--slightly sweet, slightly rich, rather wonderful. Most recipes call for white flour exclusively, but we like a touch of wholegrain to lend a little Old World rusticity--all white will make for a lighter bread, however. We used black sesame seeds, but traditional sesame is more common. (If you're sesame-challenged, poppy seeds are a good alternative.) Start it before heading to bed and enjoy it fresh at brunch. The rolls can be generous--about 4 ounces each--or a smaller 2-ounce size. This recipe makes 10 to 12 large rolls and about twice that many small ones. The recipe can easily be cut in half.
Dough:
2 1/4 cups lukewarm water
3/4 teaspoon yeast
2 tablespoons honey
1/3 cup olive oil
Up to 6 1/2 cups flour--as much as 1 cup of which may be whole wheat
1 tablespoon salt
Topping:
2 tablespoons honey mixed with 2 tablespoons water
2 to 3 ounces sesame seeds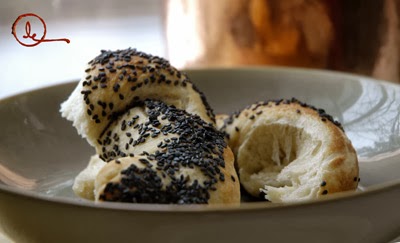 Place the water in the bowl of a heavy-duty mixer and sprinkle-in the yeast. Add the honey and stir--the yeast should look creamy within a few minutes. Stir-in the oil, 5 cups of flour, and the salt. Mix well using the dough hook, then add the balance of the flour(s) a half-cup at a time until the dough clears the sides of the bowl. Mix for an additional 2 to 3 minutes, and then remove the dough hook, cover the mixing bowl, and allow to rise overnight--or for 6 to 8 hours. When fully risen, deflate the dough and divide into 1- or 2-ounce pieces. On a lightly floured board, roll them into cylinders, let them rest for a few moments, then roll them out farther. (The resting of the dough makes them roll into longer, more even ropes.)
Twist two together and then tuck the ends together to form a circle, as shown here. Place the sesame seeds in a shallow bowl, brush the top of each wreath with the honey mixture, then face-plant it into the sesame seeds--replenishing the seeds as necessary. Place the rolls on silicone- or parchment-covered baking sheets, and preheat oven to 425 degrees. Allow them to rise until doubled--about 45 minutes--then place them in the oven. Bake until lightly golden--about 12 to 15 minutes for 2-ounce rolls and 15 to 18 minutes for the 4-ounce rolls. Cool on wire racks.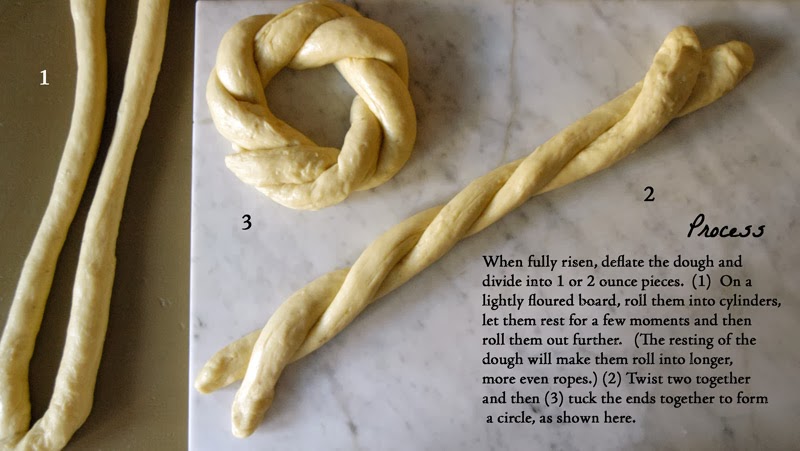 One of the great mysteries of my childhood was black licorice. Not how it was made or when it was invented--but why anyone would eat it. My father had a "secret" snack drawer (is any drawer full of sweets ever hidden from the industrious child?) in his home office and it contained an expensive and elite brand of black licorice. For this he needed no hiding place. From my sister, yes. From me, never. I assumed licorice could only be explained as a relic from some bygone and benighted era before real candy was invented. The box was very handsome, and enticed me once or twice, but however refined the licorice, it still made for a tell-tale black tongue redolent of anise-flavored dissatisfaction and a residual yearning for some genuine treat like chocolate.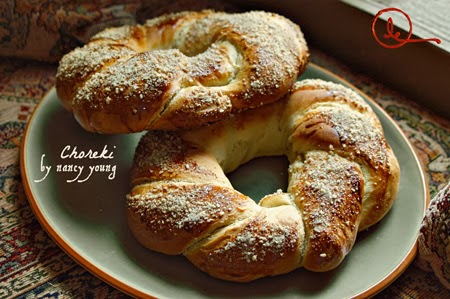 My palate has grown up since then. I can taste the bitter alongside the sweet; but I still don't like licorice--though I do love Choreki, an anise-spiked festive bread from Greece. While it's largely associated with the Eastertide, I like Choreki as a winter treat when visiting some white-washed village under azure skies overlooking pristine sands and turquoise seas seems particularly appealing--but is also particularly unaffordable.
This recipe makes four large wreaths (braids are actually a more common form, if you prefer; but I use the shape of Koulouri loaves instead.) This recipe is a variation on the Lucia Loaves from last month with the following changes: Substitute 1 3/4 cups milk for the 2 cups milk, 3/4 cup sugar for the 1/2 cup, and 2 teaspoons ground anise for the cardamom. Adjust the topping in the following manner: Use 1 egg yolk beaten with 1/2 teaspoon water, and then sprinkle the loaves with ground, sliced, or chopped almonds, some sesame seeds, and a sprinkling of sugar.
Continue to follow the recipe, but shape the loaves as shown here. Then follow the second rise and baking instructions for Lucia Loaves.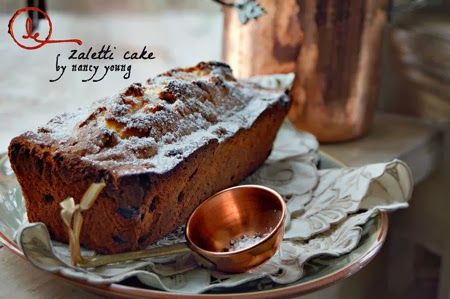 If your yen for the Mediterranean leans to the other side of the Ionian and Adriatic Seas, try our
Zaletti Cake
. We recently baked it in a pound-cake form and liked it even more than usual.
In any event, happy travels!
Tags: 2014, Bread making, Recipes by Nancy Young