Limited Edition Prints: Glossary of terms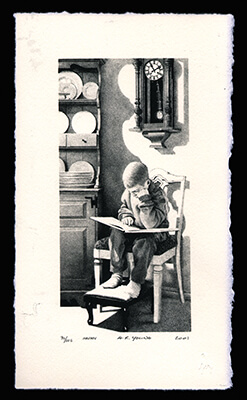 Haven by Al R. Young
See Lithographic fine art printing process for a brief, illustrated explanation of the context, or printing process, to which these terms apply.
AP Abbreviation for artist proof.
Arabic The number in the Arabic column indicates the quantity of prints comprising the numbered part of the edition. For example, 50 indicates that the Arabic numbered edition includes fifty prints, numbered 1/50 through 50/50.
BAT Abbreviation for Bon a Tirer. This print represents the resolution of any issues pertaining to the trial proofs, and represents the standard to which prints in the edition conform.
Chop The chop is the printer's mark, embossed into the paper on which an image is printed. See an image of the distinctive chop used by Wayne Kimball.
Colors The number of ink colors used to produce an image.
TP Abbreviation for trial proof. Trial proofs are printed as part of the printer's determination of how to print an image. These proofs are also evaluated by the artist and printer prior to edition printing to determine how the image should be printed.
WP Abbreviation for workshop proof.
Tags: 1996, Limited Editions Collection