Ancient Roman wax tablets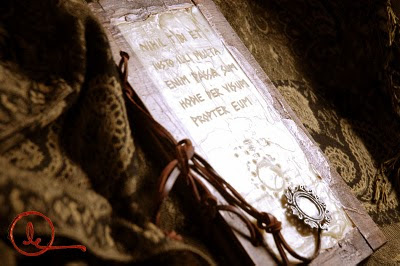 Elspeth is working on a painting of
Pilate's wife
. Within the composition, the wife of Pilate will be depicted writing the hasty warning she "sent unto him, saying, Have thou nothing to do with that just man: for I have suffered many things this day in a dream because of him" (Matthew 27:19).
In Roman times, it was typical to write messages on wax tablets using a stylus. In preparation for the painting, we have built and decorated a wax tablet of our own, pictured here. We inscribed the wax with a Latin translation of her words (translation courtesy of T.K. Edlund, Professor of East European Local and Family History, Brigham Young University) :
"nihil tibi et iusto illi multa enim passa sum hodie per visum propter eum"
Tags: Upon Awakening, 2010, Costume and props, Tools supplies and operations