Exhibits: Till We Meet Again receives award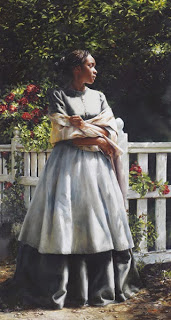 Till We Meeting Again, an original oil painting by Elspeth Young, received an Award of Merit at the 90th Annual Spring Salon hosted by the Springville Museum of Art, Springville, Utah.

The juried exhibit (April 24 – July 6, 2014) is open only to Utah artists.

Of 860 entries submitted, 216 were juried-in to the show, and 20 of the works selected also received awards.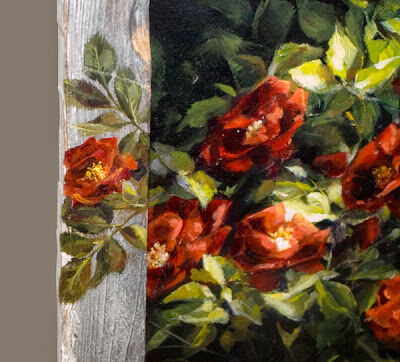 Ashton Young, an Artist of Al Young
Studios, fabricated the custom frame
for the painting from aged wood on
which Elspeth then painted elements
from the painting so that the image
extends into the frame.
"We've noticed," said Rita Wright, director of the Museum, "that, almost without exception, everybody that walks into the gallery, enjoys Legacy (Portrait of Lois Childs) by Casey Childs (the first axial view in the exhibit), and then turns right around, and immediately migrates to the corner to view Till We Meet Again. It just keeps happening over and over. Patrons have a way of picking out what they are interested in seeing—pieces of real value. We've had so much interest and conversation surrounding the piece. It's an exquisite addition to the salon."

Al Young Studios offers a selection of 44 different print sizes of this image at the Studios' exclusive retail outlet for all artworks and publications published by the artists of Al Young Studios.
Tags: Till We Meet Again, 2014, Exhibits, News, Pioneer Art Collection