Project Commentaries: What Is Truth? by Al R. Young
St. Joseph the Carpenter (detail)
by Georges de La Tour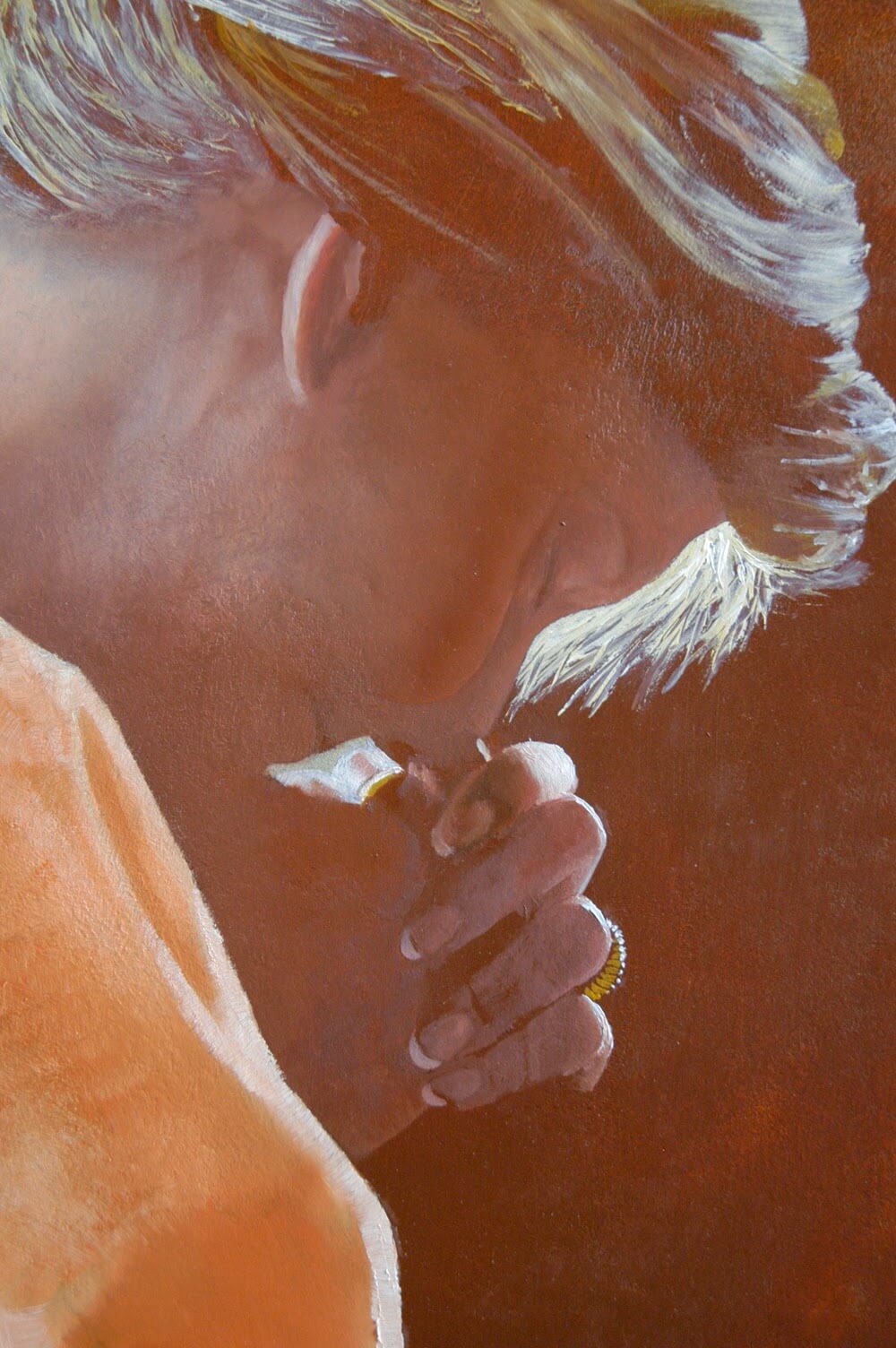 Initial application of grisaille for What Is Truth?
by Al R. Young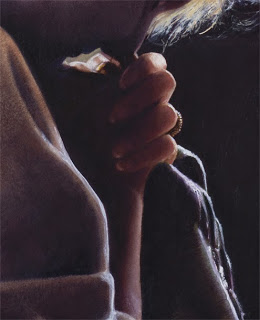 What Is Truth? (detail from completed painting)
by Al R. Young


By Al R. Young
This painting of Bernice (Acts 26:28-31) will be the 46th oil painting in the
Women of the Bible Collection
. Its completion correlates with the production schedule for
Women of the New Testament
by Camille Fronk Olson. The book, currently in press, is scheduled for release through Deseret Book in the latter part of 2014.
Dimensions
(
width x height
)
24 in. x 27.625 in.
Support
Panel
Milestones
Research begins - November 2013
Composition begins - January 2014
Brushwork begins - January 2014
Equipment
Creating a painting often involves creating or modifying tools or making improvements to the studio itself.
Modifying the
bedpost easel
attachment for the
$10 easel
Installing a scrim
Methodology
The inspiration for a painting can span many years. For example, I no longer remember how long it has been since I was first captivated by the spell of dramatic lighting in the work of Georges de La Tour. Even so, of all the painting subjects that presented themselves to me during those years, only
Alma the Younger
and
Nephi the Patriarch
wanted such dramatic contrast. Then, last summer when I was sifting through images from a model-session several years before, a compositional possibility jumped out at me, all but waving its arms and stamping its feet while demanding to be brought into existence not only as a tenebristic painting, such as those by de La Tour, but one in which the background was completely black.
The next image, at right, is a photograph of the painting in progress, excerpted from my project journal, and shows a slice of the initial application of the grisaille. I paint by layering various kinds and qualities of glazes, being greatly inspired by the technique of such artists as John William Waterhouse. Such a methodology, of course, requires that the work of creating a painting be decomposed into stages, layers, or areas, with the desired impression to be made by the outcome materializing only gradually. Thus, while attending to detail along the way, it is necessary to hold in view the outcome of the whole so that painstakingly rendered detail can coexist there with that which is rendered only by flourish or suggestion. The balance between detail and summary exerts a powerful influence on the lifelike quality of the painting; that is, the degree to which the painting can serve as a vehicle for the Spirit that inspired it in the first place.
Throughout this process, I often recall something Arnold Friberg once said; something else--like the work of de La Tour--that I first encountered many years ago. I paraphrase it here. By now it is dog-eared and exists in my own expression of the idea to which he introduced me:
The fire or spirit that suffuses a painting is not added at the end, but is there from the very first. If it is not there, nothing can compensate for its absence. It cannot be added at the end.
(See "The Prayer at Valley Forge" by Arnold Friberg -
Ensign Magazine
vol. 3 no. 2 (Salt Lake City: The Church of Jesus Christ of Latter-day Saints, February 1973), center insert.)
Tags: 2014, Inspiration and creativity, Project commentaries, Tips and techniques, Women of the Bible Art Collection