Like the color palettes of Mannerists
This portrait of Tamar will be the 47th oil painting in the
Women of the Bible Collection
. It was completed to meet the production schedule for
Women of the New Testament
by Camille Fronk Olson. The book, currently in press, is scheduled for release through Deseret Book later in 2014.
Dimensions
(
width x height
)
22.25 in. x 39.75 in.
Support
Panel
Milestones
Composition begins -
circa
April 2012
Brushwork begins -
circa
August 2012
Methodology
This section presents only one or two items that may be of interest to professional artists, amateurs, and others interested in the work of the Studios.
The color scheme I selected for the painting is reminiscent of color palettes enjoyed by Mannerist artists of the post Renaissance, echoing the vivid secondary and tertiary hues favored by masters like Reni, Bronzino, Pontormo, and El Greco.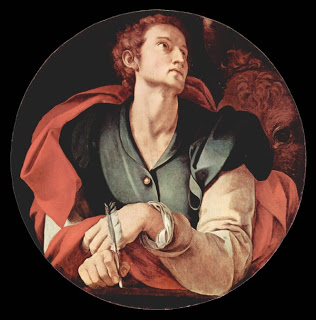 Four Evangelists: Saint Luke by Jacopo Pontormo, 1526
Tags: 2014, Project commentaries, Women of the Bible Art Collection