The story behind Under The Northern Mountains
This painting features the ancient homeland of the reindeer, the setting for
The Song of Lunta
, which is a story from the
Isles of Rune
.
Copyright and terms of use
© By
Al Young
, All Rights Reserved. You may not print, copy, or reproduce this artwork or make derivative works from it without the prior written consent of the copyright holder. For permissions, please review our
FAQ page
.
From the Newsroom

Holiday shipping schedule
By Al R. Young
Listed below are the last days, for each type of product from the Studios and each shipping speed, to order a product and be confident of its delivery by Christmas Eve.
Domestic Shipping
Please be aware of the following policies and recommendations:
Rush-order requestsReceiving a shipment from Al Young StudiosFraming
International Shipping Delays
When ordering internationally, please add the following number of days to the above table to ensure on-time delivery.  Unfortunately, it is impossible to guarentee that any international orders will not encounter extra delays in International Customs... Read more »
Tags: My Father's Captivity, The Seymore Wainscott Anthology, The Boxwood Folios Vol. 1, Bevel Wainscott Vol. 1, Leornian Feldham Vol. 1, Leornian Feldham Vol. 2, Leornian Feldham Vol. 3, The White Pavilion Vol. 1, The White Pavilion Vol. 2, The...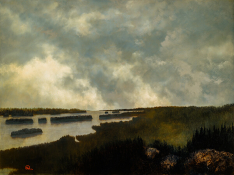 Al R. Young completes new oil painting - "Under The Northern Mountains"
By Al R. Young Under The Northern Mountains is the newest oil painting to be added to the line of original artworks from Al Young Studios.

Click here to see a larger image of the new painting, read the artist's commentary, and look at the selection of prints--if any are available.... Read more »
Tags: Under The Northern Mountains, 2017, Al R. Young, High Valley Art Collection, Legacy, News, Oil paintings and prints

Fine Art Framing: Al Young Studios' custom framing services for original artworks and giclees (overview)
By Al R. Young
We have framed our own artworks for more than 25 years, and during that time we have provided a variety of framing services to patrons upon request.  For various reasons--including constant change in the availability of moulding styles--we cannot offer off-the-shelf framing options or response times typically associated with such a service.  Of necessity, all of our framing projects are custom projects that are priced, completed, and billed accordingly.  For example, inasmuch as the Studios does not maintain a selection of off-the-shelf moulding options, moulding styles actually available at the time of a request for information about framing options must be researched... Read more »
Tags: Elspeth's Hollyhocks, North Shore, Nasturtium, Wald Kirche, Old Dominion, Scabiosa, A Boy's Prayer, Foxglove, Moonlit, Waiting, Untitled, Narcissus on beige paper, Narcissus on gray paper, July, The Almira, Columbine, Maine, Final Draft,