Lay not up for yourselves treasures upon earth, where moth and rust doth corrupt, and where thieves break through and steal: but lay up for yourselves treasures in heaven, where neither moth nor rust doth corrupt, and where thieves do not break through nor steal: for where your treasure is, there will your heart be also....Take no thought for your life, what ye shall eat, or what ye shall drink; nor yet for your body, what ye shall put on.

Is not the life more than meat, and the body than raiment?

Behold the fowls of the air: for they sow not, neither do they reap, nor gather into barns; yet your heavenly Father feedeth them.

Are ye not much better than they?
Matthew 6:19-21, 28-29
The story behind Consider The Lilies
Joanna is an unsung heroine of the Savior's Second Galilean ministry. She was an ardent disciple who placed her means and resources at the Savior's disposal to support His mortal ministry. As the wife of Herod's steward, such resources would have been a substantial contribution (see Luke 8:1-3). Unlike the rich young man who was encumbered by his riches and distracted from the path of discipleship, Joanna willingly gave all. In addition to consecrating material wealth to the Savior's work, she is a brilliant example of compassionate service because she was one of the women anxious to complete the burial preparations after the Savior's Crucifixion. She was also one of first witnesses of His glorious Resurrection, as testified to her by angels, and later confirmed by His personal visitation. It became her privilege to join with other faithful women like Mary of Magdala, Salome, and Mary the mother of Mark, in being the first to worship and testify of the Resurrected Savior (see Matthew 28:5-8, Luke 23-24). Luke informs us that the Savior healed Joanna of great personal affliction. This fact makes her devotions an enduring example of genuine gratitude.
Symbolism in Consider The Lilies
As one who comprehended and lived the principles of sacrifice and consecration, Joanna is an exceptional example of one who lived according to the Savior's injunction to "lay up for yourselves treasures in heaven...For where your treasure is, there will your heart be also. The light of the body is the eye: if therefore thine eye be single, thy whole body shall be full of light" (Matt 6:19-21). Hence, the artist depicted the figure clothed in the beauty that Light brings into any consecrated life. The blossoms growing about her and cradled in her arms are narcissus poeticus, native to Palestine, and believed by some scholars to be the "lilies of the field" described by the Savior in His sermon.

The stretches of the Sea of Galilee visible behind the figure remind us that she not only accompanied the Savior through His ministry to the Galileans, but listened to and lived by His teachings. She is painted in the setting known as the Mount of Beatitudes, where many believe the Savior preached.

Truly, as one exemplifying "good ground" for the word of God, Joanna is depicted in this painting surrounded by a verdant landscape bringing forth an "hundredfold" (Luke 8:5-8).
Copyright and terms of use
© By
Elspeth Young
, All Rights Reserved. You may not print, copy, or reproduce this artwork or make derivative works from it without the prior written consent of the copyright holder. For permissions, please review our
FAQ page
.
From the Newsroom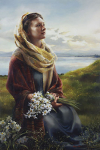 Gallery Walk: Consider the Lilies by Elspeth Young
By Elspeth C. Young

the story in this painting
the creation of this paintingOriginal artworks produced by the Artists of Al Young Studios are part of themed collections because the Studios is organized after the pattern of the Renaissance workshops of the old masters.  The Artists take the long view of their work as being a lifetime journey toward mastery of artistic expression through selected techniques, reaching as far back as the 16th century.  Artists work as peers in an intensely creative community in which each artist pursues his or her own work as part of the group's philosophy... Read more »
Tags: Consider The Lilies, 2020, Exhibits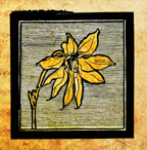 Fine Art Framing: Al Young Studios' custom framing services for original artworks and giclees (overview)
By Al R. Young
We have framed our own artworks for more than 25 years, and during that time we have provided a variety of framing services to patrons upon request.  For various reasons--including constant change in the availability of moulding styles--we cannot offer off-the-shelf framing options or response times typically associated with such a service.  Of necessity, all of our framing projects are custom projects that are priced, completed, and billed accordingly.  For example, inasmuch as the Studios does not maintain a selection of off-the-shelf moulding options, moulding styles actually available at the time of a request for information about framing options must be researched... Read more »
Tags: Elspeth's Hollyhocks, North Shore, Nasturtium, Wald Kirche, Old Dominion, Scabiosa, A Boy's Prayer, Foxglove, Moonlit, Waiting, Untitled, Narcissus on beige paper, Narcissus on gray paper, July, The Almira, Columbine, Maine, Final Draft,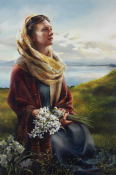 Elspeth C. Young completes new oil painting - "Consider The Lilies"
By Al R. Young Consider The Lilies is the newest oil painting to be added to the line of original artworks from Al Young Studios.

Click here to see a larger image of the new painting, read the artist's commentary, and look at the selection of prints--if any are available.... Read more »
Tags: Consider The Lilies, 2015, Elspeth C. Young, Legacy, News, Oil paintings and prints, The Messiah Art Collection, Women of the Bible Art Collection