September 2021: We are still open online! All orders are now shipped on schedule by us or trusted third-parties.
While easing of restrictions has sped up order fulfillment, visits to the Studios are not yet available,
and in-store pickup has been permanently discountinued, but we now offer free expedited shipping an all prints.
, All Rights Reserved. You may not print, copy, or reproduce this work or make derivate works from it without the prior written consent of the copyright holder. For permissions, please review our
.
From the Newsroom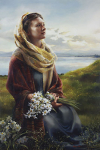 Gallery Walk: Consider the Lilies by Elspeth Young
By Elspeth C. Young

the story in this painting
the creation of this paintingOriginal artworks produced by the Artists of Al Young Studios are part of themed collections because the Studios is organized after the pattern of the Renaissance workshops of the old masters.  The Artists take the long view of their work as being a lifetime journey toward mastery of artistic expression through selected techniques, reaching as far back as the 16th century.  Artists work as peers in an intensely creative community in which each artist pursues his or her own work as part of the group's philosophy... Read more »
Tags: Consider The Lilies, 2020, Exhibits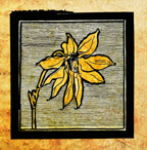 Fine Art Framing: Al Young Studios' custom framing services for original artworks and giclees (overview)
By Al R. Young
We have framed our own artworks for more than 25 years, and during that time we have provided a variety of framing services to patrons upon request.  For various reasons--including constant change in the availability of moulding styles--we cannot offer off-the-shelf framing options or response times typically associated with such a service.  Of necessity, all of our framing projects are custom projects that are priced, completed, and billed accordingly.  For example, inasmuch as the Studios does not maintain a selection of off-the-shelf moulding options, moulding styles actually available at the time of a request for information about framing options must be researched... Read more »
Tags: Elspeth's Hollyhocks, North Shore, Nasturtium, Wald Kirche, Old Dominion, Scabiosa, A Boy's Prayer, Foxglove, Moonlit, Waiting, Untitled, Narcissus on beige paper, Narcissus on gray paper, July, The Almira, Columbine, Maine, Final Draft,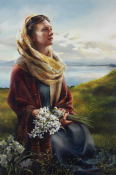 Elspeth C. Young completes new oil painting - "Consider The Lilies"
By Al R. Young Consider The Lilies is the newest oil painting to be added to the line of original artworks from Al Young Studios.

Click here to see a larger image of the new painting, read the artist's commentary, and look at the selection of prints--if any are available.... Read more »
Tags: Consider The Lilies, 2015, Elspeth C. Young, Legacy, News, Oil paintings and prints, The Messiah Art Collection, Women of the Bible Art Collection