A story of creative genius, home, family, and endurance
This story of historical fiction is presented after the fashion of such monumental documentary editing projects as The Papers of George Washington, The Papers of James Madison, and the collected writings of other luminaries of the 18th century. After all, Seymore Wainscott was the most gifted mouse of his time.
Introduction
The Boxwood Folios Volume 1 introduces the lytfolc whose world exists alongside the world of the greátfolc; however, the two peoples do not interact. The lytfolc are simply an intelligent and gifted race that has lived alongside greátfolc since the world began. Mice, as the greátfolc think of such creatures, are lytfolc, but they are an indolent segment of the lytfolc population inclined to live too close to the greátfolc, filching for food and necessities, such that they are often captured or destroyed. The rest of the lytfolc population, even those who prefer to live closer to nature than those who dwell in greátfolc structures, are adept at keeping to themselves as a thoroughly industrious, intellectual, and highly ingenious race dealing with all the vicissitudes and joys with which any life is crammed.
Seymore wainscott's childhood
Bevel Wainscott Volume 1 presents the setting in which Seymore was raised, introduces his father, Bevel Wainscott, and his father's battle with what would now be called post traumatic stress disorder (PTSD). Bevel makes an heroic attempt to lead a normal life and be a good father to his family, but a breakdown catches up with him in his prime—when business is good and he and his family are starting to reap the rewards of dedication and hard work.
The importance of horizons
Leornian Feldham Volume 1 — Except for Bryhta Feldham, whom Seymore married in 1762, her father was the most influential person in Seymore's life. Leornian and Seymore became business partners early in Seymore's career. They shared many interests, collaborated on numerous projects, and Leornian became a second father to Seymore. This set of novellas introduces Leornian and the wide world of interests and endeavors to which he introduced and promoted Seymore. While much of this particular trilogy presents the voyage diary Leornian kept of his trip to Charles Town and the Caribee Islands in 1737, other documents from the wainscott collection provide important background on Leornian and his family.
Leornian Feldham Volume 2 — As a guest at Magnolia on the Ashley, a plantation near Charles Town, Leornian finds himself at the center of intrigue among interests seeking to rob the lytfolc colony of its trade secrets, implicate Leornian, and steal the colony's market share of lucrative trafficking in plant material and related products on the high seas. Leornian also pursues the innovative idea of establishing Tradewind Gardens and finds evidence that his ideas for developing the concept may have been stolen during his voyage from Charles Town to the Caribbean. He meets Wattau Van Rabat, of Amsterdam, well known on the Tradewinds, and accepts a commission to deliver a letter to one of Van Rabat's colleagues on Barbados.
Leornian Feldham Volume 3 — Leornian arrives at Bridgetown on the island of Barbados and is offered a research position in Van Rabat's international firm. At Sunbury Great House, Leornian meets the renowned horticulturalist Hortus Verbarium and embarks upon his new research position. During a visit to Wilmstead on the island of Curacao, Leornian essentially finds himself under house arrest among other associates of Van Rabat who appear to be up to no good. In addition to intrigue and peril, a hurricane during Leornian's homeward voyage threatens his life and maroons him among the Currituck lytfolc of the Pasquotank River basin.
The history of a home
The White Pavilion Volume 1 — In 1795, Seymore's newly married daughter—confronted with establishing her own home—wrote to her father to ask about influences that shaped the nature of her childhood home. The result was a series of letters in which Seymore not only recounted the homes, ideas, and aspirations that had influenced what he and his wife had done to provide a home for their children, but explained other influences ranging from employment and financial problems to family challenges, health, and the needs of their children. The result is the most complete extant biography of Seymore Wainscott, recounting not only events, successes, failures, and challenges, but the inspiration, insights, and motivations from which they sprang. Seymore's letters in this volume recount his impressions of the inspiring home of Leornian and Coca Feldham, the cottage-home of Leornian's parents, the handmade home of Metsan and Lobelia Tallownen, and the magical home of Seymore's maternal grandparents, Foliaceous and Lavenda Gatherum.
The White Pavilion Volume 2 — Topics addressed in this anthology include: making a delightful home when home is also a place of work, beginning as one means to finish by using the space in a house to establish patterns that shape the lives of family members, what to do about gossip, being stretched too thin by overwhelming demands, keeping home in the hearts of children, turning every change into a gain, what Seymore learned from the house itself when he and his wife lived in Linnaed Feldhman's house, the real treasures of a home, and some fundamental principles of domestic money management that helped turn even scarcity into a unifying bond.
The White Pavilion Volume 3 — Inasmuch as work and leisure define a great deal about the nature of any home, Seymore wrote about his interests and avocations from childhood and his subsequent career. He wrote about his early employment in the Burrower's Guild and what he learned from Leornian Feldham about the nature of success. He wrote about the early home in which he and his wife began the tradition of reading together as a family, and where they defined the nature of leisure and the part it would play in their new life together. He also wrote about the genesis of the family's Christmas celebration, originating from a not-so-perfect Christmas, and how to maintain an atmosphere of peace and pleasantness at home while raising diverse and energetic children, with everyone in the family working in a family business in the midst of home. Finally, during a trip to Williamsburg, Seymore and his young wife decide they want a home like the freehold lytfolc homesteads they encounter along the James River.
The White Pavilion Volume 4 — In 1764, not long after being married, Seymore had an opportunity to further his education at the lytfolc college in Williamsburg. The young couple set out from Lanham Plantation; however, calamity strikes and much of the money they were to live on passes out of their hands. They arrive in Williamsburg with no place to live. Topics in Seymore's commentary include: dealing with destructive character flaws and clinical maladies (such as PTSD, narcissism, etc.) within the family is essential in establishing and preserving one's home and family. He also writes about knowing when to give society or family precedence in the press of daily demands, the privilege of creating a home according to one's principles and tastes being one of life's crowning opportunities, and the fact that, in most homes, the history of the occupants is as visible as tree rings.
The White Pavilion Volume 5 — Seymore and his wife find rooms at The Brafferton, but Seymore discovers that the environment of the College is dominated by insecurity and the quest for money and influence. The couples' first children are expected. Seymore writes about his thoughts and fears concerning parenthood. As his studies progress, he poses a guileless question at the College that threatens his expulsion. As Seymore writes to his daughter about the ordeal of those days, he searches through his papers and finds his diary of the balloon voyage he and Leornian made across Scotland in 1762. He sends his daughter a copy not just to entertain her, but because the places one inhabits, frequents, or perhaps visits only once are the neighborhood of mind and character where one really lives. Thus, Seymore had never really returned from Scotland. More than that, his children would never understand the nature of their childhood home unless they realized they had actually grown up in a balloon.
Travels in scotland
Travels in Scotland Volume 1 — As a youth, Seymore pioneered balloon flight and he and Leornian Feldham put it to practical use in serving Leornian's many clients throughout Virginia's tidewater region. In addition to this exposure of Seymore's accomplishment, they traveled to Scotland in 1762 and were the first lytfolc to travel by balloon from the Firth of Clyde to the Firth of Forth. A serialization of Seymore's diary of the journey subsequently appeared in Capitol Kant, Williamsburg's well known lytfolc newspaper. As a result, Seymore's reputation became widespread and enduring. And although he might have sought to exploit this in an effort to live comfortably for the rest of his life, he chose instead to pursue his many other interests.
This series of anthologies not only includes his account of the famous aerovoyage from Ayr to Edinburgh, but presents many of the threads of interest that shaped his legendary career—from oil painting to his greatest and most enduring achievement as a writer of fiction, The Isles of Rune. The narrative in this novella ends with Seymore and Leornian's visit to Dundrennan Abbey, ancestral home of Clann Wainscott, where Seymore and Leornian are introduced to danglers (lytfolc ruin climbers, common throughout Europe) who escort them on a climb of Creag Dundrennan.
Travels in Scotland Volume 2 — An accident at Buckland Burn nearly costs Seymore his life. The next day, the tidal current of the River Dhè carries Seymore, Leornian, and their guide northward, where they spend the night at a 500-year-old Wayhoose carved out of the trunk of a tree on the river bank. Convivial company includes their guide, Bonnie Duhg, and other travelers steeped in the legends and songs of lytfolc indigenous to the Isles. With this introduction to the legendary that would become so influential in his life, we accompany Seymore on his ascension of the walls of Castle Threave and his journey through the magical world of the Finger Lakes and Gardens hidden in the ruined walls of the deserted castle.
Travels in Scotland Volume 3 — At the abandoned Lincloudon Abbey, Seymore and Leornian meet the last survivor of the thriving lytfolc community that once lived there. In the unexpected largess of the lytfolc antiquities of Lincloudon, Seymore discovers an old map that will eventually change his life. Far below Drumlanrig, Seymore travels the Struthruhd and descends the Kruiklinn Locks that open onto the Sea of the Cave. After a day of touring the antiquities of the ruined city, an alarm in the middle of the night rouses Seymore to a massive cave in. He soon finds himself at the center of rescue efforts and puts his own life on the line to search for survivors under the Tower of the Moon.
Click here for the status of anthologies being added to this part of the story
From the Newsroom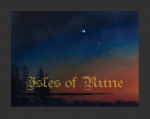 The Isles of Rune Project (overview)
By Al R. Young An ongoing creative project is a Studios endeavor spanning many years.  Examples of such projects include The Storybook Home Journal (since 1999), original themed artworks (since 1977), My Father's Captivity (1981-2009), musical compositions (since 2009), The Papers of Seymore Wainscott (since 1979), etc.

The Isles of Rune (since 1978) is a mythopoeic legendary consisting of origin myths, creation myths, epic poetry, fictive linguistics, cosmology, geology, geography, technologies, original artworks and material cultures... Read more »
Tags: 2021, Isles of Rune, News, Overview, The Papers of Seymore Wainscott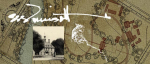 The Papers of Seymore Wainscott TM by Al R. Young (overview)
By Al R. Young novellas constituting the papers
Novellas constituting this product are available for purchase directly and solely from Al Young Studios.  They are not available in retail outlets.  Novellas are printed on demand, and can be purchased individually.  Each 24-page novella is printed in full color.  No advertisements.  Page size - 8.5 in. x 11 in. (printed on 11 in. x 17 in. sheets, folded and stapled).  Paper weight - 24#.

introduction
The Boxwood Folios, currently consisting of a single volume, introduces the lytfolc whose world exists alongside the world of the greátfolc; however, the two peoples do not interact... Read more »
Tags: The Boxwood Folios Vol. 1, Bevel Wainscott Vol. 1, Leornian Feldham Vol. 1, Leornian Feldham Vol. 2, Leornian Feldham Vol. 3, The White Pavilion Vol. 1, The White Pavilion Vol. 2, The White Pavilion Vol. 3, The White Pavilion Vol. 4, The...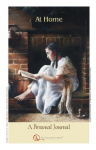 Blank Art Diaries: Edition of At Home now available as spiral-bound art diary
By Al R. Young This blank-book journal sells for $32 (plus shipping) direct from Al Young Studios.  Printed in full color on heavy paper, the book is bound with black plastic spiral to rest flat when open.

At Home: A Personal Journal  features 128 original artworks consisting of 51 original oil paintings from the Artists of Al Young Studios, 44 images from the Studios' Limited Editions Collection, nine pen and ink drawings and block prints by Ashton, seven of Al's exquisitely crafted pencil drawings, and one lithograph from his private portfolios... Read more »
Tags: North Shore, Nasturtium, Wald Kirche, Scabiosa, Foxglove, Narcissus on beige paper, July, Columbine, Maine, Final Draft, Unfurling, Back Shore, Summer's End, Gifts of Morn, Black-eyed Susan, Land's End, Solitude, The Limberlost, Perdita,