Bless the Lord, ye his angels, that excel in strength, that do his commandments, hearkening unto the voice of his word.

Bless ye the Lord, all ye his hosts; ye ministers of his, that do his pleasure.
Psalms 103:18-21
The story behind Angels Of Peace
Sixteen-year-old New York native, Abigail Thorne, was working as a seamstress and school teacher when she first heard missionaries from The Church of Jesus Christ of Latter-day Saints. She described the experience in her autobiography:
[In 1837], it was given out that a Mormon elder would preach in the school house adjacent to my father's farm. I, as well as all our neighbors, attended through curiosity, not expecting to hear anything of interest, or that which would benefit us here or hereafter, inasmuch as we had never heard one good word spoken of them. To the surprise of all, the meeting was opened by singing and communion. "The Spirit of God like a Fire is Burning" was sung by the Spirit. And such singing I have never before heard. The other hymns I remember as distinctly as though it was yesterday. They were: "Adam-ondi-Ahman" and "There's a Feast of Good Things For the Righteous Prepared." The elder had the singers with him, all members of the Church. Before the meeting was out, the Spirit of the Lord was manifest to such a degree that I scarcely knew whether I was in heaven or on earth.
(This and the following quotations appear in "Remembering Whence They Came" by Karen Sue Parker Utley (Provo, Utah, 2011, pp. 59-60). Spelling and punctuation have been standardized.)
Abigail was the first in her community to be baptized a member of The Church of Jesus Christ of Latter-day Saints. Upon emigrating to Nauvoo, Illinois, she became personally acquainted with Joseph Smith and his brother, Hyrum. After the martyrdom of the Prophet and his brother, and after the persecutions that followed, she and her husband, Samuel Russell, along with most of the population of Nauvoo, were driven from their homes to embark in the dead of winter cold on an exodus to the Rocky Mountains. Abigail suffered every kind of privation and her health was severely compromised. She gave birth to her first daughter, Frances Russell, in the wretchedness and bitter cold of a camp in Nebraska. Not until the following autumn did she and her family arrive in the Salt Lake Valley. It was then that her husband abandoned her to follow the California gold rush.
Despite her harrowing experiences, Abigail later wrote that the faith that led her to seek baptism
stayed with me...[and] has been an anchor to my soul, sustaining me through all the trials which I have been called to pass.
The title of this painting derives from a statement or promise that was made to Abigail in 1851:
The Angels of peace shall be with you...and [thou shalt] inherit a kingdom that shall never fail.
This promise is reminiscent of the blessing Joseph Smith pronounced upon faithful members of the Relief Society, established in 1842 as an organization for the women of The Church of Jesus Christ of Latter-day Saints:
If you live up to your privileges, the angels cannot be restrained from being your associates
. (
History of The Church of Jesus Christ of Latter-day Saints
(or
Documentary History of the Church
), vol. 4, p. 605)
Symbolism in Angels Of Peace
All those who serve and strengthen others are "angels of peace" -- what the Psalmist described as earthly "ministers of [God]" (Psalm 103:21). Within the painting, Abigail's brilliant countenance and clear gaze reflect her own devoted life as just such an angel. Her gaze, confident and forward-looking, is filled with the light such devotion bestows on all who come within its influence. The basket cradled in her arms represents a life filled with service. She is clothed in a paisley shawl symbolizing the mantle of charity, which is the bond of perfectness and peace (D&C 88:125).
Copyright and terms of use
© By
Elspeth Young
, All Rights Reserved. You may not print, copy, or reproduce this artwork or make derivative works from it without the prior written consent of the copyright holder. For permissions, please review our
FAQ page
.
From the Newsroom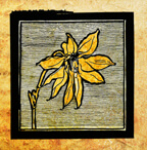 Custom framing services for original artworks and giclees (overview)
By Al R. Young
only high-end custom frames
We have framed our own artworks for more than 30 years, and during that time we have provided a variety of framing services to patrons upon request.  For many reasons—including constant changes in the availability of moulding styles—we cannot offer off-the-shelf framing options or response times typically associated with such a service.  Of necessity, all of our framing projects are aproached, priced, and billed as constuling projects... Read more »
Tags: Into The West, Spring Rain, North Country, The Grey Havens, Journey's End, Looking Back, Enchanted Stillness, Bedtime Story, In The High Valley, The Daydream, Before The Ball, Old Shannon, Pavane, Sweet Brier, Legend, Mountain Home, And I...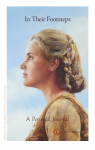 Blank Art Diaries: In Their Footsteps features pioneer commentaries and original artworks from Al Young Studios
By Al R. Young This blank-book journal sells for $32 (plus shipping) direct from Al Young Studios.  Printed in full color on heavy paper, the book is bound with black plastic spiral to rest flat when open.

In Their Footsteps: A Personal Journal  features 29 original artworks consisting of 18 original oil paintings from the Artists of Al Young Studios, 2 images from the Studios' Limited Editions Collection, four artworks from Ashton' private portfolio, and five pencil drawings from Al's private portfolio... Read more »
Tags: Meadow, Charity, In The High Valley, Mountain Home, Sara Crewe, The Dawning Of A Brighter Day, 3.30.0028.000, Far Away In The West, 3.30.0243.000, There The Saints Will Be Blessed, 3.30.0277.000, Green And Pleasant Land, I Will Uphold Thee,...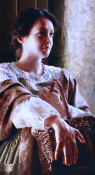 Elspeth C. Young completes new oil painting - "Angels Of Peace"
By Al R. Young Angels Of Peace is the newest oil painting to be added to the line of original artworks from Al Young Studios.

Click here to see a larger image of the new painting, read the artist's commentary, and look at the selection of prints--if any are available.... Read more »
Tags: Angels Of Peace, 2013, Elspeth C. Young, Legacy, News, Oil paintings and prints, Pioneer Art Collection