September 2021: We are still open online! All orders are now shipped on schedule by us or trusted third-parties.
While easing of restrictions has sped up order fulfillment, visits to the Studios are not yet available,
and in-store pickup has been permanently discountinued, but we now offer free expedited shipping an all prints.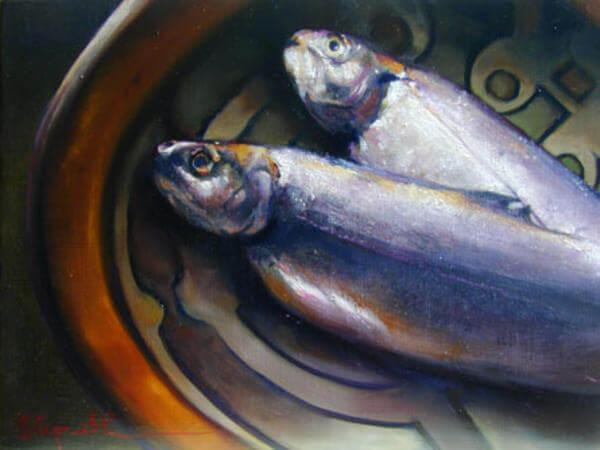 ---
Copyright and terms of use
Copyright 2021 by
Elspeth Young
, All Rights Reserved. You may not print, copy, or reproduce this work or make derivate works from it without the prior written consent of the copyright holder. For permissions, please review our
FAQ page
.
---
Feeding the Five Thousand
Whence shall we buy bread, that these may eat?
There is a lad here, which hath five barley loaves, and two small fishes: but what are they among so many?
And Jesus took the loaves; and when he had given thanks, he distributed to the disciples, and the disciples to them that were set down, and likewise of the fishes as much as they would.
John 6:5,9,11


---
THE STORY IN THE PAINTING
This simple still life symbolizes the two small fishes offered by the lad to feed the five thousand. The Savior was able to multiply the boy's small offering to bless thousands.
From the Newsroom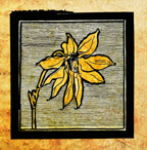 Fine Art Framing: Al Young Studios' custom framing services for original artworks and giclees (overview)
By Al R. Young
We have framed our own artworks for more than 25 years, and during that time we have provided a variety of framing services to patrons upon request.  For various reasons--including constant change in the availability of moulding styles--we cannot offer off-the-shelf framing options or response times typically associated with such a service.  Of necessity, all of our framing projects are custom projects that are priced, completed, and billed accordingly.  For example, inasmuch as the Studios does not maintain a selection of off-the-shelf moulding options, moulding styles actually available at the time of a request for information about framing options must be researched... Read more »
Tags: Elspeth's Hollyhocks, North Shore, Nasturtium, Wald Kirche, Old Dominion, Scabiosa, A Boy's Prayer, Foxglove, Moonlit, Waiting, Untitled, Narcissus on beige paper, Narcissus on gray paper, July, The Almira, Columbine, Maine, Final Draft,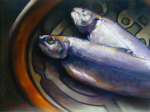 Illustration: He Fed The Multitude
By Al R. Young
High-resolution digital copies are available from the Studios for use as illustrations.  Use the serial number—appearing below the thumbnail—in requesting permission from the Studios (see links at the bottom of this page for detail).

The correct form of attribution when publishing an image is specified in the license agreement issued to the publisher by Al Young Studios.Guidelines for requests to copy or publish artworks created by the Artists of Al Young Studios
Guidelines for commissioning Al Young Studios to create illustrations

Return to this portfolio
Browse all portfolios
Browse Newsroom articles about Illustration
The original image is available for sale, please contact us for details... Read more »
Tags: He Fed The Multitude, 2008, Material Cultures of the Bible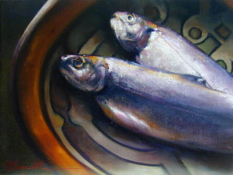 Elspeth C. Young completes new oil painting - "He Fed The Multitude"
By Al R. Young He Fed The Multitude is the newest oil painting to be added to the line of original artworks from Al Young Studios.

Click here to see a larger image of the new painting, read the artist's commentary, and look at the selection of prints--if any are available.... Read more »
Tags: He Fed The Multitude, 2006, Elspeth C. Young, Legacy, News, Oil paintings and prints, The Messiah Art Collection