Al Young Studios cannot make or sell any prints of this work at this time. Read more...
Do ye remember to have read what Zenos, the prophet of old, has said concerning prayer or worship? For he said: Thou art merciful, O God, for thou hast heard my prayer...when I did cry unto thee in my prayer, and thou didst hear me...And thou didst hear me because of mine afflictions and my sincerity; and it is because of thy Son that thou hast been thus merciful unto me, therefore I will cry unto thee in all mine afflictions, for in thee is my joy; for thou hast turned thy judgments away from me, because of thy Son.
Alma 33: 3-5, 11
The story behind And Thou Didst Hear Me
The figure in the painting constitutes a visualization of the broken heart and contrite spirit of genuine prayer (Psalms 34:18, Doctrine and Covenants 59:8, Ether 4:15). To pray in such an attitude of worship or contrition brings one's own soul closer to God, who bears the afflictions and pains of all of His children. Only thus can one more clearly see and understand one's own plight and receive, and more fully understand and appreciate, the healing He offers. Speaking of the great and eternal atonement he wrought for his children, He declares:
For behold, I, God, have suffered these things for all, that they might not suffer if they would repent; but if they would not repent they must suffer even as I; which suffering caused myself, even God, the greatest of all, to tremble because of pain, and to bleed at every pore, and to suffer both body and spirit—and would that I might not drink the bitter cup, and shrink—nevertheless, glory be to the Father, and I partook and finished my preparations unto the children of men.
(Doctrine and Covenants 19:16-19)
The model for this painting is native to Ghana, Africa, and is presented in token of the declaration:
God is mindful of every people, whatsoever land they may be in; yea, he numbereth his people, and his bowels of mercy are over all the earth
(Alma 26:37).
Posing of the figure and all work on the painting were completed by the artist at the studios at BenHaven.
The same model posed for
Till We Meet Again
, Elspeth's painting of
Jane Elizabeth Manning
.
Symbolism in And Thou Didst Hear Me
True prayer, or worship, is free from earthly distraction; hence, the setting in which the figure appears has dissolved into that palpable timelessness encountered upon approaching the Almighty. The viewer's gaze is held fast by the meekness and humility that suffuse the supplicant's countenance.

Clothed in white, the figure reminds us of the promise: He that overcometh, the same shall be clothed in white raiment; and I will not blot out his name out of the book of life, but I will confess his name before my Father, and before his angels (Revelation 3:5).
Copyright and terms of use
© By Intellectual Reserve, Inc. You may not print, copy, or reproduce this artwork or make derivative works from it without the prior written consent of the copyright holder.
Al Young Studios cannot make or sell any prints of this artwork at this time. Read more...
From the Newsroom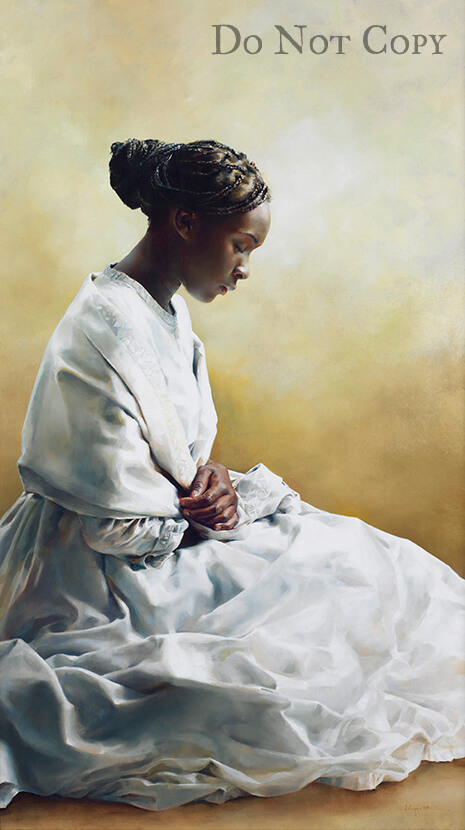 And Thou Didst Hear Me
By Elspeth C. Young

content for this page is being prepared and will be added as soon as possible
2021 November 05... Read more »
Tags: And Thou Didst Hear Me, 2021, Oil paintings and prints, Temple artworks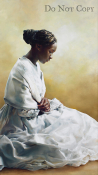 Elspeth C. Young completes new oil painting - "And Thou Didst Hear Me"
By Al R. Young And Thou Didst Hear Me is the newest oil painting to be added to the line of original artworks from Al Young Studios.

Click here to see a larger image of the new painting, read the artist's commentary, and look at the selection of prints--if any are available.... Read more »
Tags: And Thou Didst Hear Me, 2012, Elspeth C. Young, Legacy, News, Oil paintings and prints, Pioneer Art Collection