COVID-19 & Supply Chain info for March 2023
: Orders are being fulfilled on schedule and experiencing minimal in-transit delays. In-store pickups are permanently discontinued; instead, we offer domestic expedited free shipping on art prints and magazines and free freight shipping on oil paintings. Please
contact us
to arrange international shipping or if your domestic delivery appears delayed.
$8.00

USD

95th issue of The Storybook Home Journal™. Made & Printed in the USA. Categories: Carolyn Keene, Magazine, Nancy Drew & Nancy Young

Ships to US (including APO, FPO & DPO) and Worldwide. Economy, Priority, Express, & Local pickup shipping options are available at checkout. Bulk discounts available when buying 18 or more issues of the Storybook Home Journal (discounts shown in cart)

Printed on demand

- Product ships in 2 to 6 days

(Serial No. 3.24.0194.010)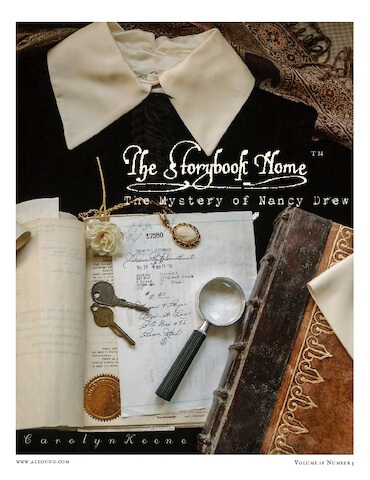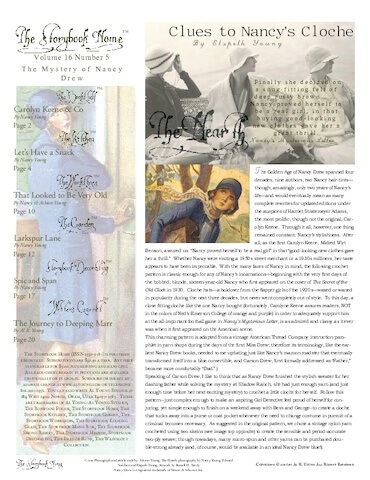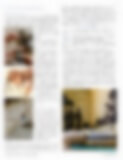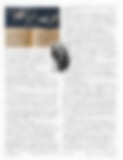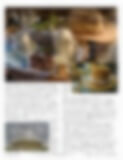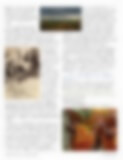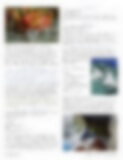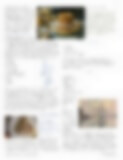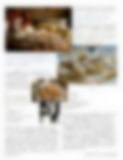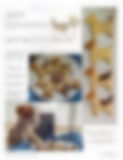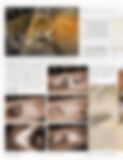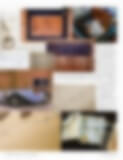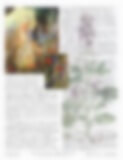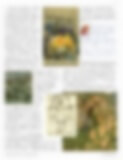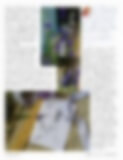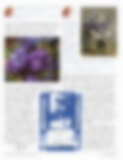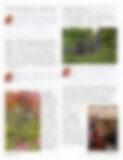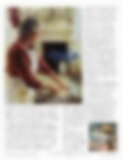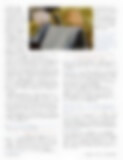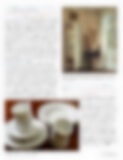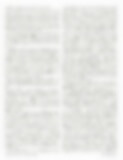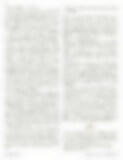 Vol. 16 No. 5 of The Storybook Home Journal
The Mystery of Nancy Drew
What's in this issue?
Spic and Span

the

Decorating

article
Since most of us would love an ever-renewing household to return to at the end of a tough day of sleuthing—or simply to never leave in the first place—we thought we'd glean from the etiquette books of Nancy's early days in order to solve the mystery of Hannah Gruen's daytime activities; and the secrets of what Hannah—with or without Nancy's aid—would have done to keep the Drew home ever fresh and ready. Headings include five secrets of Hannah's success.
Let's Have a Snack

the

Kitchen

article
Following the spirit of Nancy Drew, we've tried to solve the conundrum of how the snacks frequently mentioned in the stories—especially the ones "quickly put together" by Nancy, Bess and George—can appear to be conjured up as swiftly as spooky sounds in an old mansion, even though the girls are thoroughly exhausted. Recipes include: River Heights Melon Salad, Classic Quick Cakes from 1930, Nancy's Double Chocolate Quick Cake, Twin Elms Snack Cake, Tearoom Blueberry Streusel Cakes, Sylvan Lake Crackers, and Togo Cookies.
Larkspur Lane

the

Garden

article
Knowing a few of the deeper secrets of larkspurs and delphiniums can demystify them for any garden-savvy sleuth. In this installment of The Garden we daringly matched wits—or just up and agreed—with Nancy Drew to solve the mystery surrounding everything about prize-winning delphiniums.
Carolyn Keene & Co

the

Bookshelf

article
Nancy Drew was always meant to be solidly in the ranks of the guilty, though innocent, pleasures—read at the point in life when Friday nights and Saturdays mark something akin to eternal freedom and homework has either been dutifully done or furtively deferred. It's the province of perches in tree houses, hushed corners away from siblings, and staying-up late.
The Journey to Deeping Marr

the

Writer's Garret

article
Deep below the walls of Drumlanrig Castle, Seymore is escorted to gondolas manned by gondoliers who take him into the darkness of the Struthruhd and down the crooked stairway of locks that open onto the Sea of the Cave. As the rays of the setting sun fall upon the Hills of Sorrow, he gets his first glimpse of the ruined lytfolc city of Deeping Marr.
From the Newsroom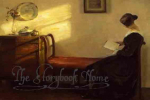 Storybook Life (overview)
By Nancy Young
announcements and newsroom articlesPurchase individual issues or subscribe
Contacting Al Young Studios

companion articles to issues of The Storybook Home Journal

.storybook life is a trademark of al young studios... Read more »
Tags: Vol. 1 No. 1, Vol. 1 No. 2, Vol. 1 No. 3, Vol. 1 No. 4, Vol. 1 No. 5, Vol. 1 No. 6, Vol. 2 No. 1, Vol. 2 No. 2, Vol. 2 No. 3, Vol. 2 No. 4, Vol. 2 No. 5, Vol. 2 No. 6, Vol. 3 No. 1, Vol. 3 No. 2, Vol. 3 No. 3, Vol. 3 No. 4, Vol. 3 No. 5,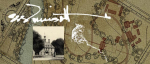 The Papers of Seymore Wainscott TM by Al R. Young (overview)
By Al R. Young novellas constituting the papers
Novellas constituting this product are available for purchase directly and solely from Al Young Studios.  They are not available in retail outlets.  Novellas are printed on demand, and can be purchased individually.  Each 24-page novella is printed in full color.  No advertisements.  Page size - 8.5 in. x 11 in. (printed on 11 in. x 17 in. sheets, folded and stapled).  Paper weight - 24#.

introduction
The Boxwood Folios, currently consisting of a single volume, introduces the lytfolc whose world exists alongside the world of the greátfolc; however, the two peoples do not interact... Read more »
Tags: The Boxwood Folios Vol. 1, Bevel Wainscott Vol. 1, Leornian Feldham Vol. 1, Leornian Feldham Vol. 2, Leornian Feldham Vol. 3, The White Pavilion Vol. 1, The White Pavilion Vol. 2, The White Pavilion Vol. 3, The White Pavilion Vol. 4, The...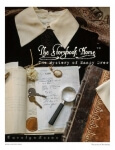 New Issue of the Storybook Home Shipped - The Mystery of Nancy Drew
By Al R. Young The The Mystery of Nancy Drew issue of The Storybook Home Journal is now available from Al Young Studios.  This issue features these regular sections:Decorating - Spic and Span (3 pages)Hearth - Clues to Nancy's Cloche (2 pages)Kitchen - Let's Have a Snack (6 pages)Garden - Larkspur Lane (5 pages)Workshops - That Looked to Be Very Old (2 pages)Bookshelf - Carolyn Keene & Co (2 pages)Garret - The Journey to Deeping Marr (3 pages)The Mystery of Nancy Drew is the 101st issue of the Journal, published bi-monthly since November 2000... Read more »
Tags: Vol. 16 No. 5, 2016, News, The Storybook Home Journal issues