Cinderella's Kitchen

the

Decorating

article
Fortunately, all the varieties of make-over marvels include elements that can be adapted to any home to create a fairytale feeling, whether the ideas take loads of time and pay off for decades, or simply provide instant, eye-pleasing gratification. These are the headings under which ideas are presented: The Hearth, Lighten Up, But Don't Be Afraid of the Dark, Rags to Riches, Dealing with Reality
Nibble, Nibble On My House

the

Kitchen

article
Block gingerbreads are still beautiful treasures to make and share, but creating really fine examples is labor-intensive and tricky enough to feel a bit more like a career choice than an afternoon's baking. So we edited the concept a bit in order to create some lovely little gingerbread dwellings that can easily be finished in one day's baking.
Dame Gothel's Garden

the

Garden

article
A garden that makes the most of every inch of space because it provides both food for the eye and the table is an Eden to many of us; and in the spirit of The Brothers Grimm and their heroine, Rapunzel, we pull together some of the beautiful, the forgotten, and the venerable plants that might have flowered in the garden of Dame Gothel, the sorceress, to tantalize the neighborhood and lure everyone back out to work in the garden.
Ingenious Contrivance

the

Workshop

article
The story of The Little Glass Slipper, all about "grace of bearing" outshining "high birth," seemed a perfect fit for our new kitchen workspace. In keeping with Perrault's patchwork career and Cinderella's coach, made from a commonplace, hollowed-out pumpkin, we took on a touch of rural Rococo grandeur in creating a kitchen island from salvage as well as leftover odds and ends languishing in the workshop scrap piles.
Heaven Answers Every Prayer

the

Writer's Garret

article
Perched in the rigging of the foremast, Seymore spies Holyhead Mountain--his first sight of fabled Albion. Then, from Liverpool Seymore and Leornian sail to Kirkcudbright and travel overland to the ruins of Dundrennan Abbey. They meet Apsel Transept, a dangler of no small reputation, who takes them rock climbing for a day, a star-filled night, and a day upon the ancient ruin.
From the Newsroom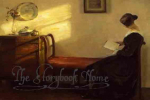 Storybook Life (overview)
By Nancy Young
announcements and newsroom articlesPurchase individual issues or subscribe
Contacting Al Young Studios

companion articles to issues of The Storybook Home Journal

.storybook life is a trademark of al young studios... Read more »
Tags: Vol. 1 No. 1, Vol. 1 No. 2, Vol. 1 No. 3, Vol. 1 No. 4, Vol. 1 No. 5, Vol. 1 No. 6, Vol. 2 No. 1, Vol. 2 No. 2, Vol. 2 No. 3, Vol. 2 No. 4, Vol. 2 No. 5, Vol. 2 No. 6, Vol. 3 No. 1, Vol. 3 No. 2, Vol. 3 No. 3, Vol. 3 No. 4, Vol. 3 No. 5,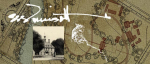 The Papers of Seymore Wainscott TM by Al R. Young (overview)
By Al R. Young novellas constituting the papers
Novellas constituting this product are available for purchase directly and solely from Al Young Studios.  They are not available in retail outlets.  Novellas are printed on demand, and can be purchased individually.  Each 24-page novella is printed in full color.  No advertisements.  Page size - 8.5 in. x 11 in. (printed on 11 in. x 17 in. sheets, folded and stapled).  Paper weight - 24#.

introduction
The Boxwood Folios, currently consisting of a single volume, introduces the lytfolc whose world exists alongside the world of the greátfolc; however, the two peoples do not interact... Read more »
Tags: The Boxwood Folios Vol. 1, Bevel Wainscott Vol. 1, Leornian Feldham Vol. 1, Leornian Feldham Vol. 2, Leornian Feldham Vol. 3, The White Pavilion Vol. 1, The White Pavilion Vol. 2, The White Pavilion Vol. 3, The White Pavilion Vol. 4, The...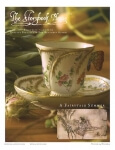 New Issue of the Storybook Home Shipped - A Fairytale Summer
By Al R. Young The A Fairytale Summer issue of The Storybook Home Journal is now available from Al Young Studios.  This issue features these regular sections:Decorating - Cinderella's Kitchen (5 pages)Hearth - Resplendent Beauty (1 page)Kitchen - Nibble, Nibble On My House (3 pages)Music - Old Tunes Very Excellent (1 page)Garden - Dame Gothel's Garden (7 pages)Workshops - Ingenious Contrivance (4 pages)Garret - Heaven Answers Every Prayer (2 pages)A Fairytale Summer is the 89th issue of the Journal, published bi-monthly since November 2000... Read more »
Tags: Vol. 14 No. 5, 2014, News, The Storybook Home Journal issues