Al Young Studios cannot make or sell any prints of this work at this time. Read more...
Behold, now it came to pass that when Jesus had spoken these words he looked round about again on the multitude, and he said unto them: Behold, my time is at hand. I perceive that ye are weak, that ye cannot understand all my words which I am commanded of the Father to speak unto you at this time. Therefore, go ye unto your homes, and ponder upon the things which I have said, and ask of the Father, in my name, that ye may understand, and prepare your minds for the morrow, and I come unto you again...
3 Nephi 17:1-3
The story behind Prepare Your Minds For the Morrow
The figure in the painting is that of a woman among the multitude gathered to witness the ministry of the resurrected Messiah in the Americas following His mortal ministry in Palestine. The light bathing her upturned countenance and reflected in her rapt gaze is the light of His countenance.

After having taught the multitude and after selecting and authorizing servants to care for the people, the Savior judged that the multitude had received all they were capable of receiving at that time. He therefore commended them to rest and contemplation, preparatory to another visitation the following day. However, in meeting the pleading gaze of the multitude, He changed His mind and lingered a while with them. The result included blessings that transcended many of the mighty works that had been possible among the multitudes that thronged His mortal ministry.
Symbolism in Prepare Your Minds For the Morrow
The focal point of this painting is the gaze that so pierced the Savior's heart that He tarried with the people. Consequently, the painting is not so much the portrayal of an event, but a study of worship—that attitude and orientation of soul sufficiently pure and powerful to keep God close.

It is also significant that although the woman is part of a multitude, no evidence of that multitude appears in the image. In this respect, the painting also portrays that power of God wherever pure worship is to be found. That absence of the multitude typifies His power to minister to each person—each child—individually even, though the world itself and all it turmoil might be filled to overflowing. In the sight God, each soul is seen and known and treated as a cherished individual.
Copyright and terms of use
© By Intellectual Reserve, Inc. You may not print, copy, or reproduce this artwork or make derivative works from it without the prior written consent of the copyright holder.
Al Young Studios cannot make or sell any prints of this artwork at this time. Read more...
From the Newsroom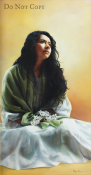 Elspeth C. Young completes new oil painting - "Prepare Your Minds For the Morrow"
By Al R. Young Prepare Your Minds For the Morrow is the newest oil painting to be added to the line of original artworks from Al Young Studios.

Click here to see a larger image of the new painting, read the artist's commentary, and look at the selection of prints--if any are available.... Read more »
Tags: Prepare Your Minds For the Morrow, 2013, Elspeth C. Young, Heroes of the Book of Mormon Art Collection, Legacy, News, Oil paintings and prints