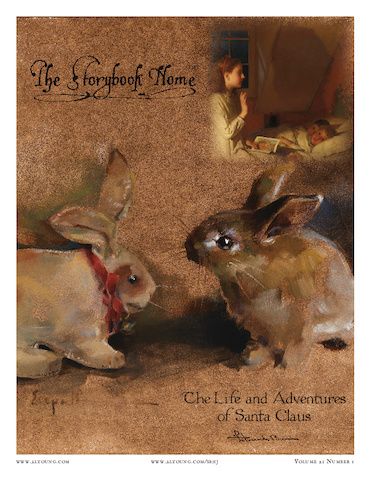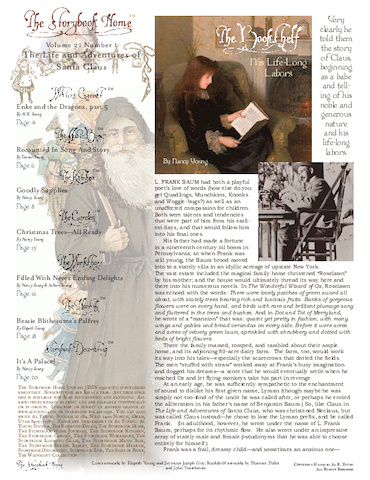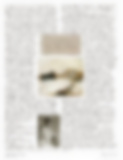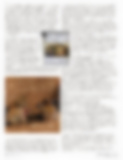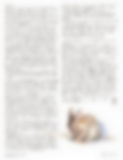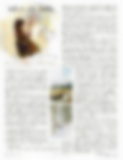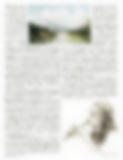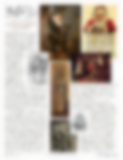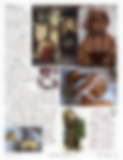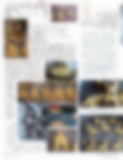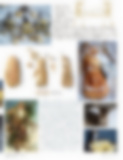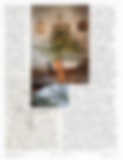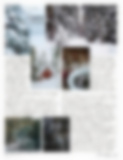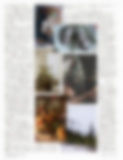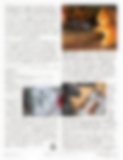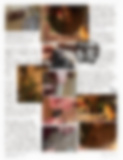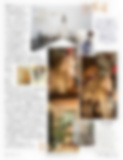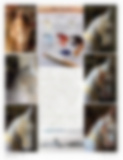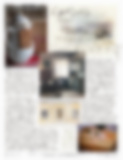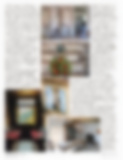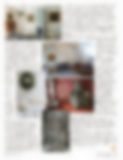 Vol. 21 No. 1 of The Storybook Home Journal
The Life and Adventures of Santa Claus
What's in this issue?
It's a Palace!

the

Decorating

article
Frank Baum apparently knew well that the best castles are simply cottages with lofty ceilings, plenty of leg room and loads of books—and the best cottages are as tenderly thought-out and loved as a cash-rich castle. In either case, they need what the Knooks and fairies built into Claus's life&mdash,comfy, practical magic&mdash,because where magic happens, any place can be a palace!
Bessie Blithesome's Palfrey

the

Hearth

article
In tribute to the seven-year-old days which will never come again (and, perhaps, in homage to the Princess Ozma of my dreams), Elspeth painted a little Christmas pony just the right size for any wee one's imagination from mendicant Mayrie to bounteous Bessie, and everyone in between.
Goodly Supplies

the

Kitchen

article
Especially at Christmastide, some cupboard, corner, cubicle or cookie jar should store some particularly jolly treats. While you, like Santa Claus, devote your time to the pleasure of others dependable recipes in the busy season grant wonderful power. Recipes include: Ryl Gingerbread, Ryl Butter Cookies, Confectioner's Glaze, Santa Sweet Bread, Mother Hubbard's Bread.
His Life-Long Labors

the

Bookshelf

article
L. Frank Baum had a playful poet's love of words (how else do you get Quadlings, Munchkins, Knooks and Woggle-bugs?) and an unaffected compassion for children. Both were talents and tendencies that were part of him, from his earliest days, which followed him into his final ones.
From the Newsroom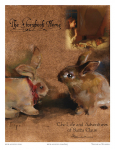 New Issue of the Storybook Home Shipped - The Life and Adventures of Santa Claus
By Al R. Young The The Life and Adventures of Santa Claus issue of The Storybook Home Journal is now available from Al Young Studios.  This issue features these regular sections:Decorating - It's a Palace! (3 pages)Hearth - Bessie Blithesome's Palfrey (2 pages)Kitchen - Goodly Supplies (5 pages)Music - Recounted In Song And Story (2 pages)Garden - Christmas Trees—All Ready (4 pages)Workshops - Filled With Never Ending Delights (2 pages)Bookshelf - His Life-Long Labors (4 pages)Garret - Enke and the Dragons, part 5 (2 pages)The Life and Adventures of Santa Claus is the 127th issue of the Journal, published bi-monthly since November 2000... Read more »
Tags: Vol. 21 No. 1, 2020, News, The Storybook Home Journal issues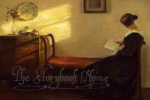 Storybook Life (overview)
By Nancy Young
announcements and newsroom articlesPurchase individual issues or subscribe
Contacting Al Young Studios

companion articles to issues of The Storybook Home Journal

.storybook life is a trademark of al young studios... Read more »
Tags: Vol. 1 No. 1, Vol. 1 No. 2, Vol. 1 No. 3, Vol. 1 No. 4, Vol. 1 No. 5, Vol. 1 No. 6, Vol. 2 No. 1, Vol. 2 No. 2, Vol. 2 No. 3, Vol. 2 No. 4, Vol. 2 No. 5, Vol. 2 No. 6, Vol. 3 No. 1, Vol. 3 No. 2, Vol. 3 No. 3, Vol. 3 No. 4, Vol. 3 No. 5,