$8.00

USD

120th issue of The Storybook Home Journal™. Made & Printed in the USA. Categories: An Old Fashioned Girl, Louisa May Alcott, Magazine & Nancy Young

Ships to US (including APO, FPO & DPO) and Worldwide. Economy, Priority, Express, & Local pickup shipping options are available at checkout. Bulk discounts available when buying 18 or more issues of the Storybook Home Journal (discounts shown in cart)

Printed on demand

- Product ships in 2 to 6 days

(Serial No. 3.24.0219.010)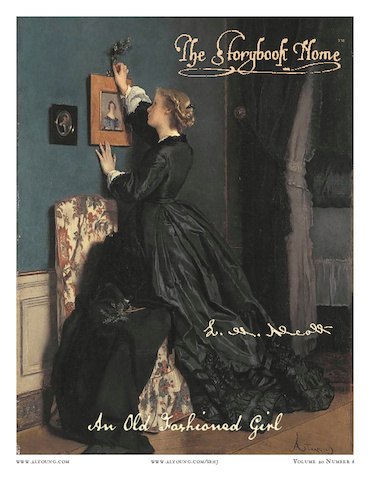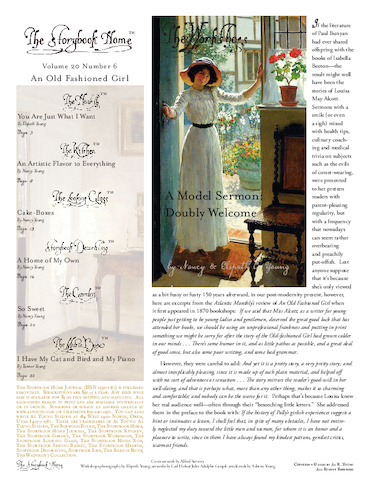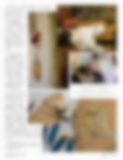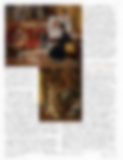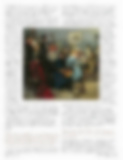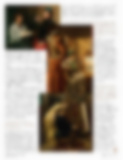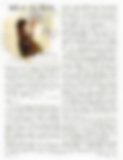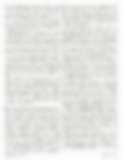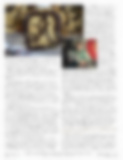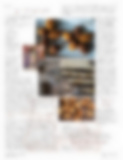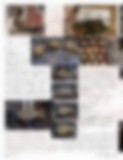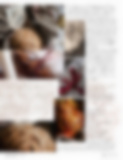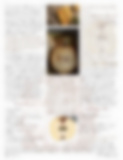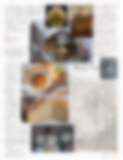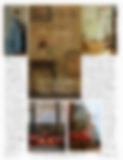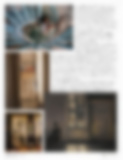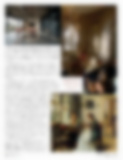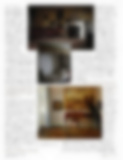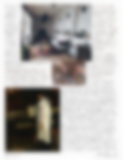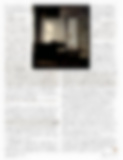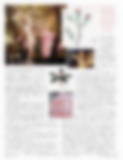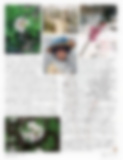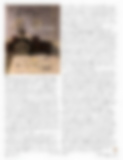 Vol. 20 No. 6 of The Storybook Home Journal
An Old Fashioned Girl
What's in this issue?
A Home of My Own

the

Decorating

article
There is a grandeur to the brand-spanking-new; but there is also a luxury to the pleasingly aged. Beyond the superior materials that an antique might be made of, there is a relaxing freedom that arrives with an out-of-the-box floor model, a demo car, or scratch-and-dent furnishings that do not exude the need to be breathlessly protected from daily use.
An Artistic Flavor to Everything

the

Kitchen

article
We ventured to take on the traditional in new ways when it comes to recreating some of the treats mentioned throughout the pages of An Old Fashioned Girl. We also offer some ideas and methods for using culinary tools that can mimic the implements used by Polly's skilled friends. The techniques are designed to be done quickly while still fashioning an artistic flavor. Recipes include: Squash and Sage Johnnycake, Cheese-and-Crackers, Cornmeal Cheese-and-Crackers, Plummy Engraver's Loaves, Plummy Buns, Festive Tea Cake, Apple Ginger Preserves.
I Have My Cat and Bird and My Piano

the

Music

article
To us, pianos are giant, sonorous, sleek black symbols of great wealth (and a second mortgage) or smaller uprights and portable digital devices that suffice as a substitute if the grand variety is unattainable. To Polly, a grand piano was a similar statement of status, but black was a rare finish and the carving of the wood was a better-crafted presentation than its sound.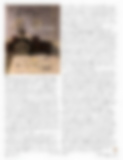 So Sweet

the

Garden

article
Polly decided to set herself right by doing some little kindness to somebody and therefore took sprays of daphne to Fanny. This installment of the Garden offers some history about the flower and some pointers about its care because daphne isn't the easiest plant to keep alive, whether indoors or out.
A Model Sermon: Doubly Welcome

the

Workshop

article
We created the following signs, to be hung on door handles, that can help with any occasion from online virtual meetings to podcasting to quiet time during artist's-block or to those moments when we are just turning the corner toward sleep, and a thoughtful pause in family action would be particularly beneficial.
From the Newsroom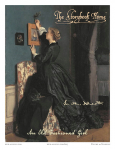 New Issue of the Storybook Home Shipped - An Old Fashioned Girl
By Al R. Young The An Old Fashioned Girl issue of The Storybook Home Journal is now available from Al Young Studios.  This issue features these regular sections:Decorating - A Home of My Own (6 pages)Hearth - You Are Just What I Want (3 pages)Kitchen - An Artistic Flavor to Everything (6 pages)Music - I Have My Cat and Bird and My Piano (1 page)Garden - So Sweet (2 pages)Workshops - A Model Sermon: Doubly Welcome (3 pages)Looking - Cake-Boxes (1 page)Garret - Enke and the Dragons, part 4 (2 pages)An Old Fashioned Girl is the 126th issue of the Journal, published bi-monthly since November 2000... Read more »
Tags: Vol. 20 No. 6, 2020, News, The Storybook Home Journal issues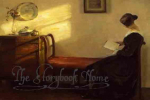 Storybook Life (overview)
By Nancy Young
announcements and newsroom articlesPurchase individual issues or subscribe
Contacting Al Young Studios

companion articles to issues of The Storybook Home Journal

.storybook life is a trademark of al young studios... Read more »
Tags: Vol. 1 No. 1, Vol. 1 No. 2, Vol. 1 No. 3, Vol. 1 No. 4, Vol. 1 No. 5, Vol. 1 No. 6, Vol. 2 No. 1, Vol. 2 No. 2, Vol. 2 No. 3, Vol. 2 No. 4, Vol. 2 No. 5, Vol. 2 No. 6, Vol. 3 No. 1, Vol. 3 No. 2, Vol. 3 No. 3, Vol. 3 No. 4, Vol. 3 No. 5,